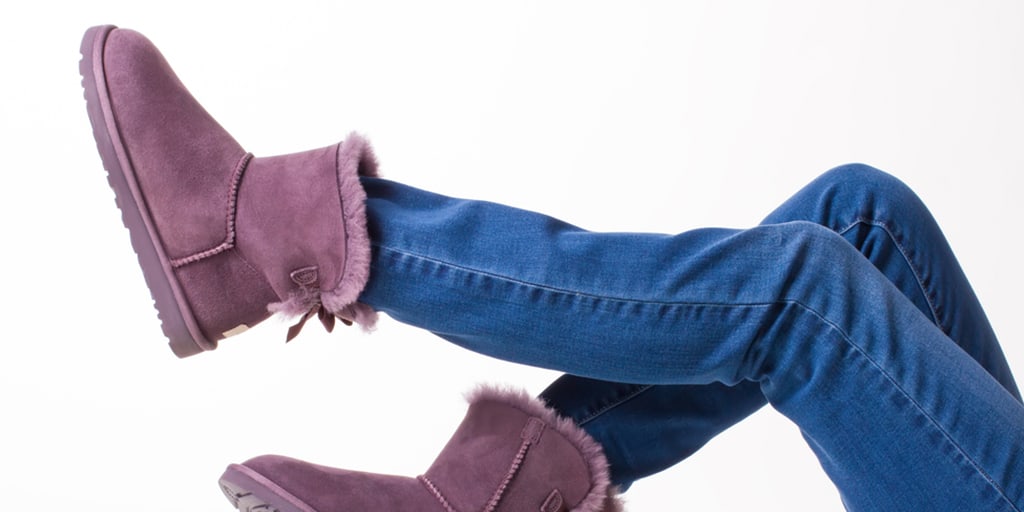 This post may contain affiliate links, which means I earn a small commission if you click and buy something (at no cost to you). See our privacy policy.
Looking for cheap Uggs?
Bracing for cold weather here in the Northeast with thoughts of a warm, fuzzy feeling for your feet that Ugg boots might provide? Or perhaps you have bunions and these snuggly boots are the only footwear you can stand to wear? But of course you don't want to pay full price — you want cheap Uggs that'll snuggle without blowing your shoe budget.
We can help you find lower-priced Uggs. (By the way, thoughts of wearing the boots aren't just seasonal. A parade of Ugg boot wearers is seen throughout the summer — many even on beach boardwalks. And let's not forget on the West Coast, where these snuggly boots are worn year-round.)
Where to Get Cheap Uggs — Online and In Store
Here's the short story on how to find a deal on Uggs. UGG Australia has outlets all over the place with its footwear on discount, as do two big name retailers that have their own outlet stores that often offer cheap Uggs. Saks Fifth Avenue has its Off-Fifth and Nordstrom has its Nordstrom Rack. Online, there's 6pm.com which often prices Ugg styles, from boots to Ugg slippers, below MSRP.
Ugg Deals Online
Nordstrom Rack
Nordstrom Rack does discount Uggs, usually in the range of 10-15% off. The stock includes close-out merchandise directly from the factory as well as clearance from Nordstrom full-line stores. It's a great strategy to check back often, particularly around holidays to catch a bigger discount on your Uggs. You can often save 30% or more off retail if you time it right.
6pm.com
6pm.com came into our view years ago when a friend raved about the great discount she got on a pair of Timberland boots. At that time, we checked it out and — sure enough — found a nice selection of cheap Uggs. The discount was mostly around 28%.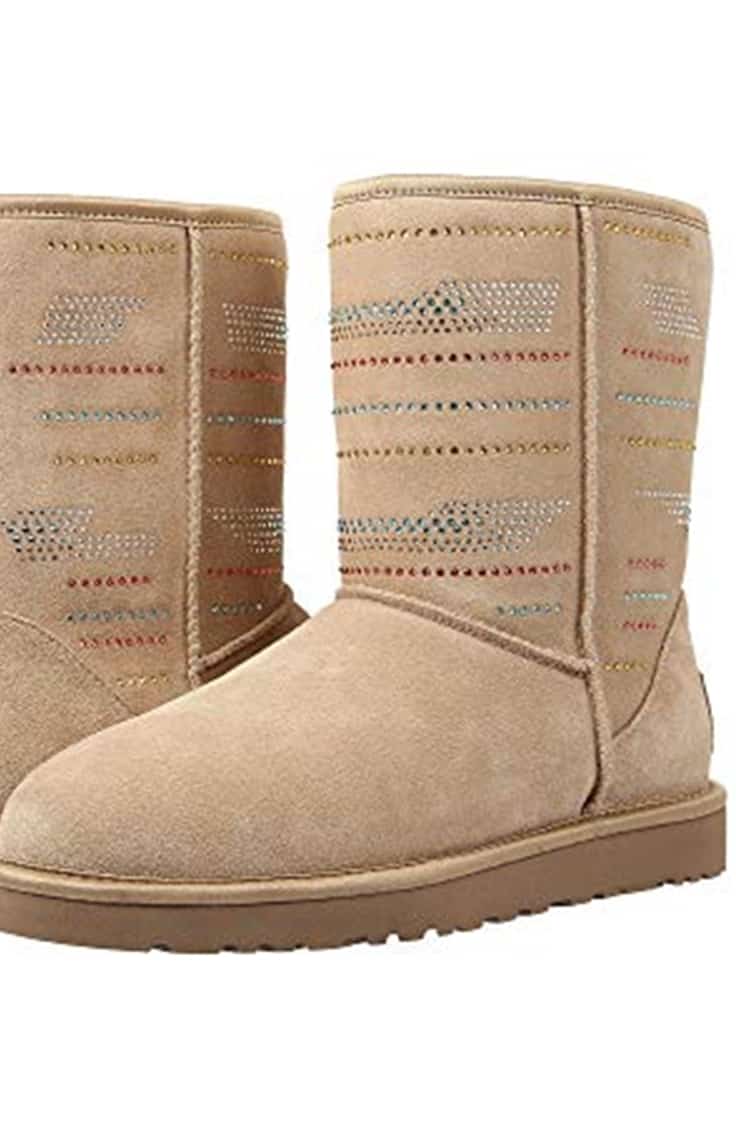 Today, 6pm.com carries a decent selection of Uggs, with non-traditional styles starting at less than $40. The challenge we find with this site though, particularly around the holidays, is a limited selection of sizes. As of November, 2018, for example, you can buy a pair of Classic Short Serape Bling boots for $199.99, or 60% off — but only if you need size 6, 7 or 8.
Other styles are only available in size 5. For example, you can get the Essential Tall boot in chestnut for $99.97 — 50% off and a heck of a deal. The catch? They only have size 5.
If you like non-traditional Ugg styles, you'll have better luck with the sizing. The cute, lace-up Ugg Kiernan is available in 12 sizes from size 5 to 12.
Discounted Uggs In Store
Ugg Outlet Stores
Ugg outlets all have the same discount policy. When merchandise ends up on the clearance rack, expect a 50% discount. There can be bigger discounts depending on color. A sparkle version of the classic boot in colors like ruby red, emerald and deco blue, was selling at $149, a steep deduction from the regular price of $20o or $275. You won't find the classic boot in the standard colors like chestnut and black at the outlet. The merchandise at outlets are usually discontinued items or from past seasons.
There are 33 Ugg outlets in the U.S., concentrated in California and New York. (Side note: isn't it funny that the folks of warm and sunny California love their Uggs?
You can see the full list of Ugg Australia Outlets here, or see our condensed version below.
California
Tanger Outlets in Barstow
Desert Hills Premium Outlets in Cabazon
Camarillo Premium Outlets in Camarillo
San Francisco Premium Outlets in San Francisco
Livermore Outlets in Livermore
Citadel Outlets in Los Angeles
Great Mall in Milipitas
Ontario Mills Mall in Ontario
Deckers' Brand Outlet in Ventura
New York
Woodbury Commons Premium Outlets in Central Valley
Tanger Outlets in Deer Park
Tanger Outlets in Riverhead
Riverhead Outlet Store in Riverhead
New Jersey
The Mill at Jersey Gardens in Elizabeth
Jersey Shore Premium Outlets in Tinton Falls
Connecticut
UGG Outlet Foxwoods in Mashantucket
Florida
Orlando Premium Outlets in Orlando
Orlando Premium Outlets (Vineland) in Orlando
Sawgrass Mills in Sunrise
Georgia
North Georgia Premium Outlets in Dawsonville
Hawaii
Waikele Premium Outlets in Waipahu
Illinois
Chicago Premium Outlets in Chicago
Fashion Outlets of Chicago in Rosemont
Massachusetts
Wrentham Village Premium Outlets in Wrentham
Maryland
Clarksburg Premium Outlets in Clarksburg
Minnesota
Albertville Premium Outlets in Albertville
Missouri
St. Louis Premium Outlets in Chesterfield
Nevada
Premium Outlets North in Las Vegas
Ohio
Tanger Outlets Columbus in Sunbury
Philadelphia
Philadelphia Premium Outlets in Pottstown
Texas
San Marcos Premium Outlets in San Marcos
Virginia
Lessburg Corner Premium Outlets
Washington
Seattle Premium Outlets in Tulalip
Wisconsin
Pleasant Prairie Premium Outlets
Saks Fifth Avenue Off-Fifth stores
Typically the discount at Off-Fifth on Uggs is 20%. When Off-Fifth has a sale, you may get an additional discount anywhere from 30%-40%. That would mean a $160 pair of boots could cost $89.60 at the additional 30% cut or $76.80 at the extra 40% break.
Check out the Saks Fifth Avenue Off-Fifth stores in New York and New Jersey below, or see the Off-Fifth store locator here. Gallery at Westbury Plaza, 1070 Old Country Road, Garden City, NY
Woodbury Common Premium Outlets, 850 Grapevine Court, Suite 850, Central Valley, NY
BergenTown Center, 20 Bergen Town Center Paramus, NJ
Jersey Gardens, 651 Kapkowski Road, Elizabeth, NJ
Riverhead Tanger Outlets, Tanger Drive Riverhead, NY
Nordstrom's Nordstrom Rack Stores
If you're in the New York City/New Jersey area, try the locations below. Or, visit the Nordstrom Rack store locator to find a store near you.
Union Square, 60 East 14th Street, New York City
Bergen Town Center, 510 Bergen Town Center, Paramus, NJ
Gallery at Westbury Plaza, 1040 Old Country Road, Garden City, NY
White Plains City Center, 3 City Place, White Plains, NJ
Or, Buy Used Uggs at Tradesy
If you don't mind wearing secondhand Ugg boots, head on over to Tradesy's Ugg page for some amazing deals. Yes, Tradesy sells used pieces, but the condition is generally very good. We took a look at the Ugg options (3/31/2015) and were pretty impressed with the selection and prices.
Watch Out for Fakes, Sort of
Here, we'll pause to repeat the warning on getting tricked into buying fake boots. You can pass this warning along to anyone you know who is committed and especially someone who might boast of finding a site that sells UGGs at prices that seem too good to be true.
To ensure that you don't get ripped off, UGG Australia has a page on its site devoted to counterfeiting, empowering you to check. All you have to do is plug in the name of a purported Ugg discount seller, click, and you' ll see if you're getting a real Ugg Australia dealer. The reason you want to avoid fakes has to do with quality. You'll get a boot with the style you want, but it probably be very poorly made.
Having said that, there are legitimate brands with styles similar to the Ugg line. These brands vary in terms of quality and style. But if you are not hung up on the logo per se, you could save some dough by choosing a knock-off brand like Bearpaw. See our article on legitimate fake UGGs for more information.
Fun Fact about UGG Australia
Did you know Ugg Australia is an American company? It was founded more than 30 years ago in Southern California by an Australian surfer. Armed with sheepskin, he was looking for a way to make gear to protect his feet in the waves.
Do you have any little-know tips for finding cheap UGGs? Let us know in the comments.