This post may contain affiliate links. See our privacy policy.
Bunions are probably one of the most common foot problems that no one wants to talk about. Why? Because even your mani-pedi won't make them magically disappear. Plus, comfy shoes for bunions tend to, well, hard to find. And orthopedic flip flops scream "I didn't try."
I'll put a disclaimer on this right now: If you feel that you need to visit an orthopedic specialist, please do. But if you are trying to fit cute shoes into your wardrobe, despite the bunions and without further damaging your precious tootsies, here are some ideas.
What are Bunions?
According to Bunion Center, the underlying problem is that tight shoes put pressure against the foot. That leads to a painful swelling on the big toe. Although some experts think that bunions are genetic, many believe that the problem is exacerbated by ill-fitting shoes, specifically shoes that are too tight and too pointy.
Quick Shoe Tips for Bunion Suffers
Avoid "pleather" shoes that restrict your feet
Look for shoes in breathable fabrics like cotton and linen
Search for wedges which provide height, but distributes weight much better than regular heels
Watch out for shoes with seams along the sides that may cut into your feet
Find brands like Kork Ease, Clarks, and the new comfort line by Kenneth Cole called Gentle Souls
6 Cute Shoes for Bunions
Now, onto the nitty-gritty. Here are six stylish shoes for bunions — they're all styles that give your feet some room to avoid squeezing those painful bunions.
1. Elastic sandal
If you have bunions, elastic is your friend. Look for shoes that have elastic straps/tops that comfortably stretch over your foot.
2. Wedges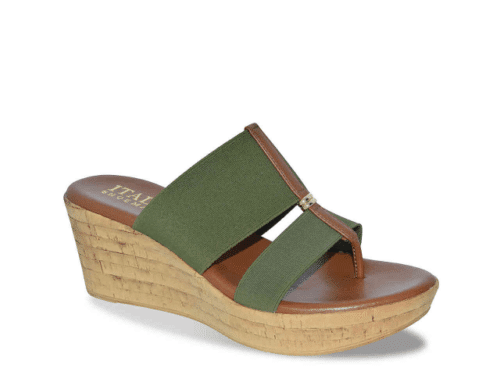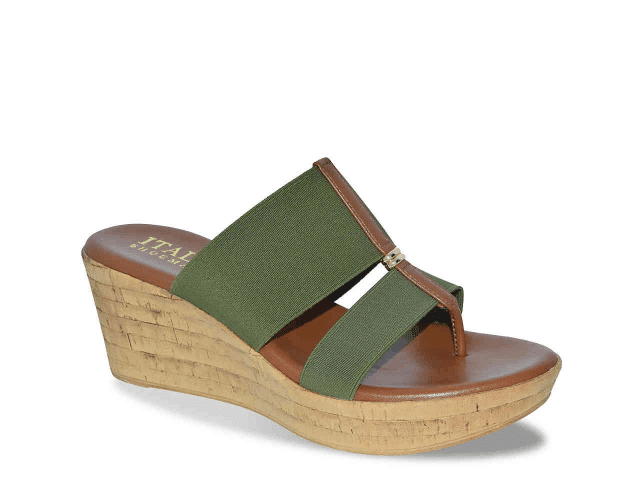 The right pair of wedges are another option for you. They provide the height of heels but distribute weight equally. That reduces the amount of strain on the front of your foot.
3. Uggs: a bunion sufferer's friend
If you have bunions, you get a total "Ugg pass." The boots offer comfort and trend for those looking for more options besides orthopedic shoes. Make sure your feet are dry when wearing the boots as moisture can lead to bacteria. See our post on where to find discounted Uggs.
4. The right flat
While flats provide relief for high heels, they can be a nightmare for those with bunions if the shoe is cut wrong and/or a seam is placed right where your bunion is located. Flats that have all over stretchy material, as shown above, are best.
5. Lace fronts
Shoes that allow you to adjust laces to expand the box of the shoe is a must for anyone with bunions. Just watch out for any seams that might cut into your foot.
6. Adjustable Sandals
Sandals with adjustable straps are great for those with "baby" bunions as they offer the option to adjust the width of the sandal. And, since Birkenstock has updated its line as of late, there's no reason you can't have a little fun with the style.
Also take a look at our list of the best wide shoe stores online.
How are you dealing with your bunions? Leave a comment with any recommendations you have!