So, about our budget fashion and style advice: We sometimes use affiliate links, so we might earn a buck or two if you click and buy :) !
If there's any season that's most notorious for being dubbed wedding season, it's spring. Check out our tips for what to wear to a spring weeding.
Since weddings should be all fun and no worry, we put together some tips so you can look fabulous even if it isn't your special day.
Basic Dos and Don'ts:
Do
– Wear delicate patterns like florals, dots, or prints
– Choose dresses or jumpsuits in light or bright colors like pale pink, sky blue, and yellow
– Put on a brimmed hat
– Select wedges and fancy sandals over stilettos
Don't
-Wear rubber flip flops. If it's a beach wedding, opt for sandals.
– Adorn your look with a tiara. A flower behind you ear is a nice alternative.
– Wear heels to a beach or countryside wedding (you'll sink in to the ground) – a thick wedge is a safe choice.
– Wear anything too low cut (front or back), sheer, or denim. Weddings are family affairs, so if you aren't comfortable talking to relatives or kids in it, don't wear it.
Dressing Tips
It's important to keep all factors in mind when selecting an outfit so you don't get caught off guard wearing sandals to more formal reception, or a shorter more casual dress when everyone else is wearing a cocktail dress. The rule of thumb is to wear lighter colors and looser fits to daytime and outdoor weddings, and more structured dresses and heels to evening or inside events.
What to Wear to Spring Wedding: Day
Printed Dress, $39.99 from ZARA
I Ladylike It Like That Dress, $39.99 from Modcloth
Strappy Maxi Dress, $98 from Loft
What to Wear to Spring Wedding: Night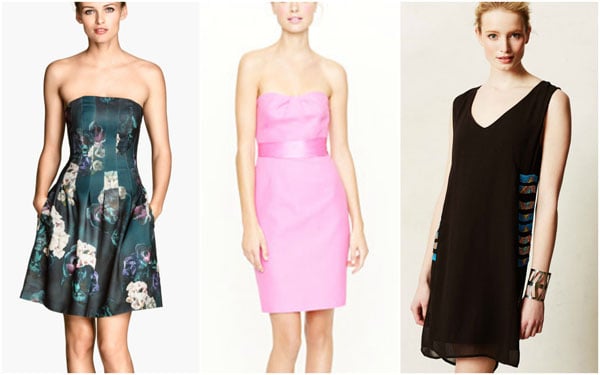 Bandeau Dress, $39.95 from H&M
Lacy Dress in Cotton Cady, $79.99-$99.99 from JCrew
Color Pop Embroidered Tunic, $59.95 from Anthropologie (Black? Yes! Wear it to an evening reception with light color heels. Make sure that you have a touch of color to brighten the overall tone)
Many weddings are themed, so the decor and the entire wedding party will often be based on certain colors, concepts (like nautical or secret garden), or general vibe (like a tropical wedding or a wedding at a farm). Instead of matching the wedding party, focus instead on the venue. If you're attending an outdoor wedding, consider the temperature in the evening and wear a long dress or jumpsuit. If it's inside, you have more flexibility and can pair your dress with heels and opt for a bit fancier.
Typically, lighter colors are worn during the day, and darker, more earthy tones at night. However, since it's spring and the sun stays out longer, you can definitely consider a subtle floral pattern for later in the day.
What to Wear to Spring Wedding: Outdoor
Little Mistress Embellished Plunge Jumpsuit, $100.00 from Lipsy
Summer Days High-Low Dress, $58.99 from Ruche
What to Wear to Spring Wedding: Indoor
Factory Printed Pleated Keyhole Dress, $108 from JCrew
Splurge: Beaded Sequin Dress, $129.99 from Mango (Sparkles brighten up that black for a fresh yet sophisticated look for an evening celebration!)
What to Wear to a Spring Wedding:  Accessories
Shoes are just as important as the dress. Just because you're sitting in the grass or sand, it doesn't mean that you should be barefoot or wearing flip flops. The best shoe to wear to a caual outdoor wedding during the day is a strappy sandal, and at night a strappy yet conservative heel. For a more formal look, try a wedge or a heel and ditch the straps.
Jewelry should be considered an accent, not a statement piece. Stay away from large stones, heavy metals, and eye-grabbing styles. Delicate chains, earrings, and bracelets that finish the look are ideal, those that make people stare should be left at home.
And a word about Makeup
Makeup can also be more subdued during the spring. You have natural tone and color in your skin from the sun and fresh air, so use it! Simply add foundation and light blush, mascara, and a eye-color flattering shadow. No need to have on thick liner or lipstick—the idea face for spring is soft, pretty, and relaxed.