Spring (aka wedding season) is approaching fast. And this year, your spring wedding calendar may be busier than ever — or at least busier than it's been since 2019.
To help you get ready, here are 10 affordable, stylish dresses for a spring wedding. They're categorized by venue type and all are priced $100 or less. And in case none of these pieces suit your taste, you'll also find style pointers below to help you shop for the perfect wedding outfit like a pro.
When you buy via links on this page, I may earn an affiliate commission. Learn more.
Budget dresses for a spring wedding
For daytime spring weddings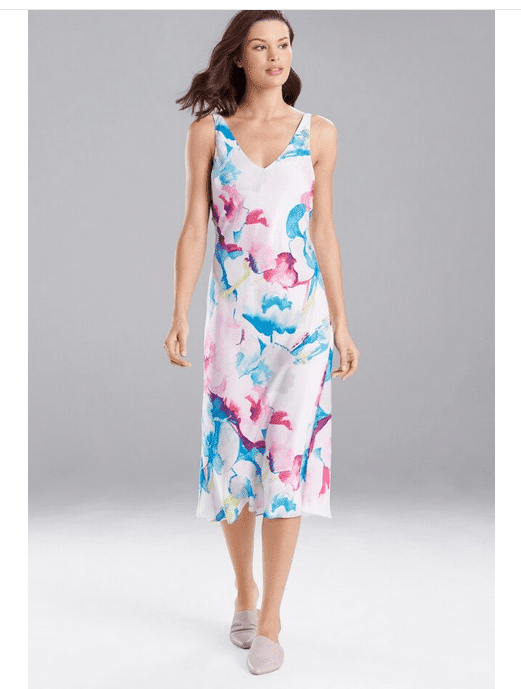 If you're going to wear a tank dress to a spring wedding, said tank dress should be light, flowy, and land below your knee. Bonus if it's also satin and displays a beautiful floral pattern.
Find the gorgeous dress shown above at Natori for 50% off right now — it'll set you back only $29. You won't regret that investment. Wear it to a wedding this season and then keep it on hand for your next outdoor brunch date.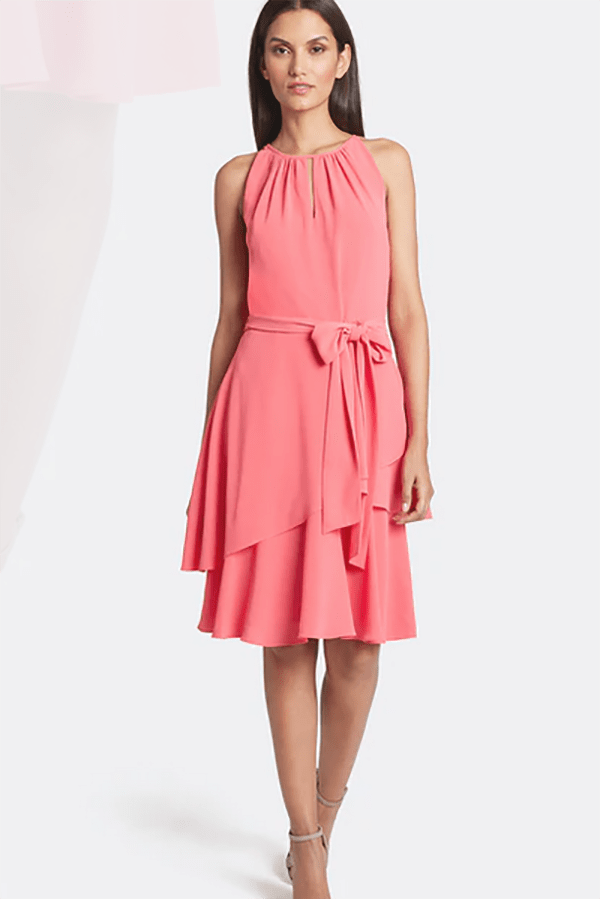 Another solid pick is Tahari ASL's halter-neck tiered crepe dress, shown above. The dress is a "final sale" piece, so make sure you love it as much as I do before you buy. Your reward for taking the chance is an ultra-low price point of $59.
What's to love about this dress for a spring wedding? The color, interesting neckline, belted waist, and tiered skirt. Those design details make for a flattering, elegant piece. They're also interesting enough that you don't need a lot of accessorizing. Earrings, shoes, and a bag will do.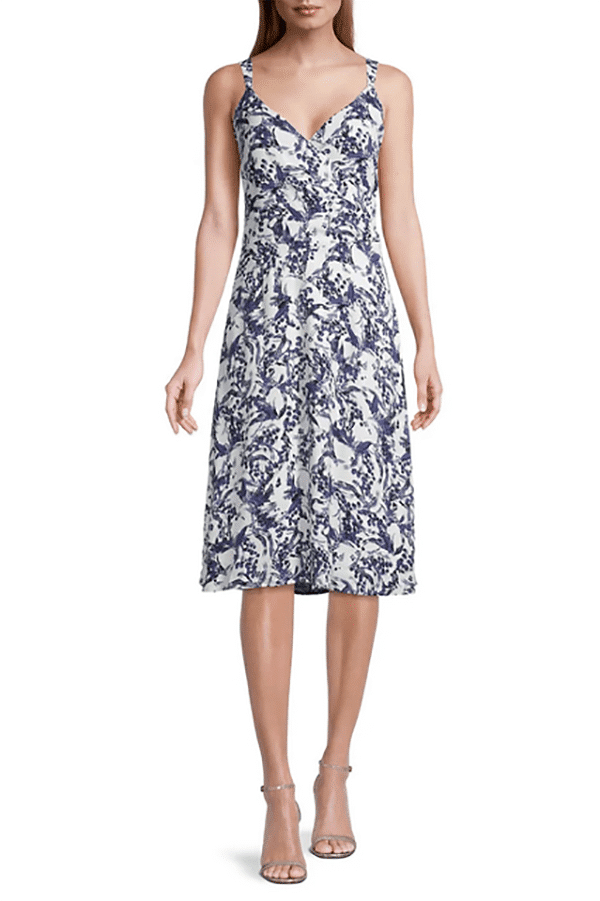 The floral dress shown above is another sale pick you'll have to snatch up quickly. Donna Karan's Twiggy Floral A-line Dress is 70% off, which brings the price down to $96.
The dress is lined, which is what you want when you're attending any upscale occasion. The lining provides extra protection against wardrobe malfunctions like visible panty lines or, worse, visible panties. Even with the lining, the garment is easygoing enough to wear in the daytime. You can easily add a lightweight shawl or wrap if it gets cold.
For nighttime spring weddings
For evening and nighttime weddings, you have more leeway to delve into darker colors, longer lengths, and bolder sparkles — but only if you want to. You're still safe with a floral piece, as long as it's not too casual.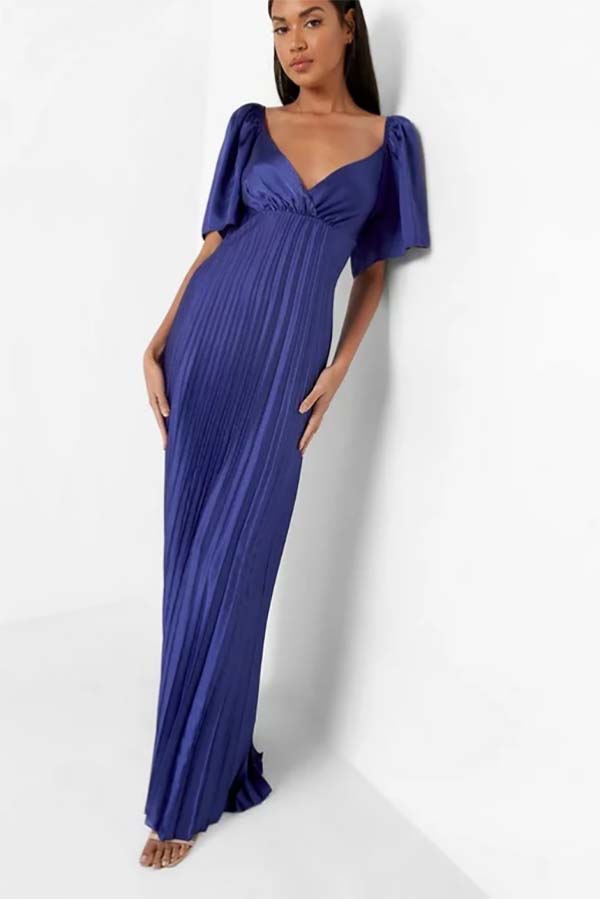 This pleated navy dress from Boohoo is stunning, IMO. It is a tad low-cut for a wedding — so it may not work if you are curvy up top. Pair it with a silver shoe and pedicure for an eye-catching, elegant look.
The dress is also available in a rose color, but I prefer this rich blue. Both colors are on sale currently for $40.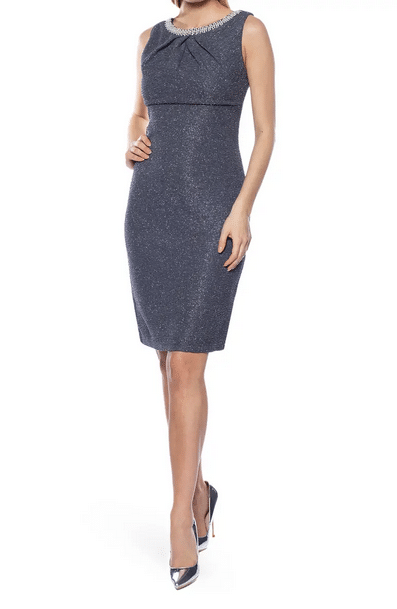 Above is an example of a dress that's too sparkly for daytime wear. The all-over sparkle plus the bejeweled neckline does make a statement at night, though. All that flair works because the shape of the dress is conservative — high neckline and knee-length hemline.
Find this dress by Marina at Nordstrom Rack, on sale for $57.
For outdoor spring weddings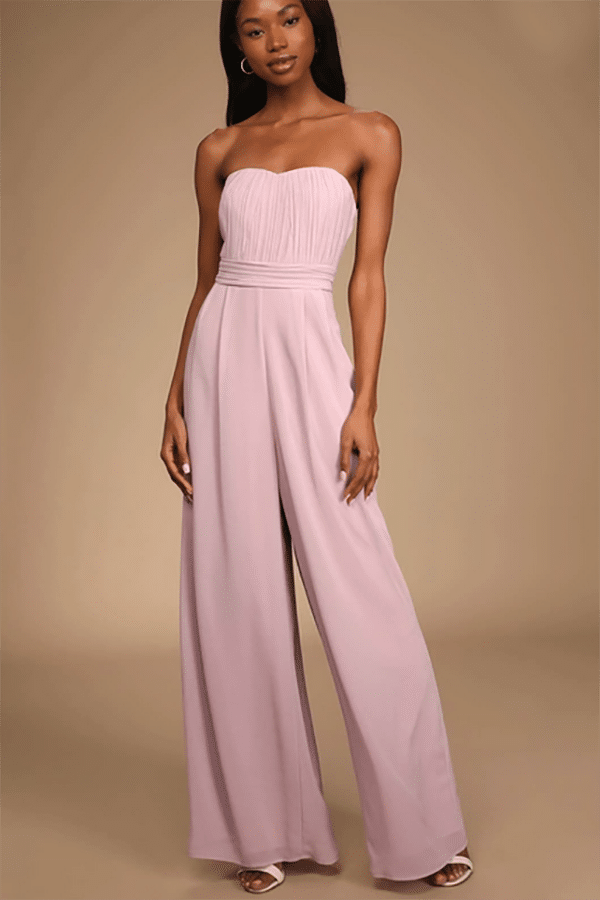 A dressier jumpsuit is a lovely choice for an outdoor spring wedding, especially if it's chilly. This beautiful piece from Lulu's has a formal feel with the strapless, pleated bodice and sweetheart neckline. The high, banded waistband over a flowing, pleated leg promises to be flattering on most shapes, too.
You can make this lavender jumpsuit your own for $78.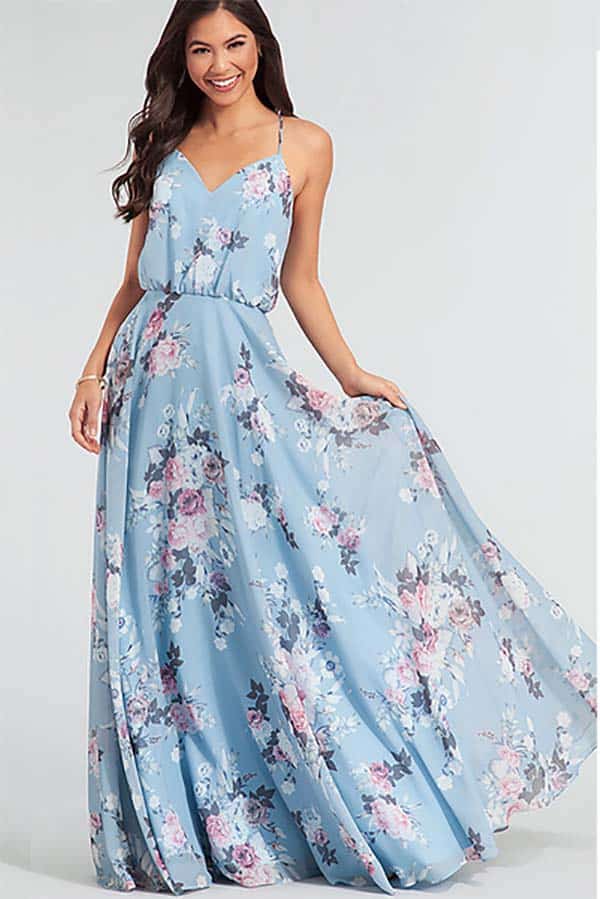 Floor-length dresses with fuller skirts can also provide added warmth for outdoor weddings. One challenge you'll face as you shop longer dresses is that many look like prom dresses or bridesmaid dresses. You can break out of those images with a floral piece that has casual elements.
As an example, this dress from SimplyDresses has a tank-style top. Even so, it's formal enough to take you to a wedding in style. The price is right, too, at $49.
For indoor spring weddings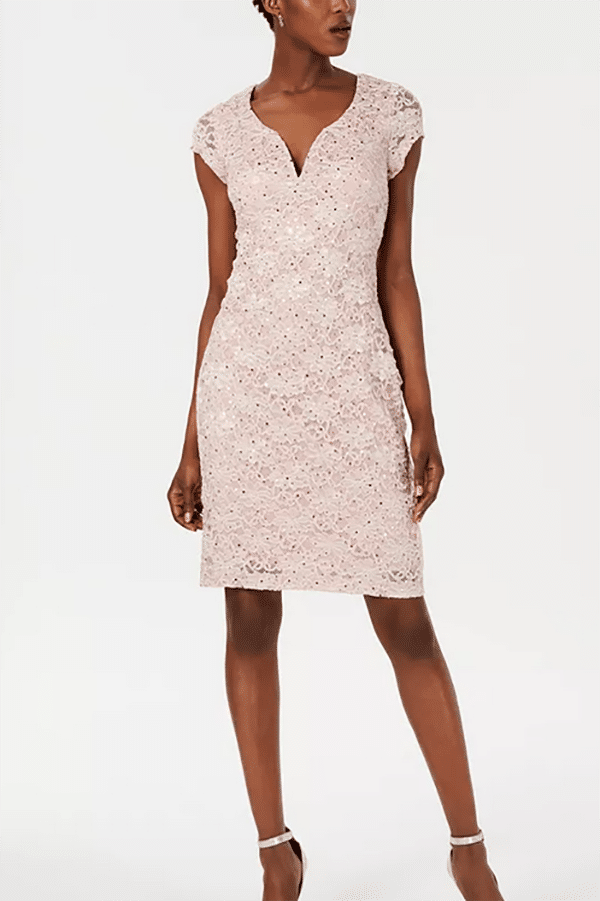 Here's a pretty use of sequins — atop a pale nude sheath dress. If the wedding is happening in the daytime, sparkle is safer to wear inside. Outside, those sequins can reflect like crazy, which potentially makes a bigger statement than you'd like.
Pick up this dress by Connected at Macy's for $89.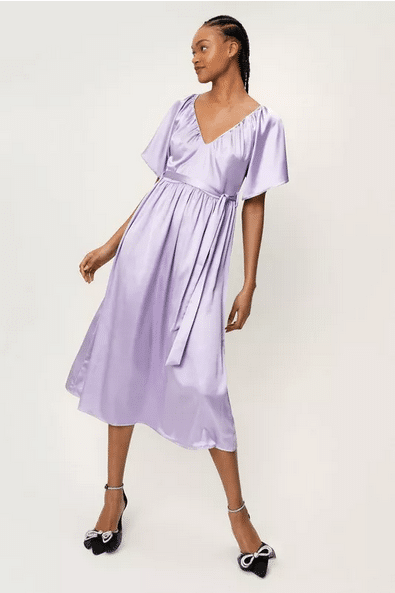 The fun thing about spring weddings vs. fall weddings is that you can play with lighter, brighter colors. That means you can dazzle in, say, a pale, silky lavender (above) or even a hot pink (below). Find both dresses at NastyGal.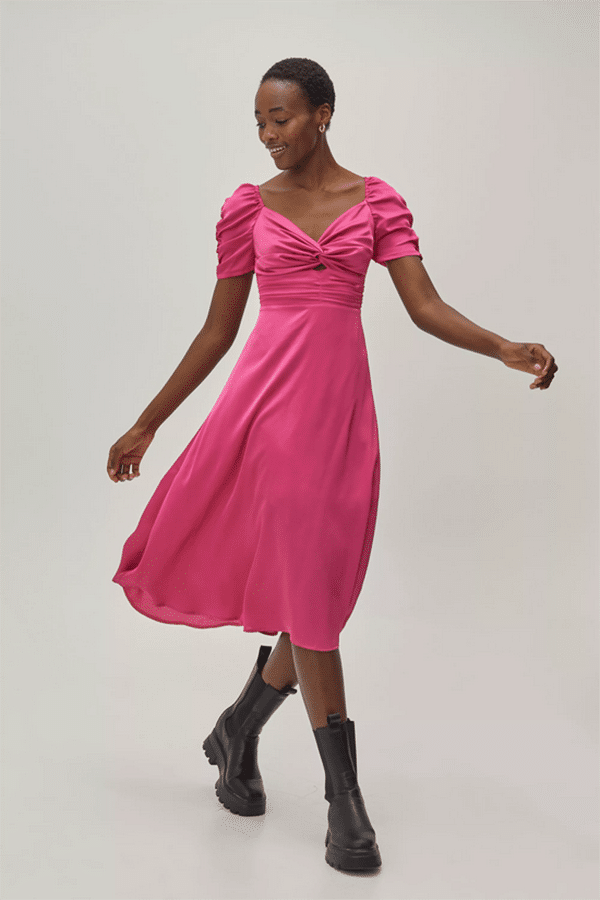 Style advice: What to wear to a spring wedding
Before you head out to shop, you might check in with bride about her expectations for the wedding and reception. Since she knows her guest list, her venue, and her theme, she's best positioned to arm you with the info you need to pick a fantastic and appropriate outfit.
Of course, there are times when you can't give the bride a quick ring. Maybe you are the +one and you don't even know the bride, groom, or anyone except for your date. In that case, default to following the general rules of thumb below and making conservative outfit choices. You don't want to get caught off guard wearing sandals to more formal reception, or a shorter resort piece when everyone else is wearing a cocktail dress.
Generally: Don't try to fit into the wedding theme. The decor and the entire wedding party are often based on certain colors, concepts (like nautical or secret garden), or general vibe (like a tropical wedding or a wedding at a farm). As a guest, you don't have to match the theme. You should strive to dress appropriately for the venue, however.
Daytime spring weddings: Opt for lighter colors and looser fits.
Evening spring weddings: Lean into structured dresses and heels.
Outdoor spring weddings: Consider the temperature and wear a long dress or jumpsuit.
Indoor spring weddings: If you want, you can get fancier with your dress pick and add heels, too.
Do
Do wear delicate patterns like florals, dots, or prints.
Do choose dresses or wedding jumpsuits in light or bright colors like pale pink, sky blue, and yellow.
Do try a brimmed hat or small fascinator.
Do select wedges and fancy sandals over stilettos.
Don't
Don't wear casual shoes, even for beach weddings. Flat sandals are on point, but opt for quality.
Don't overdo your hair. A dramatic updo or tiara is overkill for wedding guests. If you want to do something special, try a flower behind your ear.
Don't wear sharp heels unless you know the terrain is safe. Pointed heels will sink into the ground at the beach or on the countryside. That wrecks your shoes but also potentially creates embarrassing and dangerous situations. A thick wedge or block heel are safe choices.
Don't get too sexy. Ask a friend for a second opinion if the dress you want to wear has a deep V-neck, exposed back, sheer panels, or short hemline. Remember that weddings are family affairs. You have to chat it up with older relatives and, possibly, little kids. Wear an outfit that's too racy and those conversations could feel very awkward.
Styling accessories for a spring wedding
Shoes are just as important as the dress. The best shoe to wear to a casual outdoor daytime wedding is often a strappy sandal, but pick a thicker heel over a pointy one. At night, you can wear a strappy yet conservative heel. For a more formal look, try a wedge or a heel and ditch the straps.
Use your jewelry as an accent only — meaning steer clear of the statement piece. No large stones, heavy metals, and eye-grabbing styles. Delicate chains, earrings, and bracelets that finish the look are ideal. Anything that drops jaws should be saved for another day.
And a few words about makeup
Makeup can also be more subdued during the spring. You have natural tone and color in your skin from the sun and fresh air, so use it! Simply add foundation and light blush, mascara, and a eye-color flattering shadow. No need to have on thick liner or lipstick — the ideal face for spring is soft, pretty, and relaxed.