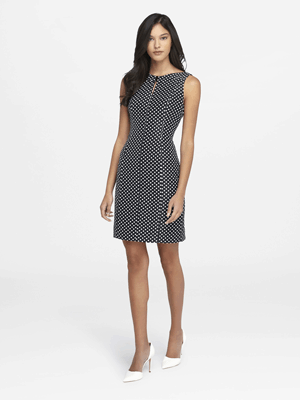 This post may contain affiliate links, which means I earn a small commission if you click and buy something (at no cost to you). See our privacy policy.
Content sponsored by Tahari ASL. All opinions are my own.
I suspect my millennial daughters aren't really sure what a cocktail dress is. Once a formal staple of the wealthy woman's closet, the cocktail dress faces an identity crisis today. Is it the same thing as a party dress? Is this what you wear to a wedding? If you ask Google what a cocktail dress is, you get a bunch of shopping pages with…dresses. Just dresses. Some are nice enough to wear to a wedding and some are not. What's the deal?
The cocktail dress has suffered because dress codes for work and play have been losing their formality. The LA Times recently quoted a survey respondent who said, "Dressing up for work continues to go out of style." And, weddings, too, are trending to the casual side. So most women never wear anything like the full-skirted Christian Dior cocktail fashion of the '50s. It's just so rare these days that a girl has the chance to put on a semi-formal dress paired with a hat and gloves.
The Cocktail Dress in 2016
Today, you may not receive many invitations that specify cocktail attire (or at least I don't!). Even so, you still may need a nicer dress a few times a year — for evening weddings, work holiday parties, and perhaps the occasional evening opera or other special event. If a standard party dress is too sexy for the occasion, then what you need is modern cocktail dress. And that dress should have:
Lining.
Heavier weight fabric. Avoid knits or flimsy cotton.
Length. You can show your knees, but anything shorter than mid-thigh is pretty aggressive. Also, remember that you can use shoes to create formality with a simple dress — but tall heels don't work well with short dresses.
Texture and/or sheen.
Quality construction — look for even, solid stitching.
Solid color or floral; avoid geometric patterns.
Fit — not too tight or too sexy.
New Cocktail Dress Picks Under $100
The best way to shop for a cocktail dress is by brand. Choose a brand you know fits you well, and then look for sale items. If you're not sure on the brand, follow the usual drill: hit the mall for try-ons, then double-check the prices online. While you're shopping, consider the shoes that will pair with your dress picks. For these dressier occasions, I like a delicate strappy sandal. Thin straps with a thin heel and some height.
Following this advice, I jumped over to Tahari ASL to find my picks for the new cocktail dress. As of today, all are on sale and priced below $100.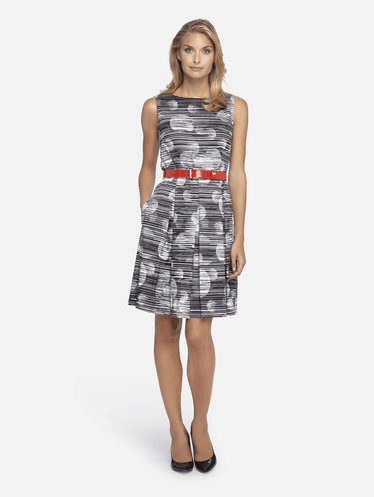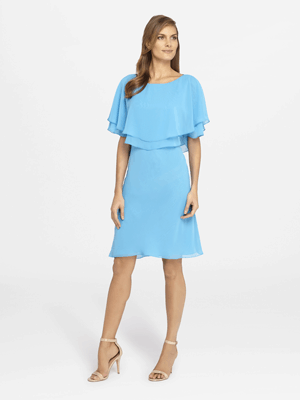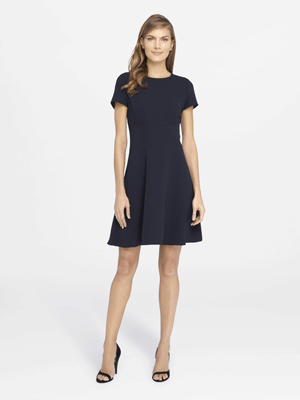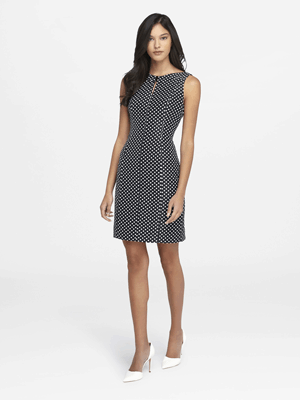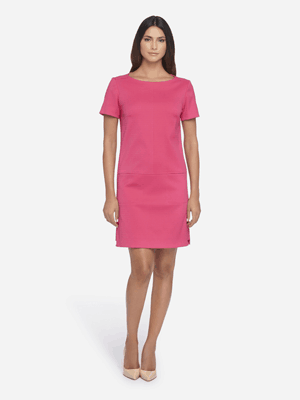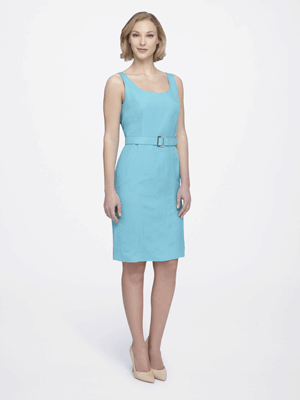 Which is your favorite? Share in the comments!