Next to Macy's, Dillard's is the go to department store for mid-priced brands. The budget-friendly store carries top designer brands from Calvin Klein, BCBG and Michael Kors to Ralph Lauren as well as brands that used to be hot back in the day like Perry Ellis. Like many department stores, Dillard's is huge and can be overwhelming to shop. There are a myriad of departments and tons of non-household name brands that offer quality products. To help you get a better shopping experience out of the gigantic department store, TBF breaks it down on how you should be shopping Dillards.
Tips on How to Shop at Dillard's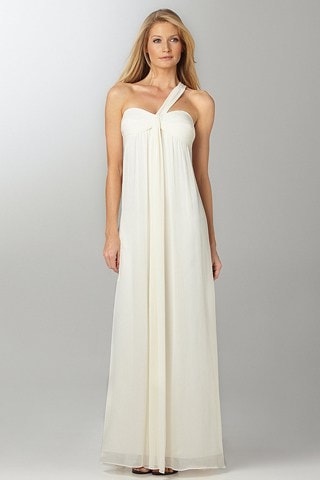 Sign Up For The Mailing List

We know you probably have enough junk mail as it is, but signing to receive exclusive coupons and fashion news can potentially help you save money as well as find out first hand about private sales and new lines that the store will be carrying.

Shop The Top Brands

Dillard's doesn't necessarily carry the major luxe brands. However, they do carry just enough to keep you up on your labels. You'll also find low to mid-priced designer lines like Jessica Simpson, Vince Camuto, Gianni Bini, as well as Coach and Brahmin. Dillard's showcases their top brands often online and via the store through prominent displays.

Browse The Bridal Shop

Max and Cleo Chiffon One-Shoulder Gown
Dillard's bridal shop entices soon-to-be brides with budget friendly dresses not only for the brides but for the Mother of the bride's as well as bridesmaids. Dillard's makes it super easy for them to become a one stop shop for brides by offering wedding jewelry and shoes.

Visit the Outlet

Who doesn't love outlet shopping? Hit up the Dillard's outlet to receive more savings on everyday items from clothes to housewares. The outlet normally offers up to 75% off the original prices and will more than likely carry additional items that you will not see in stores.

Take A Trip To The Spa

After a long day of shopping you will probably need a little R&R to rejuvenate your body. Dillards offers spa and nail services in a number of locations across the country. A spa manicure will run you about $15 and a spa pedicure will cost about $30. They also offer hair salon services with cuts starting at $20.

Shop The Style Guides

Depending on the season or holiday, Dillards offers style guides to help you find what you're looking for without having to browse the entire store or website. Whether you're looking for prom dresses or wedges, Dillards style guides lists everything they have in that particular category.
Check Out The Home Section

Dillard's Home Section
Dillard's has a pretty extensive home department. You can find everything from cookware to bedding at great prices. You will also find special collections there like Paula Deen's signature cookware sets and a pretty handy dinnerware buying guide that helps you select the right china for your needs.

Check Out The Specialty Shops

Dillards specialty shops offer everything from wedding gifts and collegiate items to mini grills and children's bath items. You never know, you may find the perfect father's day gift there.

Check Out Extended Shoe Sizes

For those who wear a shoe size above a 10, Dillard's offers extended sizes by showcasing the brands that go up to sizes 11-14. They even carry narrow and wide widths unlike other department stores.

Sign up For The Rewards Program

The points based program allows you to receive a percentage or dollar amount off your purchase, which normally is either 10% or $10 by way of a shopping pass. The pass is good for use on all items and brands.
Shopping Dillard's is very much like shopping at any other department store. The trick is knowing what distinct services and incentives each department store has exclusive to them. Feel free to contact customer service or an in store employee to find out what other great incentives that Dillard's offers.
Get more Budget Fashionista