Costco or Sam's Club? Often, the choice between the two warehouses comes down to location. But if you're fortunate enough to have a Costco and a Sam's Club within driving distance, you'll probably choose your favorite based on price and brand selection.
Costco vs. Sam's Club
Locations
Generally, Costco tends to put locations in wealthier suburbs, where customers have the luxury of choosing to budget shop. On the other hand, you'll usually find Sam's Club in areas where customers have to budget shop. Where I live in rural Missouri, Sam's Club is king of the hill. We have to drive an hour into St. Louis County suburbs to get to the nearest Costco.
Nationwide, Costco has 546 locations, with clubs in nearly every state. Sadly, there are no Costcos in either Wyoming or Maine.
Sam's Club has 599 stores around the country, across 43 states. There are no Sam's Clubs in:
Alaska
Massachusetts
Worcester
Oregon
Rhode Island
Vermont
Washington
District of Columbia
Selection
Costco typically has a smaller selection of goods but puts more emphasis on quality. The store's Kirkland Signature brand, for example, is often a high-quality product matched up with a budget price. Sam's Club tends to offer a larger selection with slightly lower quality.
Clothes
From a budget fashion perspective, Costco is a better choice for anyone looking for brand names. Costco sells about $7 billion worth of clothes annually — which gives the chain some serious buying power to snatch up reputable brands at good prices. You'll often find Calvin Klein, Jessica Simpson, Tommy Hilfiger, Puma, Birkenstock, UGG, and Columbia garments and accessories on the Costco shelves. And the Kirkland label has men's dress shirts that are comparable in quality to the private label brands of major department stores like Nordstrom but cost 50% less.
Costco also caps its markup on clothes, which helps keeps the prices low, too. On Kirkland Signature pieces, the price is never more than 15% over cost. And on brand-name clothes, the markup is capped at 14%. Some items are even sold below cost. You can spot these, too — they'll carry a price tag that ends in 97 cents.
That's not to say the clothing selection at Sam's Club is awful. It's not. I've purchased some amazing pieces at Sam's Club. The store is very strong with seasonal items, like rain boots, UGG boots, puffer coats, and vests. You can also occasionally find cute denim wear. Brands regularly featured at Sam's Club include Free Country, Eddie Bauer, Philosophy, Ellen Tracy, and London Fog.
Jewelry and accessories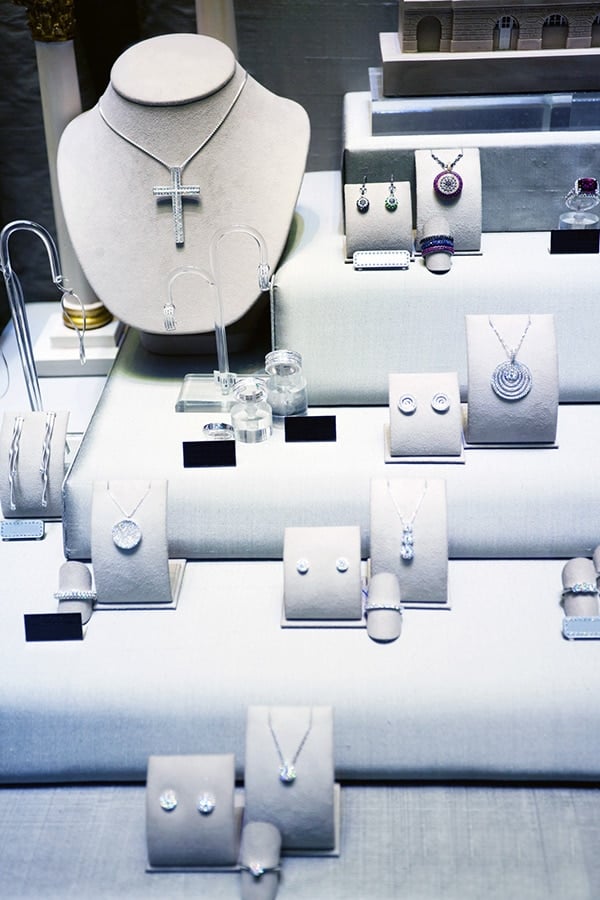 Both Costco and Sam's Club have nice selections of jewelry, watches, and sunglasses. I have a lovely sapphire tennis bracelet from Sam's Club that I absolutely adore. You'd never know by looking at it that it came from a discount. Either store would be a good place to look for affordable wedding rings, diamond stud earrings, and designer watches.
Wine
Costco is one of the country's largest wine retailers and the wine selection is quite good. Sam's Club has good deals on wine, but the collection can be static. There is a lot of variation by location, however. If you feel bored with the wine at your Sam's Club, take a drive to another club location and you'll find some new picks. Or, even better, get to the nearest Total Wines and buy from there.
Basics like toilet paper
Sam's Club wins out on basics like toilet paper, bottled water, paper towels — things where brand name doesn't matter much.
Costco vs. Sam's Club membership options
Costco has four membership options, two of which are for business owners. The consumer-oriented membership plans are:
Gold star executive membership for $120 annually. As a gold star executive member, you can shop in the store, buy Costco gas, and also earn rewards on eligible purchases.
Gold star membership for $60 annually. Gold star members can shop in the store and buy Costco gas.
Sam's has two membership options:
Plus membership for $100 annually. You get cash rewards, free shipping on orders from SamsClub.com, plus extra discounts at pharmacy and optical department. You can also fill up at the Sam's Club gas station and shop the club store.
Club membership for $45 annually. You can shop in the club and fill up at the Sam's Club gas station.
Costco vs. Sam's Club return policies
Costco and Sam's Club have similar return policies on paper, though Costco is better known for taking almost anything back at any time without explanation. Exceptions are electronics which have to be returned within 90 days, diamonds which have to be returned with their original paperwork, tires, batteries, cigarettes, alcohol, and custom items. Similarly, you can't return alcohol, cigarettes, tires, batteries, custom products, eyeglasses, contact lenses, gift cards, hearing aids, prescriptions, and event tickets to Sam's Club.
The verdict
Sam's Club is a great for staples like toilet paper, while Costco has a more consistent clothing selection and is better for premium extras like smoked salmon and red wine.