Sex in the City character Carrie Bradshaw famously said, "I like my money right where I can see it…hanging in my closet." While I get Bradshaw's perspective, I have a different outlook. You see, I like many things in life outside of stylish clothes — an expensive glass of wine, a fancy hotel room, an exotic beach, a soft bed, a well-equipped kitchen, and a deliriously delightful meal. I indulge now and again because I don't overspend on clothes. In other words, the budget fashion lifestyle enables me to spend my cash on other things, without compromising on style.
When you buy via links on this page, I may earn an affiliate commission. Learn more.
Hopefully you feel the same and that's why you're here. Ready for a crash-course in budget fashion? Read on for the top five questions I get about being fashionable on a budget.
Budget fashion FAQs
1. How to set a clothing budget?
You can set your clothing budget in one of two ways:
Start with your net income. From that number, subtract your monthly savings deposits, debt repayments, and your essential expenses. The amount that's left has to cover your clothes plus all other discretionary expenses. Go through your bank statements for the last few months to get a sense of how much you're really spending on nonessential things.

If you have some flexibility, you could set your budget as a percentage of your income. Some experts recommend you spend 5% of your income on clothes, but that's probably too high for most people. In my opinion, 2% or 3% is more appropriate.
For more detailed information, see this post about budgeting for clothes.
2. How can I be fashionable on a budget?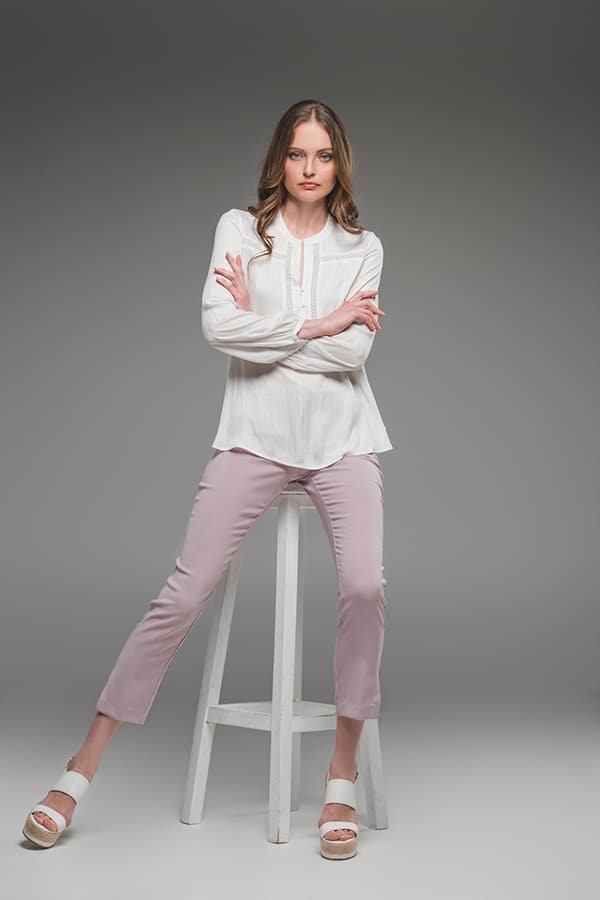 Ah, the age-old question: How to be fashionable on a budget. There are so many ways to answer this! To spare you from an answer so long you'll never get through it, here are the top 10 ways to be stylish without breaking the bank.
Know what's in your closet. Everything in your closet, with the exception of occasion dresses, should be in your rotation when seasonally appropriate. The more often you wear what you already own, the less you need to rely on buying new stuff. Of course, this attitude should change how you approach shopping, too. Don't spend a lot on ultra-trendy pieces that only last a season. Invest in quality garments that have timeless style instead.

Shop complementary pieces. Before you purchase a new garment, consider how many outfits you can make by combining that new piece with clothes you already own. Say yes to the cute blouse you can wear with your three fav skirts and all of your jeans. Say no to the adorable dress that will send you on the hunt for the perfect shoes and handbag to complete the look. Shop for roll players — these are pieces that will mix and match to give you several more outfit choices than you had before.

Lean towards classics. Straight-cut jeans, super-soft t-shirts, button-down blouses, pencil skirts, wrap dresses, belted blazers, pumps, tidy sneakers…these pieces never go out of style. And for good reason. These styles are both flattering and chic. Even when drop-waist dresses are trending, for example, you can still be stylish in a wrap dress that fits you properly. I'd take it a step further and argue that the wrap dress is more stylish than donning a trend that doesn't flatter your figure.

Use accessories to participate in trends. Wearing the latest this or that is a fun way to refresh your wardrobe, but it gets expensive and leaves you with a bunch of clothes you won't want to wear in a year. Resist the urge to go all-in on trends. Instead, play in the trends with low-cost accessories only. Try nail polish in the season's hottest color or a headband in the pattern or texture du jour. A pretty scarf, bold earring, or delicate hair clip can do the trick, too.

Make a list and/or set a budget before you shop. Before you start shopping, do two things. One, check your closet to see what gaps you have and where you could add a single garment that would create multiple new outfits. And two, impose a spending limit on yourself and stick to it. Coupons, sales, promo codes, and rebates can help you stay within that budget.

Only shop stores with free returns. Don't risk wasting cash on items you ultimately won't wear. Keep the tags on until the first wear, and only buy from retailers that will cover return shipping.

Follow the get one, give one philosophy. Make a pact with yourself that you have to donate a garment you currently own every time you buy something new. This forces you to consider whether the new piece is worth giving up something you already have, and it supports the goal of having a closet full of clothes you wear regularly.

Rent if you get bored easily. Try a subscription rental service if you like having new choices on hand. You pay a flat monthly fee for a box of garments you can wear as much as you'd like. Once you're done, send the clothes back and get a new box.

Borrow from friends. When you need just one more piece to complete an outfit — say, the perfect clutch or strappy sandals — try borrowing from friends instead of purchasing something new. Even better, meet up with friends once quarterly for a clothing swap. Have everyone involved brings garments they no longer need and let the trading begin.

Make one statement at a time. Style happens when you blend subtly and boldness in just the right way. Generally, that means constructing an outfit with a single statement piece surrounded by supporting players. An example is the simple black dress and diamond studs with a bold, red lip color. The lip color is your statement; the dress and earrings are the backdrop. Jeans and a t-shirt paired with a fun, floral sneakers fit the same formula. As does the bodycon dress with nude pumps and an elegant low ponytail. Surround your bold choices with subtlety — you'll buy less stuff and look amazing at the same time.
3. How to be a Budget Fashionista?
You'll say I'm splitting hairs, but IMO you can be fashionable on a budget without being a true budget fashionista. You might score on a designer dress from the Macy's clearance rack and pair it with pumps from Marshalls for a special occasion ensemble. That's being fashionable on a budget. But if you approach style and shopping that way — meaning you're constantly on the hunt for ways to maximize your clothing budget — you are a budget fashionista. That's the way I see it, anyway.
To be a budget fashionista, you'll follow all of the 10 ways to be fashionable on a budget as listed above. But you'll also do things like:
Use a cash-back credit card to save money and support your clothing habit.
Take advantage of Rakuten, Ibotta, and/or gas app rebates whenever possible.
Establish a clothing budget and stick with it, no matter what.
Anytime you see a promo code box in an online store's checkout, open a new browser window and search for a promo code. You never know!
Resist paying for things you can get for free. Watch ads to use apps, get a free checking account, use your Amazon Prime membership to read books for free, listen to podcasts or download free audiobooks from Libri Vox…you get the idea.
Obsessively seek out sales and coupons when buying clothes.
Shop used on Poshmark for designer pieces.
Splurge on occasion, because life really would be better with a real pair of Chanel sunglasses.
4. How to change your style on a budget?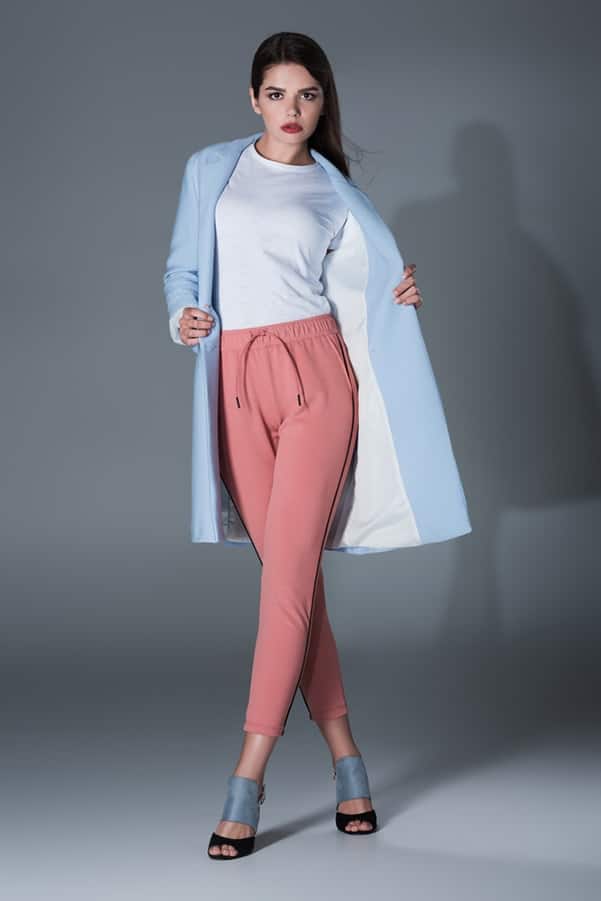 Maybe you've just graduated from college and you'd like to evolve your wardrobe into a more grown-up vibe. The first thing to do is define what you want your style to be. Pour over Pinterest, Budget Fashionista, and even your favorite retailer websites to decide what types of garments as well as cuts, patterns, and outfits you like. (Note that I didn't include Instagram as a source of inspiration. That channel seems to foster feelings of inadequacy more than it inspires.)
Next, set a budget. Unless you just won the lottery, you can't buy a new closet full of clothes right now. But you can add a few new pieces each month or two and build to the wardrobe you want.
Then, make a list of the top-priority items based on what you have on hand today. If you want to make a quick impression, start with a couple low-cost accessories and a good pair of shoes. If you need to borrow clothes from a sister or friend until you accumulate enough pieces, do it. There's no shame in being fiscally responsible.
5. What is the cheapest place to buy clothes?
Hands-down, the cheapest place to buy clothes is your local thrift store. Nothing else can compete with shopping used in an actual store, not even Poshmark. But if you don't have the patience for thrifting, here are some other options:
For more ideas, see our post on the best online clothing stores for budget fashionistas. Happy shopping!