With this season's color trends and bold patterns gracing everything from hats to flats, there's one article of clothing likely feeling (as if clothes had feelings) left out: your classic black blazer. Like a forgotten friend, the poor thing has been tossed aside in favor of the more hip, popular types. For shame!
Time for you to mosey back into that closet and make everyone play nice. Classic blazer, meet geometric patterns, accessories and bold statements. Here are six great ways to wear a blazer
Six Tips for Wearing a Black Blazer
1. Know Thy Options
Crop blazers, knit blazers, linen blazers . . . one button or two, stand collars, ruffled collars…always a style for you. Okay, forgive the Dr. Seuss outburst (we like coffee over here) but point is, black blazer style options are endless. The key is choosing cuts and fabrics that work with your body, outfit and comfort level.
Ditch a long boyfriend blazer if you're considering pairing it with a waist-flattering skirt; you lose the essence of the look when you cover yourself up. And hiding behind clothes is the last thing a fashionista like you ever does! A black fitted or cropped choice works best in that instance. Not wild about your bottom half or want to draw attention to your amazing new lipstick shade? Choose styles that draw the eye upward: ruffled collars are an unexpected, fun twist on a black blazer.
2. Have Fun. Seriously.

You can never go wrong pairing jeans with a black blazer. Sure, it's been done time and again, but have you sported the look recently? Or at least worn it with something other than dark denim?
White denim or colored legs are terrific; we like the sophisticated-yet-playful air that a black blazer brings to the combination. Add a shimmery dipped-neck tank underneath and the ensemble becomes a powerful statement that says, "let's have a girls' night out, but know that the conversation may turn to Facebook stock or politics at any moment (but not for long)."
As we like to say, the look is a perfect way to "adult up" an otherwise casual style.
3. Take a Break

If you're more on the conservative side or confess to being over (gasp!) the world of head-to-toe brights and color blocks, a black blazer is the ideal way to break things up while still staying true to your monochrome cronies. It instantly takes the edge off a
too-patterned or too-yellow look, transforming you from say, Big Bird. into Big Bird in a quaint coffee shop. You're not fully dismissing the latest and greatest trends, just kinda, sorta giving them a cold shoulder for the moment. And that's okay.
4. Go a Little Crazy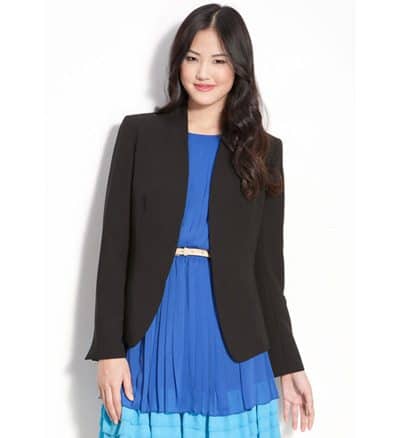 Crazy, quirky . . . call it what you will, but why not wear a black blazer to showcase your wonderful fashion unpredictability? Consider it your "who says?" statement.
Who says a black blazer is booooring? Who says a black blazer has to be worn precisely the way it came off the hanger? Make it your own. Roll up those perfectly stitched sleeves and show what's not "supposed" to be seen: lining. The skin two inches above your wrist. A blouse peeking from underneath the cuffs.
Better yet, hit a thrift store and get going with your crafty, creative self. Remove the buttons from your black blazer and sew on some chunkier, funkier thrift store finds. Not into threading a needle? We love finding that perfect scarf or pin, then using a black blazer as a backdrop to unleash our creativity.
5. Dress Down

Feeling a little too formal or frilly in that dress? We like silky blouses and dresses too, but know that sometimes they're not quite the right choice for that summer picnic (ugh! It's so easy to get caught up in the excitement of a get-together that we miss the part in the conversation about "casual").
Dress down a too-femme style with a casual linen or one-button cropped blazer. You'll still look great and won't feel as much like Cinderella standing by the backyard cooler.
6. Go with What Suits You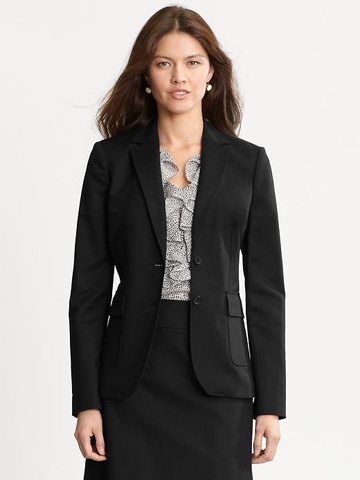 Perhaps a job interview, meeting or more formal occasion requires you to wear a dark pant or skirt suit. (Yeah, we're not always wild about parting ways with our comfy tanks and sandals, either). But just because you're wearing a suit doesn't mean you have to look like you're trying out for a role in the next Men in Black movie or considering life in a convent. Perfectly-matched black blazers and black pants in perfectly-coordinated fabrics is perfectly . . . predictable. Blah.
We say: go ahead and wear that all-black pant (or skirt) suit, but don't work yourself into a fit of match-perfection. Make sure that blazer is in a fabric or black hue that suits YOU. Mix it up a bit. Maybe it's a linen blazer worn with blended-fabric pants. Perhaps the blazer is a silver-black shade, perfect for combining with that licorice-black skirt.
You can be buttoned up without looking buttoned up—big difference.
Gone are the days that breaking out a black blazer means you're chilly, boring or considering a job in the Secret Service (or all three). Time to introduce—or reintroduce—this versatile piece to your wardrobe and wear it your way!
Ladies, let us know how you're wearing black blazers these days. What are some of your favorite ways to wear them?