While navigating office-appropriate attire can be confusing, there's one sure-thing: A suit always looks professional and polished. So we put together this quick post about the best women's suit brands on a budget. Whether you're buying a full suit or jackets and pants, borrow a tip that men already know – you can and always should get them tailored. Pants usually need to be hemmed to "break" (aka end) at the top of your shoe, skirts should be hemmed to be more form-fitting and jackets should be nipped and tucked at the waist to create a much more flattering look. Check out our list of affordable suit brands after the jump.=
Women Suit Brands on a Budget
Looking for a great suit for work. Check out these women's suit brands that are both stylish and affordable.
Job Interview Women's Suits: Loft
When you're applying for a new job, first impressions make all of the difference. Even if you're not in an industry that requires a formal dress code, LOFT offers professional and sharp pieces at reasonable prices, with skirts for $60, pants for $70 and jackets at $118. You can mix and match and end up with a sharp (and hire-able) look.
Sharp Separates Women's Suits: The Limited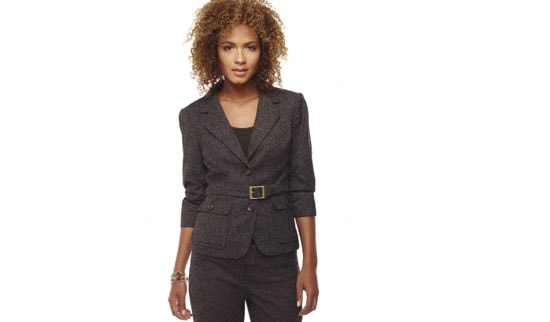 Belted Jacket was $148, now $88.80 and bootcut pants were $74.90, now $44.94 at The Limited
When you want a power look without padded shoulder, check out The Limited. Your favorite shop for going-out tops can also help with your wardrobe of sharp, fitted suits. Look for bows, belts and ribbons for adding a personal touch to your non-dowdy wear-to-work look.