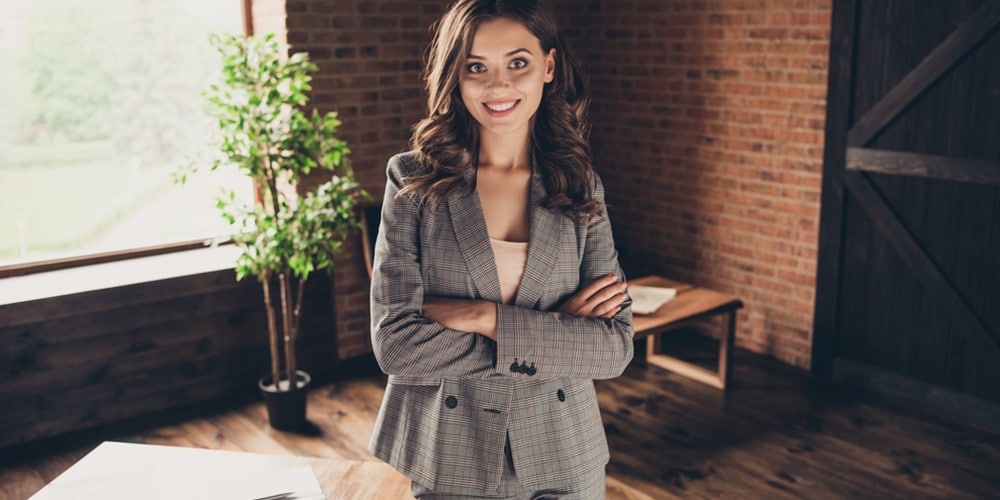 While navigating office-appropriate attire can be confusing, there's one sure-thing: a suit always looks professional and polished. Less certain is knowing where to buy a good work suit for women — without breaking the bank, that is.
Work Suit for Women: 5 Brands We Love
Here are five women's suit brands that balance style, comfort and price.
Job interview suit
When you're applying for a new job, first impressions make all of the difference. Always choose a classically styled, conservative women's suit unless you have inside information that sends you in another, more creative direction.
Tahari ASL suits fill this niche without costing you a ton. You can often find a skirt suit on sale for under $100. Later, once you've landed the job, you can separate the skirt and blazer into different outfits. Wear the skirt with a lightweight button-down, tucked in. And pair up that blazer with tidy, dark-wash jeans and ankle boots on casual Fridays.
Fashion women's suits
When you want a suit that's a touch more creative in style, try Express. You can buy separates that incorporate current trends, which breathes new life into the women's suit. You'll find fresh colors and patterns, as well as interesting details — perfect when you need to wear a suit, but you still have some freedom to show off your own style.
Smart separates
Being business-appropriate doesn't mean dressing like a dude. The suiting at White House Black Market has the sharp tailoring of menswear suits matched with feminine colors and coordinated tops.
Everyday women's suits
If you wear suits on a daily basis, you're going to want a lot of them. Check out the Le Suit line at JCPenney for cute options. The styles are fairly straightforward — solid colors and classic cuts are the names of the game here.
The real selling point of Le Suit is the price point. The regular price on these two-piece sets is about $120, but you can often find them on sale for under $100.
Quality women's work suits
You can buy cheap women's suits at Kohl's and any juniors section of any department store. But loose buttons, thin fabric and dangling threads isn't a great look on anyone. When you need a suit with a reliable level of quality, head to the Calvin Klein section at Macy's.
If you don't have time to wait for a sale, you might spend a little more — but you'll have garments that'll last for years.
Remember the Tailor
Whether you're buying a full suit or jackets and pants, borrow a tip that men already know — you can and should get them tailored. A nip and tuck can transform a less expensive women's suit into something that looks very polished.
Pants usually need to be hemmed to "break" (aka end) at the top of your shoe. Skirts should be hemmed to be more form-fitting. And, jackets should be nipped and tucked at the waist to create a much more flattering look.
Where's your favorite place to buy work suits for women?