Kitten heels have gotten bad rap from style bloggers who insist women should be wearing a higher heel. But let's face it: not everyone can pull off a 5-inch heel, and not everyone who can wants to.
There's a time and a place for every shoe. And in a work environment, high heels can be hazardous and restricting. Don't believe the hype — you don't need a higher heel for a polished look. Here are six reasons why kitten heels are awesome for the workplace.
1. Kitten Heels are Easy to Walk In
If your job requires a lot of moving around, wearing high heels on the daily can lead to serious problems. But maybe you're not ready to give up heels entirely. We get it. The answer is, of course, a lower heel.
Whether you're walking briskly from building to building or darting to catch a train, the smaller heel makes all that movement easier. There's no shame in it!
A neutral kitten heel can step right into your existing work wardrobe and seamlessly replace its higher-heeled counterpart. These nude slingbacks are just as cute as a higher heel would be. If you need some added comfort, use a shoe insert inside to support the foot.
2. Kitten Heels Can Pretend to be Taller
For a shorter heel that gives the illusion of a taller heel, choose a kitten heel with an ankle strap. Not only will the shoe seem more impressive, but the ankle strap also adds stability by keeping the shoe in place.
This dainty, baby blue shoe is perfect for spring, and will anchor your pencil skirts, crop pants and sheath dresses. Even with the tidy heel size, these shoes will earn you complements.
3. Kitten Heels are an Alternative to Flats
There's nothing wrong with wearing flats. But if you're getting bored with your flat collection, it's easy to transition into a kitten heel.
Some even look like flats, like this one from Lifestride — they actually have a 1 1/4-inch heel, which is enough to add a bit of sway to your step! Wear this lightweight shoe with a wide-legged trouser or fuller midi skirt.
4. A Pointed Toe is Always on Point
Another reason to love kitten heels is that many of them come in a classic, pointed toe. There is a multi-generational love for this style, because it's simple and so ready-to-wear.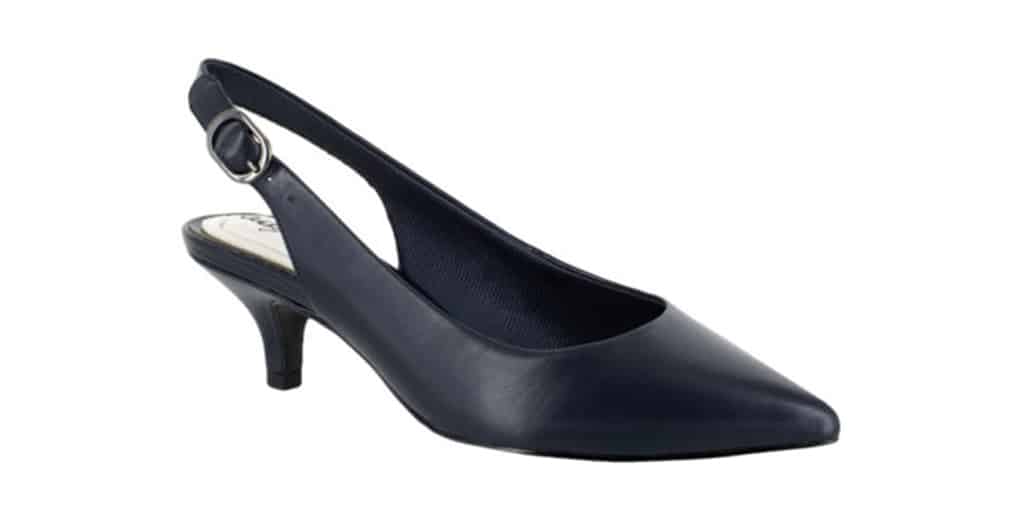 These navy slingback shoes from JCPenney are classically styled and ideal for the office. You can wear them with anything from a pantsuit to a structured pair of jeans and an oxford top.
5. Kitten Heels Can Trend
Whatever trends hit the high heels also find their way to the low heels. Case in point: snake prints are having their moment, and there's no shortage of bold, snake print kittens on the rack.
If your wardrobe consists mainly of solid colors, a trendy shoe will add a nice pop of color (and style of course). These snake print shoes from Net-A-Porter fit the bill. Act fast and you can get them for 70% off the regular price.
6. Kitten Heels Can Go Year-Round
If you're not the sandal, pump or slingback type, you might like a kitten-heeled ankle boot. They are sleek and serious — a power look, for sure.
This boot from Michael Michael Kors features classic, streamlined styling for go-anywhere versatility. Wear them to the office or to Sunday brunch on a chilly day, or even to a girls' poker night — just to let everyone know you're not messing around.