Dusters or extra long cardigans. Whatever you call them, they're in style this season. Why wear a short cardigan when you can have one that drapes down to the floor? And, a flattering piece you can wear as an indoor and outdoor covering before it gets too cold? Well, we found four dusters in your budget that will do just that. Enjoy!
Pick 1. Long Cardigan for the Office
Shop it: Long Open-Front Cardi for Women, $27, Old Navy
This mocha color is the perfect color of fall. It's versatile, and it gives off the illusion of warmth and fall leaves. The lightweight cotton blend of this cardi will cover your body without weighing you down — even though the length lands at your knee. You have pockets in the front to keep your hands warm too! A piece like this goes great with a dress or jeans and a cute top. Plus you can slip it on over skinny pants and a blouse for the office. At $27, this cardigan is a total steal.
Pick 2. Patterned Cardigan for Play
Shop it: Cupio Patterned Duster, $29.95, TJ Maxx
Many of us gravitate toward the darker colors in the fall, and it's a welcome break if you wear plenty of bright colors in the spring and summer. This cardigan easily complements black slacks and a decorated white blouse. Also try wearing it with jeans, a solid colored top and your favorite boots. Another plus to this garment is the hood in the back. Too cute to resist, right?
Pick 3. Striped Cardigan for Anytime Style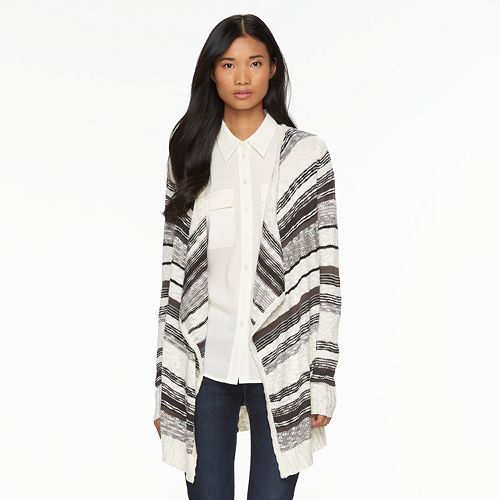 Shop it: Women's AB Studio Striped Long Cardigan, $34.99, Kohl's
The stripes on this cardigan create a cool effect where appear to be rising at an angle — because of the way the fabric drapes over the body. It creates an illusion-type landscape that's flattering, and fun to look at. The creme base color gives you more options as far as matching outfits, and you can always use the black to match a leather shoe or black tights.
Pick 4. Plaid Cardigan to Make a Statement
Shop it: Indigo Thread Co. Woven Plaid Long Sleeved Button Front Dip-Die Duster, $43.50, Evine
The dip-die gives the classic fall look a modern update. You still have the feel of a long t-shirt with chest pockets and cuffs — yet unlike the other dusters, this one has buttons. We saved the best detail for last: You can get this cardigan on Evine's ValuePay, where you can pay in six installments of $7.25, plus shipping.
What does your favorite long cardigan look like? Let us know below!