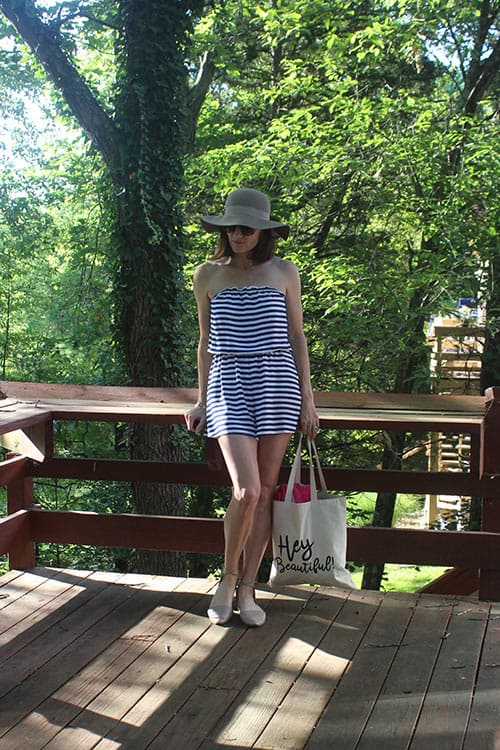 This post may contain affiliate links, which means I earn a small commission if you click and buy something (at no cost to you). See our privacy policy.
I'm not gonna lie — jumpsuits are hard to wear. They involve the same challenges you have finding a one-piece bathing suit that fits. The torso is too long or too short. The waist sits too high or too low. Start trying on jumpsuits and you'll quickly be convinced that they're all designed by blind men.
Age is an issue, too. Not because I care too much about what people think, but because I don't like dressing like a Barbie doll. Jumpsuits tend to be small and sexy and leggy, and that's just not the way I present myself at 45.
Rompers: Convenient and Sporty
Yet, the jumpsuit still appeals to me for summer. It combines the ease of a dress with the sportiness of shorts. I'm an easygoing fashionista, and sometimes want to make fewer outfit decisions in the morning. Dresses and one-piece rompers serve that purpose perfectly.
But then when the length is short, I prefer shorts over a dress. Shorts don't fly up when the wind blows, and you get more coverage when you're sitting down.
Styling Jumpsuits after 40
So this summer, I committed myself to finding a jumpsuit style that works for the 40-plus fashionista. It can be done! Here are the dos and don'ts.
Do experiment with waist and sleeve styles.
The fit of jumpsuits varies widely. You may have to try on many of them to find a few that work. Some retailers that carry a good selection of wearable pieces are: LOFT, Nordstrom, ModCloth, 6pm.com and H&M.
You can narrow your options with styles that flatter your body type:
The elastic waistband is hot right now. This style flatters petite women and hourglass figures.
A tie-wasted jumpsuit with a wide belt creates a more definite waistline silhouette — a nice option for apple-shaped figures.
A wrap-style jumpsuit with a thinner belt accentuates the waist of a pear-shaped figure.
Sleeveless and strappy styles will show off your shoulders. If you've been working hard at the gym to get those shoulders rounded out for summer, go sleeveless!
A jumpsuit with a statement sleeve is both chic and flattering. This style adds balance to your upper body, which is nice if you feel like you're bottom-heavy.
Do glam it up.
Make it an occasion when you wear your jumpsuit. A floppy hat and oversized sunglasses provide a dash of sophistication and intentionality. Yes, you're wearing a jumpsuit in your 40s. Own it.
Do layer.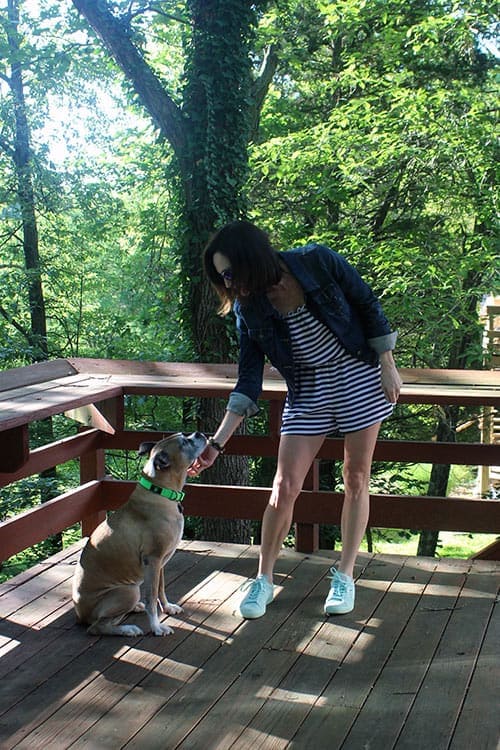 If glam doesn't suit the occasion, go for a sportier look. Throw on a light denim jacket and your favorite sneakers. A couple of beaded stone bracelets and you're ready for touring the city, lunching with the girls, or even just running some errands.
Don't wear heels.
Choose flat sandals or sneakers with understated styling. Heels or even bold gladiator sandals with a skimpy romper give off a slightly trashy vibe.
Don't overdo the jewelry or make-up.
Avoid chokers, statement necklaces, dangly earrings and smokey eyes! These might work with a jumpsuit for an edgy, younger woman who's hitting the club, but for the more mature fashionista? Not so much. When you want to rock those accessories, pair them with a dress instead.
Don't be uncomfortable.
If you find yourself tugging at or repositioning your jumpsuit, take it back to the store and find another option. The jumpsuit is a "grab and go," daytime outfit that should look and feel easygoing. If you're constantly rearranging it because it sits wrong, then that style's not for you.
Do you wear jumpsuits after 40? Let us know in the comments!
You may also like these: