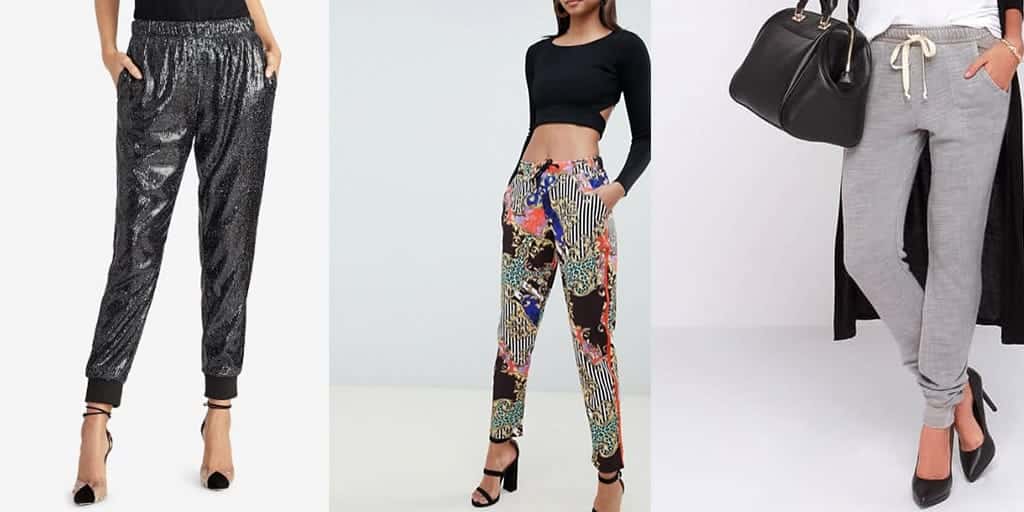 This post may contain affiliate links, which means I earn a small commission if you click and buy something (at no cost to you). See our privacy policy.
The athleisure (and now athluxury) craze has ushered a new world of decision-making for fashionistas. As if we didn't have enough to think about, with choosing the right cut of jeans to wear with that cutout sweater, or the right length of skirt to wear with that work blouse. Now we have to figure out how to wear joggers, fashion hoodies and designer sports bras!
We do love joggers though — they're kinda like stylish sweatpants — but they can be challenging to wear. Read on for our guide on styling joggers like a true fashionista.
Joggers Defined
First, the basics: what are joggers anyway? Joggers started out as a modern sweatpant. They typically have:
an elastic waist
roomy fit through the hips, backside and thighs
leg that tapers down to a gently hugging elastic around the ankle
Clothing makers are now producing the jogger silhouette in a range of fabrics. And that means you can buy joggers appropriate for work or play. You can really get very creative with this style. Celebrities like Rihanna wear joggers with heels and jewels. But newcomers to the jogger style might begin with a very casual jogger outfit — perfect for running weekend errands comfortably and stylishly.
Wearing Joggers for Your Body Shape
Joggers will flatter if you have a straight figure, or otherwise want to draw attention to your hips and thighs. The tapered leg emphasizes the angle of your shape from hip to ankle. This is a plus when you want to add the appearance of curves and shapeliness.
If the hips and thighs are problem areas for you, many standard joggers may be unflattering. Look for a pair with a lighter-weight, flowy fabric and a less extreme leg taper.
How to Wear Joggers — Dos and Don'ts
Do consider the occasion
You can wear joggers casually or you can step it up for work a night out with the girls. A classic casual jogger-based outfit includes sneaks and a feminine t-shirt.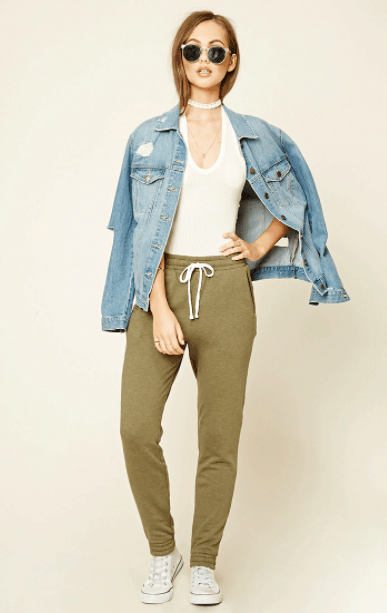 If you're going for a dressier vibe, go all in. Wear heels and jewelry and carry a big leather tote bag. Traditionalists may be nervous about pairing the cotton pant with heels. In that case, look for a leather jogger or polyester jogger that's slightly more formal.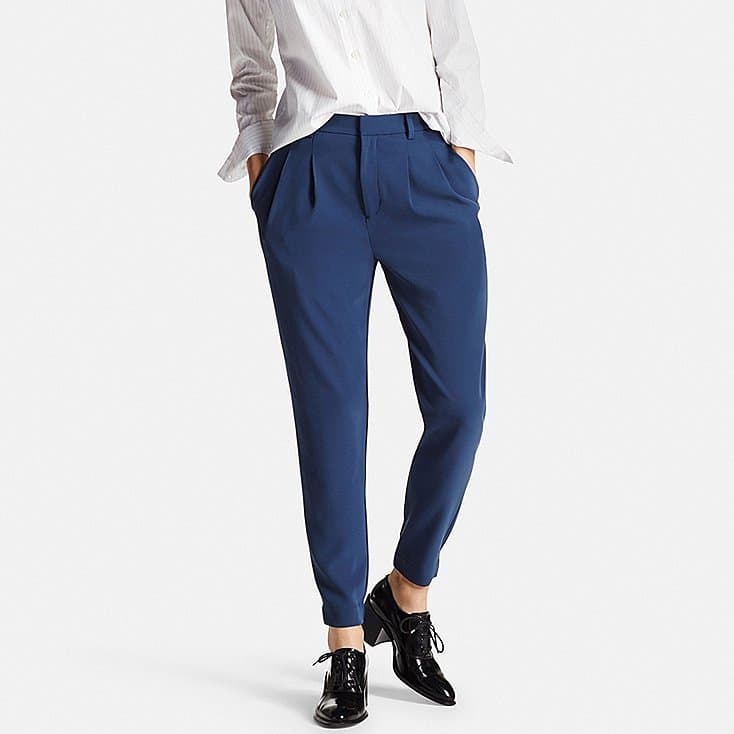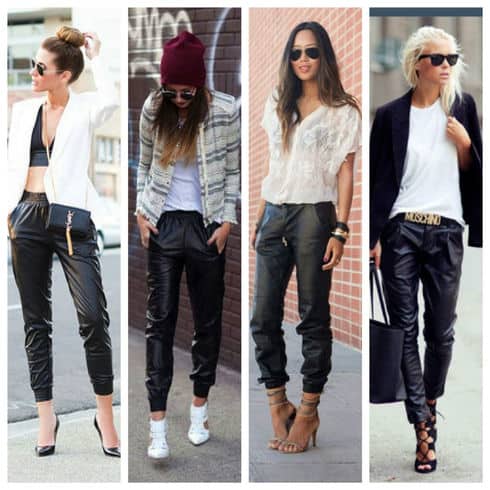 Do wear sneaks, ankle boots or angular, pointed-toe heels
Have fun with your shoe choice! Joggers are super-versatile, and can really highlight a statement shoe. Here are some options to try.
Sneaks: Vans, Converse, Stan Smiths all work well.
Heels: A pointy, angular heel is a good choice. You can go with a closed toe or even a strappy sandal, as long as you choose sleek over chunky.
Ankle boots: For an edgier look, wear joggers with a solid ankle boot. Again, sleek styles will be your go-to here. This combo is most successful with a jogger that's close fitting around the calf.
Do select tops that are a soft, flowy fabric and contrasting color
Matchy tops paired with joggers look like pajama sets or sweatsuits. And those aren't the looks you want. Instead, keep your look tidy with a contrasting top in a lightweight fabric. A simple white t-shirt made of a rayon blend will do! The give of the fabric balances the heavier cotton of a standard jogger, while nodding to your feminine side.
Do tuck or half-tuck tops that land past the jogger waistline
You do want to highlight your waist when wearing joggers. The right top follows the shape of your upper body and lands at the waistline. If the shirt is slim fit but too long, you can fix that with a tuck or half-tuck — as long as the fabric isn't bulky.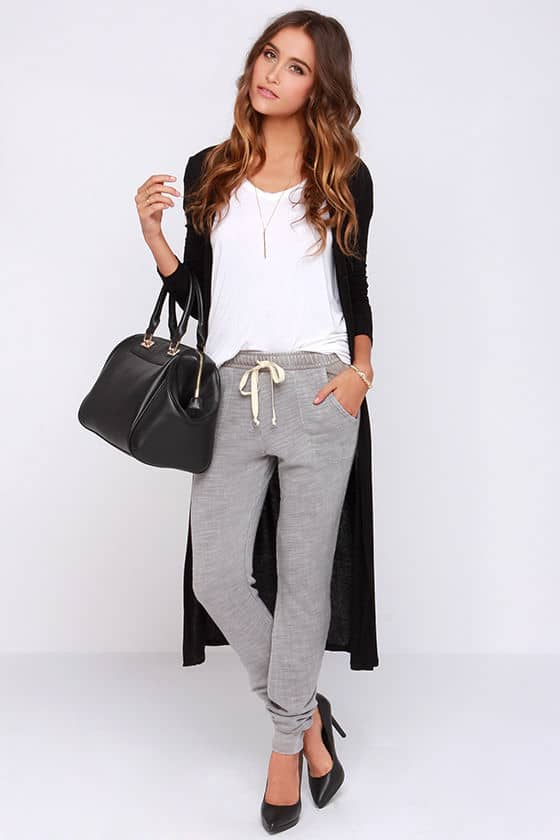 Do pair joggers with a long, sleek cardigan, fitted hoodie or structured denim jacket
Your choice of outerwear is important. Because the jogger silhouette is roomy, the style looks best with outerwear that adds definition and structure to your shape. A bulky sweatshirt won't do that — but a long cardigan, fitted hoodie or denim jacket will.
Don't wear a crop top (unless you have unreal abs)
The Internet is loaded with images of amazingly thin women wearing their joggers with crop tops. This is a look that's used to sell joggers…and it's very hard to pull off. Stay away from this pairing unless:
you are a professional athlete (can I get an autograph?) and
you have super-toned, tan abs and
it's warm enough outside to justify the crop
Otherwise, keep the midriff covered.
Don't wear distressed joggers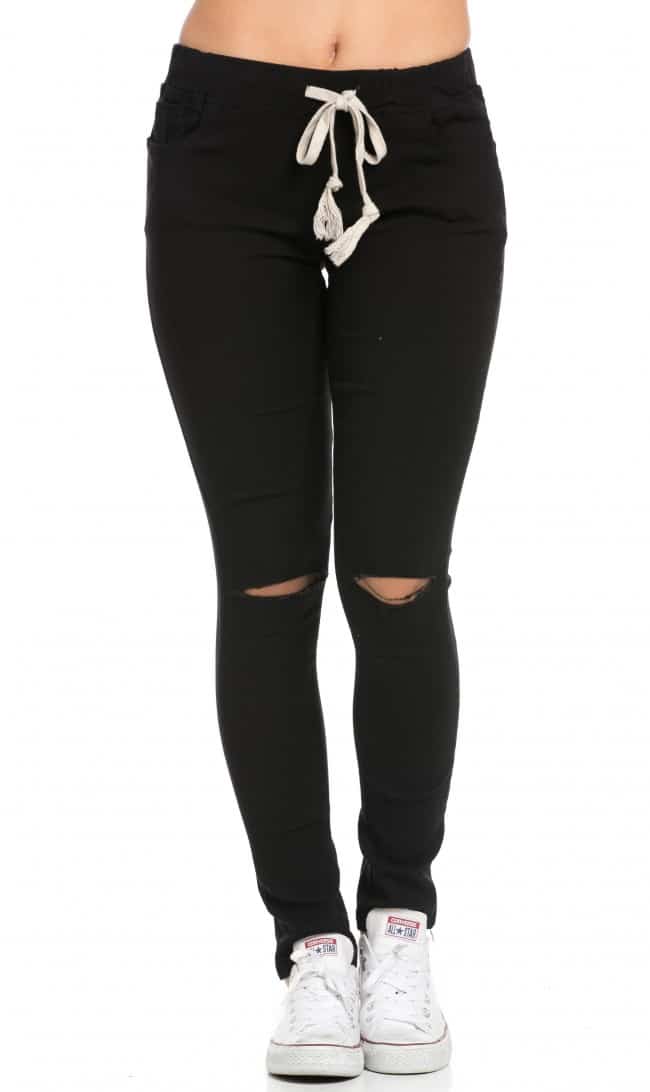 Joggers with torn knees just don't work. If you want your knees to peek out, choose jeans instead.
Don't tuck your joggers into boots.
Tucking joggers into boots does away with the sleek tapered leg shape, and will usually cause the pant to bunch up around the top of the boot. Leggings or skinny pants are a better option with tall boots that require tucking.
How are you wearing your joggers? Let us know in the comments!