This post may contain affiliate links. See our privacy policy.
The phrase 'elastic waistband' always makes me think of shapeless, soft denim pants you might see your crazy aunt wearing. There's nothing wrong with those baggy, pull-up trousers, but they are definitely designed for ease and function, rather than style.
But times they are a-changing, and the elastic waistband is in the midst of a reinvention. We're now seeing the cozy, waist-cincher on skirts, dresses, trousers and even tops — and this version is way cooler than any elastic waistband of generations past. Even better, the upgraded style profile doesn't take away the sheer convenience of wearing clothes with a built-in waist-shaper. You can still pull on your garments without fear of getting caught in a zipper and, heck, you don't even need to find a coordinating belt.
Still not convinced? I've shopped the elastic waistband for you, and here are my top 10 picks.
Top 10 Elastic Waistband Pieces for S/S 2017
Jogger-Style Linen Pants
For a casual day, slip on these linen pants with your favorite sandals and a soft, feminine T-shirt. Add a pair of big sunglasses and a few elastic bracelets with bright colored stones for an effortlessly stylish, off-duty look.
The Nude Jumpsuit
The simplicity of this jumpsuit makes it an ideal backdrop for a bold shoe, plus your favorite statement jewelry. Your biggest challenge will choosing appropriate undergarments that don't show through. Reach for the flesh-toned, seamless variety.
Rayon Joggers
Here's another jogger-style pant, but this one's made of light rayon. As far as joggers go, these are on the dressier side, so you could add heeled sandals as shown on the model. Personally, I'd wear these with a lightweight, fitted tank or blouse and a nice pair of sneakers.
The Everyday Dress
Tie-waisted dresses like this one are everywhere right now, mostly because they're so flattering and easy to wear. Pick a color and/or pattern that suits your mood, but look for a piece that has just a touch of fold at the waist. And throw on a bomber jacket with it if you're chilly!
The Maxi Skirt
This season, turn up your maxi statement with a strong color choice, like flame orange. Note that this piece has super-handy side pockets. Those can be hard to wear if you want to draw attention away from the hips. Choose a skirt with no pockets if you're unsure.
Off-the-Shoulder Dress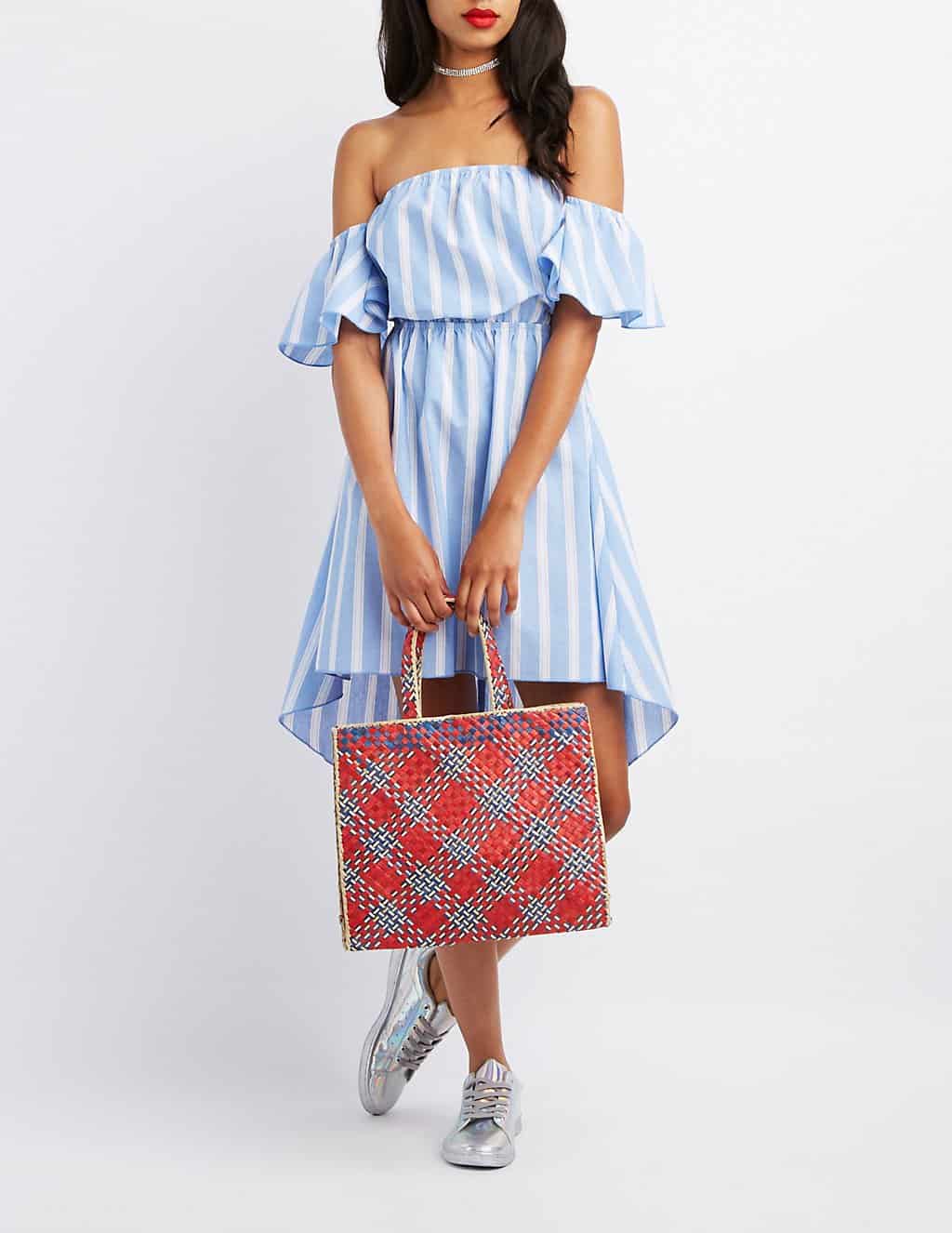 This season, stores are stocked full of elastic waist dresses, and may are either sleeveless or strapless. If you need a garment that's more balanced, reach for an off-the-shoulder dress. This piece, for example, has full sleeves and a high-low hemline — a combination that emphasizes your waistline.
The Tassel Dress
Talk about trending! Add tassels and a floral print to your elastic-waist dress and you have all bases covered. This piece is eye-catching enough that you can't wear it every week — but when you do wear it, you'll get your share of compliments. Pair it with nude-toned makeup for a fresh style that says, "I always look this amazing."
The Floral Blouse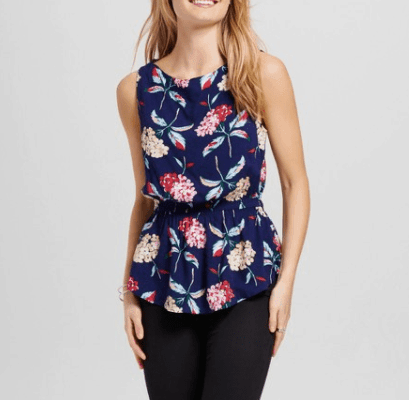 Here's another easy-to-wear choice that can anchor either a work or casual outfit. Try this piece with a light yellow pencil skirt or a white crop pant, and brighten up every room you enter!
Floral Peplum Top with Sleeves
If sleeveless isn't your thing, try a three-quarter-sleeved peplum top. The flattering v-neck on this piece adds a touch of sexy, too.
Statement Waist Skirt
The waistline of this skirt has a paper bag look to it, which you can play up with a simple, tucked-in top — even a soft, feminine t-shirt would do. Personally, I'd stay away from statement sleeves like those the model is wearing. They're super busy, and the waist detail of the skirt gets lost in all that ruffle.
Are you ready to give the elastic waistband a second chance? Let us know in the comments.