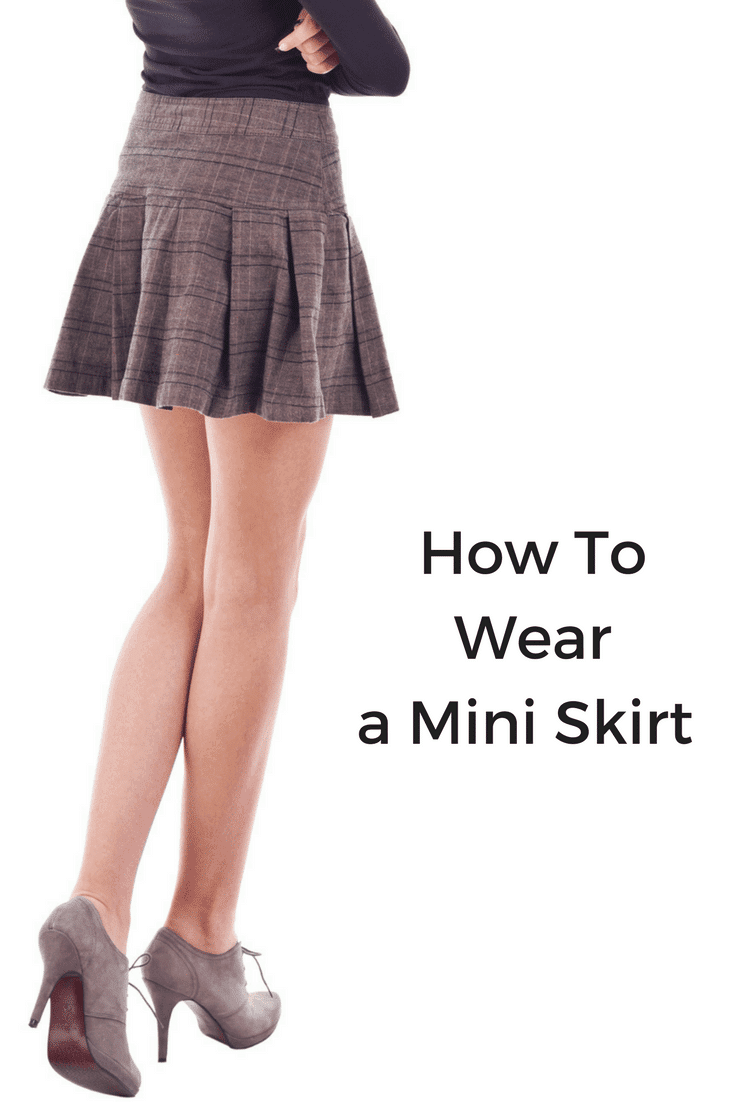 One of the lyrics in Dave Matthews' song "Crash into Me" is "hike up your skirt a little more." Wow, what a perfect beat-the-heat suggestion for this warmer weather, Dave! (Okay, so that part of the song may have other meanings, but we won't go there). Our interpretation? Why, it's time to figure out how to wear a miniskirt!
But before hitting your favorite store, let's make sure we're doing all we can to flatter ourselves as well as this summer, shorty.
Budget Fashion Guide: How to Wear a Mini Skirt
Wake up from Thigh-bernation
It's happened to us all: You know that lazy winter-into-spring/summer "I'll only shave (or wax) just a little bit above my knee" effect? We call it Thigh-bernation: taking a good, intentional rest from thigh follicle maintenance, which can result in longer-than-normal neglect of that general area, even as the warmer months arrive.
Rouse that razor from its slumber, baby! You're about to break into a mini, baring more than you typically do in your usual shorts and long skirts. So break out the waxes, scrubs, loofahs—whatever it takes—and get your legs as smooth and bump-free as you can. Sounds obvious, but we've all taken those shortcuts (c'mon, as if you've never skipped out? Like not painting your pinky toenail since it's covered half the time anyway?).
Wear it Comfortably: Do the Sit 'n' Step Test
Sure, you look amazing in that miniskirt as you stand in front of the dressing-room mirror. But the keyword is "standing." In reality, your movements will entail much more walking and general movement than your full-length mirror check.
So while you're in that dressing room, get that mini on and sit in that sucker, bend a little, march in place and mimic as if going upstairs (who'd ever think you'd get some cardio in as well?). Okay, we realize this may sound ridiculous, but 1) who's going to see you anyway? and 2) trust us, you're much better off discovering now that your mini gets a wee bit too mini than facing the awkward discovery while taking a seat in a crowded restaurant later.
You can't wear a mini—or anything, for that matter—if you feel uncomfortable. Looking good and feeling good definitely go hand-in-hand. Do the test!
Know What Your Options Are
The best part about shopping? Options! There's bound to be a mini that works for you.
Minis need not be skin-tight or basic black; you can go short while still being practical about comfort—and sport plenty of color and fabric choices to boot! We like a magenta silk banded-waist skirt or a yellow pleated one: bright, short and high on the comfort meter!
Things are Looking Down—and that's a Good Thing
Even if you're beyond excited about that colorful new necklace and bold lipstick you just scored, save it for another outfit, or at least tone it down somewhat. Wearing a miniskirt is all about your lower half, so keep the focus there.

Shoes: Since you're in leg-sporting mode, why not go all out and show even more leg? Even if you're on the shorter side, you can at least create the illusion of runway gams, thanks to sandals' and heels' leg-lengthening effects. Find a heel that works for you, then get out there and have fun in that miniskirt!

Tops: The right top, depending on your body type and the overall style of the miniskirt can make the difference between looking pulled-together or looking unkempt. Having some potato-chip-binge-belly regret? Choose a more billowy peasant top—billowy, not long; you still want to show the pretty style or unique fabric of your skirt. Wearing a mini with cool waist-high design that begs to be seen? Try tucking a shirt in to show off the style. Don't hide yourself or that skirt!

Bracelets: Think about it. When you're walking, your wrist is near your hips and thighs. A wide or colorful bracelet draws the eye downward, acting as an unexpected miniskirt accessory.
Be Size-Savvy
Mini doesn't mean mini-waisted. Sigh. Yup, we've been down that road, sometimes wishing we could do around our waist what that mini's doing at the hem (having a little less of it). But we're blessed with the figures we've got and that being said, we're over the thought that one needs to be a size 4 to rock a miniskirt. Find a mini in your true size; give your body room to move without the confines of a too-small skirt.
Have Fun!
We love that a mini, just by virtue of being a mini, exudes a sense of fun. You don't have to take a miniskirt seriously—although you can. First, toss the idea that mini skirt=black. Pair a floral flowing one with a black blazer for an indoor get-together and you're set. Go all neutral/classic Rachel Green (Jennifer Aniston) on yourself with a tucked-in crisp white shirt and beige bottom. Try a cotton-blended mini with a tank and flip-flops for a much more casual look.
You can go from "tennis, anyone?" (navy, pleated-front mini with pocketed, white cotton top) to "cocktails, everyone!" (more form-fitting cobalt-blue mini with a silver tank).
Own that mini!
Let us know some of your favorite ways to wear a miniskirt. Tell us what mini looks you love!