This post may contain affiliate links. See our privacy policy.
Thanks to Soothi for partnering with me and providing the bracelets for this post.
If you want to go bold with your stacked bracelets, fall is the perfect season to do it. On super-hot days, a stack of bracelets just isn't comfortable. And on cold days, you spend half your day struggling to get your coat on and off over your arm jewelry. Ah but the fall…cool breezes, light fabrics and three-quarter sleeves create a perfect backdrop for stacking.
Here's your inspiration to skip the statement necklace and go for a statement bracelet stack instead.
Two Steps for Stellar Stacked Bracelets
Bracelet stacking is a creative endeavor — it's almost an 'anything goes' situation, where you're only limited by how bold you feel that day. The only real risk for a bracelet stack is having too many star pieces at one time. And frankly, this risk increases for older women.
sThe same big, flashy stack of bracelets might look hip on a 20-something and gaudy on a 40-something (you can disagree with me on this in the comments — but know that I'm in the 40-something category so I think I'm being realistic here and not judgy).
So here's the place to start: pick the piece that'll be the star and then build around it.
Next, consider the material of your bracelet(s), which can help you decide how to stack them and what outfits will work well with them.
Wooden Beaded Bracelet Stacks
Wooden beads have an organic, bohemian flair. They go very well with casual ensembles of denim, leather and cotton. Think loose t-shirt and denim jacket with sleeves rolled up, crop pants and lace-up leather sandals. You can pair monochrome wooden beads with a multicolored stone bead bracelet. Or, try a few metal bangles as bookends on either side of your beads.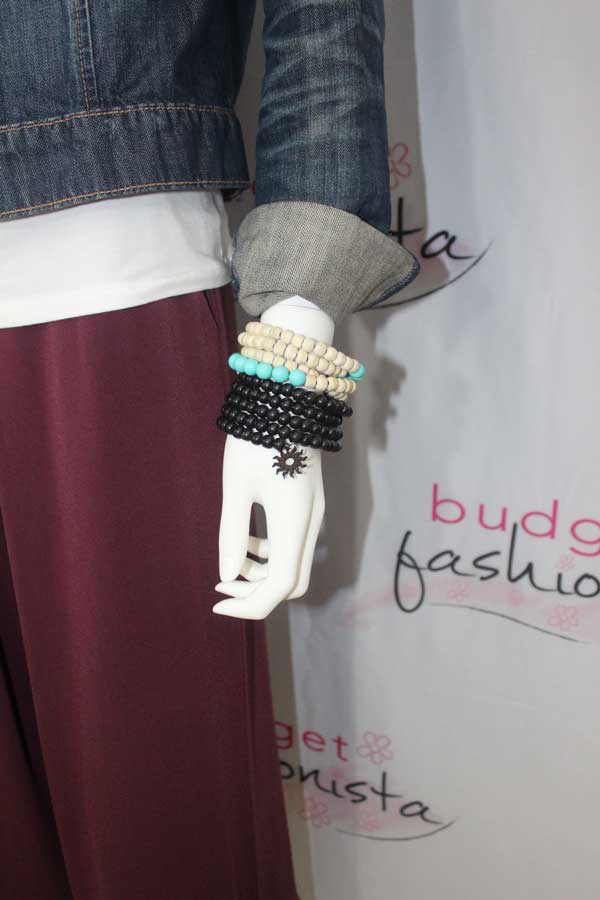 Note that your bracelet stack will be less successful if you match up wooden beads with something more formal, like gemstones or a tennis bracelet.
Stone Beaded Bracelet
Stone beads are a tad dressier than their wooden counterparts. I like to pair a few bracelets that are the same color (or close to it) with one brighter option. You can also try a few stone beaded bracelets in corresponding colors with a silver wristwatch or cuff bracelet.
Metal Bangles
Bangles are all-purpose and serve well as the supporting cast for any bracelet stack. Choose different finishes and widths for variation, rather than wearing 20 of the same piece. And remember to do a sound check! Bangles can be loud, and you probably don't want to sound like a cat with a bell on its collar!
Chain Bracelets
For a classy and feminine look, try pairing two to four chain bracelets for work or even dressier occasions. A slinky set of chains is more fluid than coils of beads and bangles, and can radiate a high-style vibe. You can also showcase one piece that has color or a different material — often the piece will be more impressive when it's surrounded by simpler jewelry.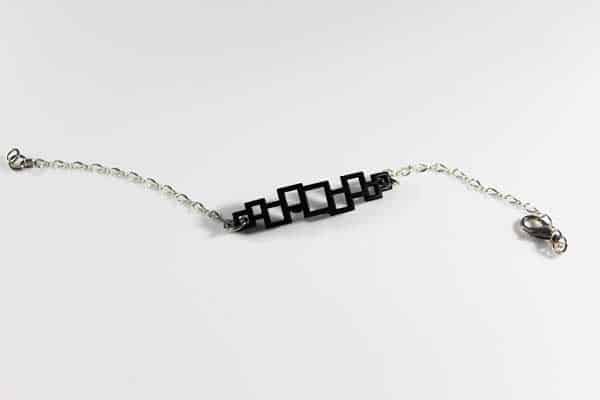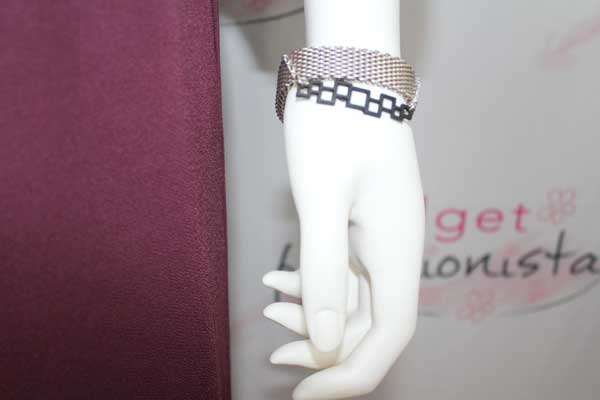 One last option — for the low maintenance fashionista — is to keep a few coiled bracelets handy. Go this route and you get the stacked look without having to waste any brain power on pairing. I like this option on sluggish Monday mornings.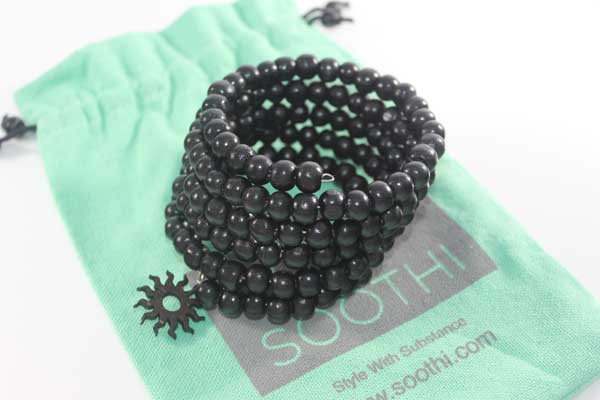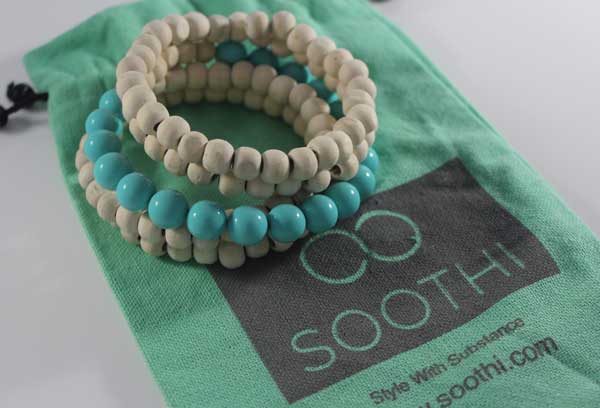 How do you wear your stacked bracelets? Let us know below!
Note: I wanted to feature Soothi here because I like their brand values (and of course the bracelets are so pretty). Soothi makes its jewelry from natural and recycled materials, donates profits to Help Animals India to save puppies (who doesn't love saving puppies?) and provides work for disenfranchised women. You can learn more and shop at soothi.com.