I confess: when it comes to hair, I don't wash and style every day. Working at home means I mostly have only me to impress. And on the weekend, I've been known to pull on a baseball cap and wear hat-hair all day instead of looking for a brush. But there are times when last-minute plans pop up and hat-hair just isn't an option.
Luckily, you don't have to break a sweat to create a stylish 'do that you'll feel great about. Whether you want a casual look for running errands or a hairstyle that's appropriate for the workplace, we have you covered — our top 12 easy hairstyles can be implemented in 30 minutes or less. Seriously!
Easy Hairstyles
1. The messy ponytail
Throw on your skinny jeans, boots, and let your hair go a little wild. To achieve this look, bend over forwards and flip your hair over your head. Spray with hairspray. Then, flip your head back and place your hair in a ponytail, letting any shorter strands fall wherever strikes their fancy.
2. The loose braid
The side pony or side braid is one of my favorite weekend looks that doesn't involve a hat. This is not the French braid you perfected in junior high. This is a loose, easy style that should take only minutes to achieve. Bed-head is actually perfect for this look. You can start by teasing your hair a bit on top to give it volume and wave. Or, just roll out of bed and don't brush.
Pull your hair to the side, and secure with a hair tie, piece of ribbon, or a clip. If like the braided look, try twisting a piece back from the front of your head to add some dimension. Or just let any shorter front pieces hang loose. Then braid the hair either backwards or forwards. Secure with a tie.
3. Honey highlights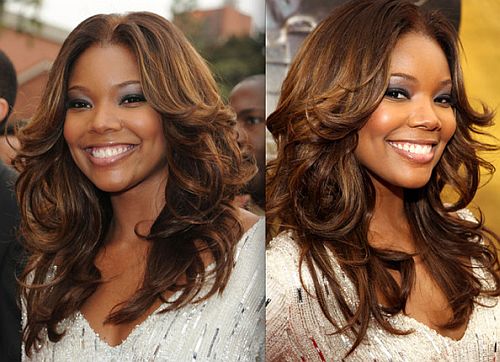 Honey-toned highlights may have been a trend at one point, but now it's just a way of life. You can ask your stylist to do it for you, or you can test this look on your own with wash-out hair color. We love Tokyo Vibes hair makeup in gold.
4. Thick bangs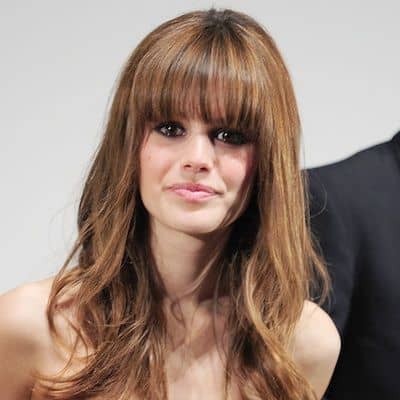 Add sophistication to your work attire by experimenting with thick bangs. The best part about this fall fashion trend is that you can change your mind. Seriously. If you decide that bangs don't work with your facial structure, simply pull them to the back or side, and they should be mostly grown out in six months.
5. The elegant ponytail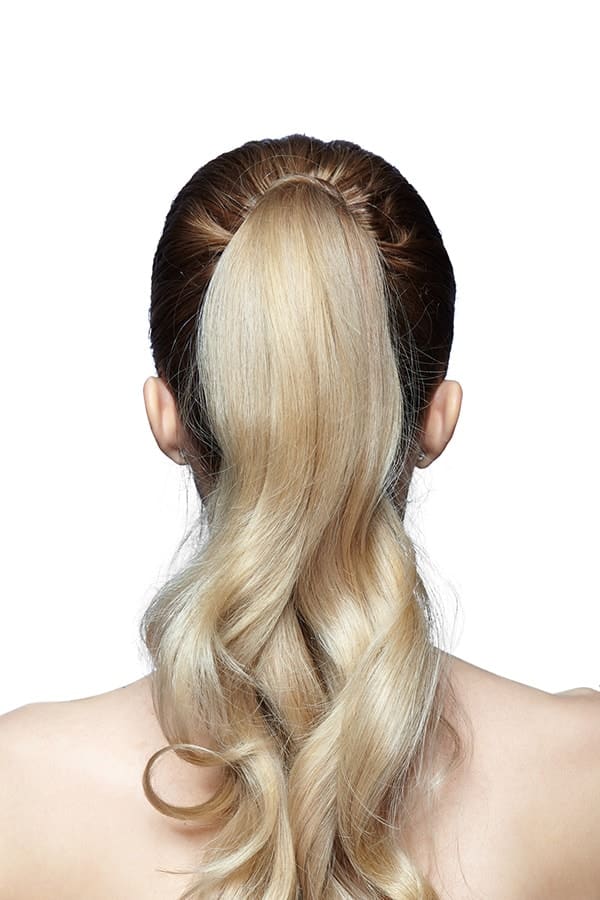 This is not the ponytail we wore in the fifth grade. It's a sleeker, sophisticated style that us mature ladies can wear proudly.
Start with clean, dry hair.
Optionally, try hot rolling your hair first.
Moisten with spray to keep all strands flat to your head.
Sweep the strands back, and place on the higher side of the back of your head. If you feel like a cheerleader or I Dream of Jeanie, you've gone too high.
Secure with an elastic and brush.
Optionally, you can run a quick flatiron or wide-barrel curling iron through the strands if they're poking out every which way.
6. Twist & pin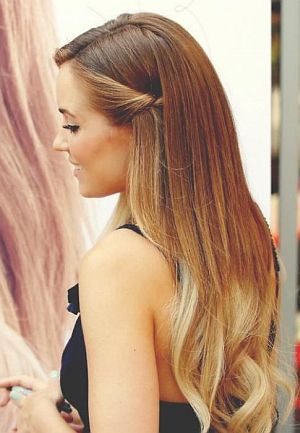 This is quite possibly the simplest way to achieve an elegant and classic look at work. To keep the hair off your face, simply part your hair down the side, grab a small piece, twist, secure with a bobby pin, and you're done.
7. Put a feather in it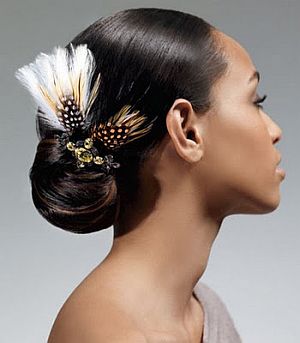 Try pairing a smaller feather with a classic updo for a fancy dinner or a night out dancing.
8. The head wrap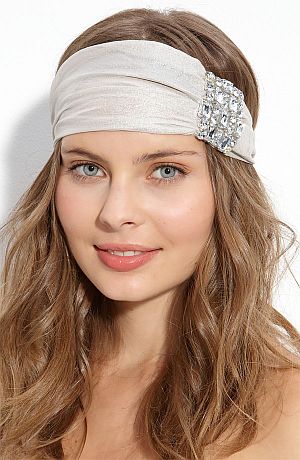 Head wraps are another trend that have staying power. For a night out with friends, select a wrap that features shimmery metallic fabric or rhinestones. If you're a woman of color, try wrapping your hair ala Nina Simone in traditional wax print cloth.
9. Upside-down pony bun
I love this look, as it's as fabulous as it is fast. Simply divide your hair in half, horizontally. Make a bun with the bottom half and pin. Take the top half and gather as if you were making a pony tail, and tie loosely with an elastic. Make a hole in the hair above the elastic, and pull the pony through. Divide tail in half, and wrap around the bun. Secure it with pins. Or, if your hair is long enough, you can tie the pieces together in a knot and secure with a chopstick.
10. Half-up for grown ups
Gather the top part of your hair, and make a loose pony tail. Make a hole between the elastic and your head, and pull the pony through. You can stop there or add a braid or some curls to the end of the pony. Voila, your childhood look vamped-up!
11. Classic ballerina bun
A high bun is a classy take on the quick hairstyle. You'll start by making a high ponytail. You can sweep it tight and sleek if that's the look you want. Or, for texture and sass, pull it back haphazardly so it's textured. Then, wrap the tail around the base, tuck in like a knot, and secure with bobby pins. I love this look because it looks good simple and straight or messy and casual.
12. The wig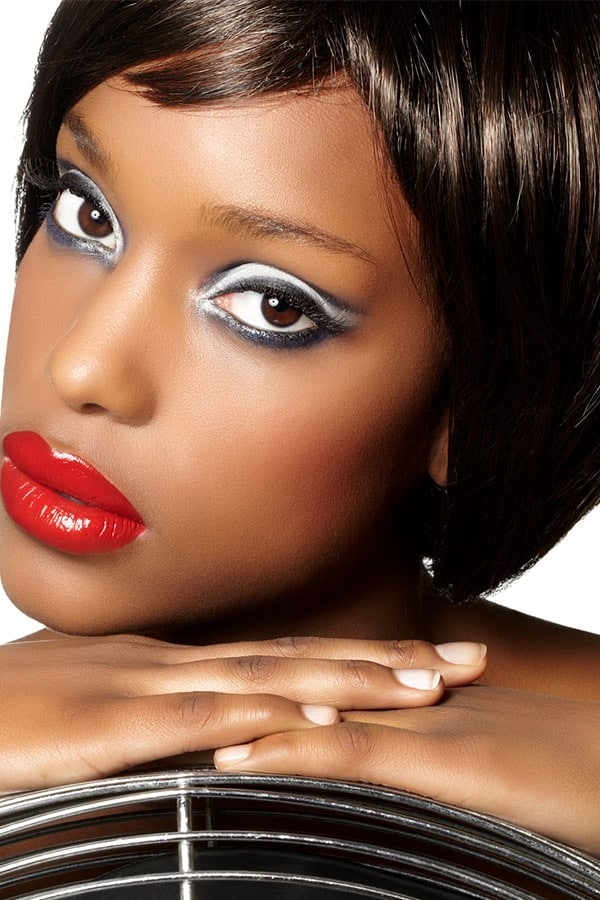 The ultimate of easy hairstyles is a wig. Wigs are the easiest way to get the hair you want, without the drama of having to actually go to the salon. Look for lace cap wigs that give you a realistic hairline or if you want to use your own hair, opt for a removable "half weave" that easily mixes with your natural hair.