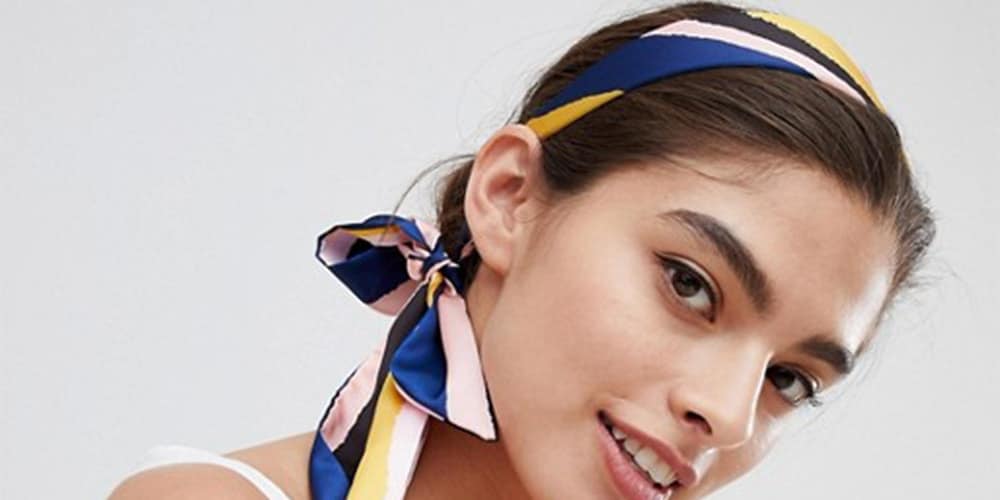 This post may contain affiliate links, which means I earn a small commission if you click and buy something (at no cost to you). See our privacy policy.
Easy, breezy hairstyles are having their moment this year, and we're pretty happy about it. I'd rather be outside, having fun than inside styling my hair, any day of the week. But even so, a messy bun or low ponytail can start to feel a little ho-hum after a while.
Not to worry, stylish ladies, because there is an easy fix that requires no styling tools — simply upgrade your quick updo with a pretty hair scarf for a pop of color and style.
Celebs Wear Hair Scarves
Rihanna's been doing it for years. JLo, Nicole Ritchie, Halle Berry, Eva Mendez and so many others have also been spotted sporting a hair scarf. It's a simple, but still beautiful, off-duty move — whether you tie it around the base of your ponytail or wrap it around your crown as a pretty headpiece. See more ways to wear your hair scarf here.
And, there's a practicality factor here, too. A well-placed hair scarf keeps strands from sticking to suntan-lotioned faces. And, it's perfect for days when we want to drive with the windows down.
Where to Shop
You very well could spend $250 on a gorgeous Burberry scarf, but we'd rather see you spend $20 each on a couple pieces to get you through the summer. For budget scarves, try ASOS, Anthropologie, South Moon Under and Francesca's. Expect to spend $10-20 per scarf.
Hair Scarves We Love
Take the guesswork out of your hair scarf style wearing with a piece that's designed to be a ponytail holder. No fussing with knots or trying to tuck in loose ends here!
Tease out your girly side with an eyelet pony scarf that's already tied in a bow for you. This one's perfect for those of us who struggle to tie a symmetrical bow.
You don't need to watch a single minute of YouTube to figure out how to tie this turban-style hair piece. Just slip it on and go!
The pre-tied options are fabulous for convenience, but it's also handy to have a pretty scarf that you can wear any which way. This silky version fits the bill with a bold print that'll upgrade any casual outfit.