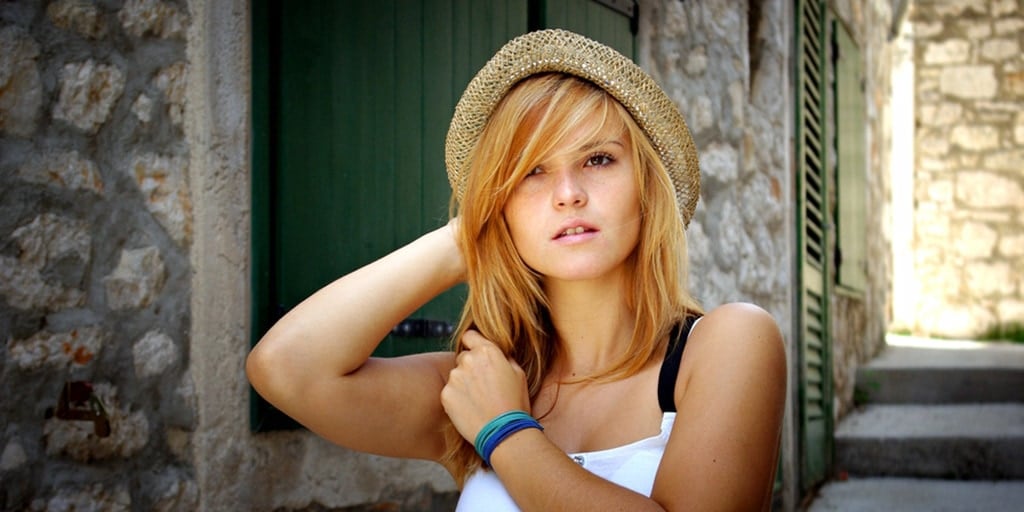 So you've decided to grow out your bangs, but you're having nightmares about that crazy in-between phase. You know the one I mean — when your bangs hairstyle is only halfway grown out and you have no clue how to style it.
Ah yes, been there.
But, luckily there are a few great ways that you can style your hair to ease into growing it longer. In fact, there are so many ways to style it that you can mix it up everyday. Now do you feel better? Okay, let's get to the style guidelines.
4 Ways to Grow Out Bangs Gracefully
1. Side Swoop

If it's good enough for Beyoncé, it's good enough for us. After tiring of her bangs, which were in a short crop, she says she just used the side swoop to grown them out. Easy enough, right?
It might take a few weeks to master it perfectly, but start with a small fine-toothed comb and pull your hair to one side. Right at the root where you pull it, spritz some hairspray to force it to stay to one side. You might need to use a bobby pin until it's long enough to tuck behind your ear.
2. Half Up/Half Down
We love the way hair looks half-up, half-down. When done correctly, it makes hair look so healthy and full of volume. This is a great way to style bangs that are not quite grown out, too.
It just takes a can of hairspray and a few bobby pins. First, blow-dry your hair, focusing on rolling your bangs to the back with a round brush as you would do with the rest of your hair (as opposed to rolling them forward to style them as traditional bangs). Then, put your hair half-up, half-down.
You should have little wisps of hair that don't quite fit into your barrette or hair tie in the back. For those, loosely tuck in the longer ones with a bobby pin and just spray the shorter ones back. You should get a nice, relaxed look that isn't too tight or hard to maintain.
3. Middle Part

A middle part was super trendy last year and is a great way to help your bangs blend in with the rest of your hair.
Just take the front part of your hair and split it right down the middle. Twist each section back just a bit and secure with a large bobby pin. Leave the rest of your hair long and gorgeous, and no one will know you've got bangs at an odd length.
4. Bump It
What can we say, we love a good bump. It's such a fun, retro style that can easily be modernized. Of course, it's also a great way to sneak in some awesome style when growing out your bangs.
Just pull your bangs back, spritz them with hairspray, give them a little bump or slight wave, and pin them back. As your hair grows, the bump will eventually get larger and will only look better with time.
Get more Budget Fashionista