If you've had bangs as an adult, it's likely that you're either growing your bangs out or thinking about cutting them off again. It's a cycle that's hard to break out of — and I say that from experience. I've had all the hairstyles with bangs, from long to short and blunt to swept. I've also cut bangs immediately after I spent a year growing my last set out.
I can't speak to the psychology of bangs compulsion, but I can tell you this. These days, hairstyles with bangs can look good on everyone. The trick is tailoring your bangs to the shape of your face and then styling them to match your age and, well, your vibe.
Think of bangs as the little black dress of hairstyles — there are many options and you're sure to find one that suits you.
Hairstyles with Bangs: How to Pick 'em
1. Determine your face shape
I'm sure you already have an idea of your face shape. If you own sunglasses or have had chat with your hairstylist, then you likely already know. Check out the chart to confirm your shape, and enjoy what you've got in common with some of our fabulous female celebs.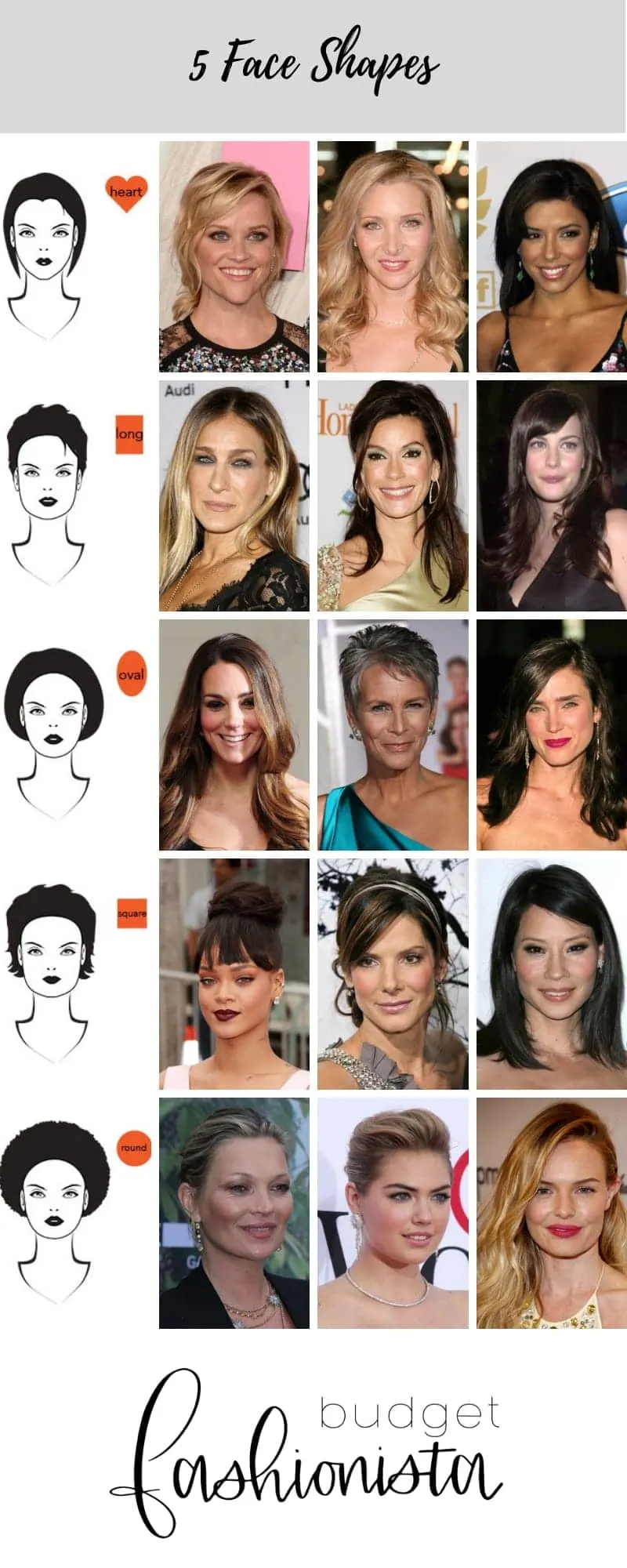 2. Consider hair texture
The texture of your hair plays a big role in how your bangs look. Personally, I would love a thick, blunt bang, but that's fairly impossible with my fine, thin hair. Even if I find a picture of exactly what I want, I have to temper the expectation that the same cut will look different with my hair.
3. Shop around
Search Google images or Pinterest or Instagram for hairstyles you like. And also see our suggestions by face shape below! For each that appeals to you, ask yourself two questions:
How will this frame my face shape?
Is my hair thick enough (or thin enough) to carry this style?
Find at least two images that you think you can pull off, then ask your stylist for feedback. Also consult with your stylist on the care of the new cut. You'll want to know going in if you're headed for a big change in your styling routine.
Hairstyles with Bangs by Face Shape
Bangs for Square Faces
A square face has beautiful angles. You will want to keep your bangs soft and swept and blended in to the rest of your cut. Think feathery layers.
A bang that is longer in the middle and tapered on the sides can be quite flattering on you. This slightly-round bang shape will compliment your "square" countenance well, and even make your cheekbones a little higher.
A dab of pink blush will bring more attention to your cheeks, and slightly heavy eyeliner will bring balance to your new look.
Bangs for Round Face
Your round face has soft lines, and you can provide a nice contrast with a more angled cut. You can wear either a side-swept style or bangs that are cut straight across. The trick is to avoid blending or feathering the bangs into the rest of your cut. Let those bangs be distinct.
A straight-across bang a la Jennifer Hudson will emphasize your eyes. Get your bangs cut slightly above the brow line to show off your perfectly manicured eyebrows and smoky eyeshadow. A nude lip brings out your eyes even more and keeps the focus on the top of your face, where the bangs help even out a round forehead.
Bangs for Heart Face
Your heart shaped face tends to draw the eye to the chin, which is the point of the heart. Choose long bangs that fall below your cheekbones. These will almost be non-bangs, as they'll be sideswept and ideally fall below your chin.
Taraji Henson's bangs are shorter than chin-length, but still flatter. You can see they make her small forehead appear a little bigger, which adds proportion to the face. The slightly layered sides of the cut also make her cheeks a bit "slimmer," which puts the focus on her radiant smile.
Bangs for Long Face
Traditional, blunt cut bangs look great on a long face. Keep them straight across and on your forehead. When your bangs fall just below your eyebrows, the end result is super sexy. Note that a blunt bang can be more awkward to grow out, because they'll fall right in your eyes for several weeks.
If you prefer a softer look, a shorter, sideswept bang can work too. These look gorgeous as long as they don't fall too low on the face. Keep the ends above your eyes, then add a gentle, curtain-style part in the middle or just off center. You just want a peek of the forehead here.
Bangs for Oval Face
Your oval face is incredibly versatile. That means you can wear any kind of bang, so pick what suits your style. Edgy? Cut 'em short. Ethereal? Go for long and romantic.
Hannah Simone pulls off a straight, blunt bang, while Beyonce rocks the softer, sideswept style. The bangs world is your oyster, you gorgeous oval. Have fun with it!
Bangs Style Glossary
If you don't have a picture in hand, articulating what you want to your stylist can be challenging. Here's a rundown of bangs lingo that should help!
Bardot Bangs
A soft cut that frames the eyes and features a gentle part near the center of the forehead.

Curtain Bangs
You'll hear the terms "Bardot bangs" and "curtain bangs" used interchangeably. I like to think of the curtain style as being a longer version of the Bardot bang.

Side Bangs
Side bangs come in all different lengths, which makes them very easy to grow out. These are similar to the Bardot style, but with a side part.

Blunt Bangs
aka the Rooney bang. Rooney Mara has made the micro bang style in the modern era. Rooney's ultra short length is tough to pull off, so the rest of us likely prefer a brow-length blunt cut.

Baby Bangs
Baby bangs are short. Really short. Try these after you've already had bangs and you crave a change. As your first bangs experience, these might be too shocking to get used to.