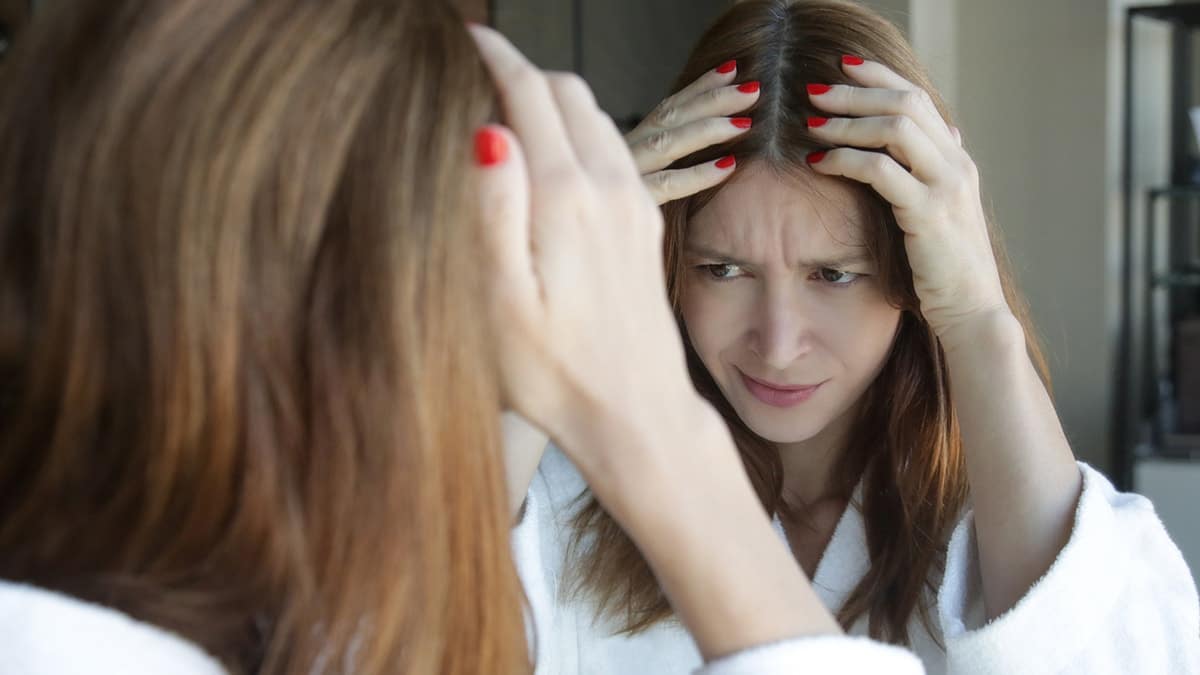 This post may contain affiliate links, which means I earn a small commission if you click and buy something (at no cost to you). See our privacy policy.
WFH, day 4,875. Or is that week four? Whatever the case, it's likely that you're also counting the days until you can get a professional root touch-up. That meme about all of us revealing our real hair color in just three or four weeks? It's definitely coming true, folks. But that doesn't mean that you have to settle for mane imperfection if you aren't happy with the way that it looks.
A little color refreshment can add a bit of normalcy to an extremely abnormal life. Whether you see people or not, looking nice is a coping mechanism and mood-lifter. And if the idea of painting on drugstore hair color scares you, don't worry. There are easier ways to deal with those wiry whites that are making themselves known — no need to start researching gray hairstyles just yet. From quick touch-ups to cover-ups, here's how to conceal your roots so you're not staring at your part line in every Zoom meeting you attend.
Easy Root Touch-Up Tricks
1. Bumble and bumble. Color Stick
Chances are you've tried a few spot color products like this in the past. They've been around for decades, and they've ranged from downright awful to mediocre. But now there's a new entrant to the fray: Bumble and bumble. Color Stick, which qualifies as phenomenal.
It's available in five completely natural colors. Notably, it's quick and simple to apply with a little flick of your hand. The product covers thoroughly, and it stays put until you shampoo. If you've got a few roots popping up around your temples, this is a great solution that'll deal with those grays, fast.
2. Anthropologie Lara Scarf Headband
If you really aren't about to start coloring your own hair, either because you don't trust yourself with the job or you just aren't feeling it right now — we totally get it — then you may want to slide on a cute hair accessory instead. Bonus, you'll cleverly mask your grays AND those layers around your face that have gotten way too long.
The Lara Scarf Headband from Anthropologie is an adorable choice available in three fun and vibrant patterns. The band isn't too thick or too slim, but sized just right to strategically add a splash of color to your strands and steal the focus from your roots. It's not a full-on cover-up, but if you don't mind embracing those roots and are more interested in comfort and style, this headband won't steer you wrong. Bonus points for the vintage vibes it exhibits.
3. Revlon Root Erase
Part of the reason that so many of us prefer to visit our stylists is because it's so much simpler. But it can also do a number on your wallet, especially if you're the type whose roots grow in fast. (Tangent: Someday, scientists will figure out why gray hair grows fast, but last year's bangs grow in slow.)
Turns out you can very easily manage your new growth at home with Revlon Root Erase. It's an innovative at-home coloring system that features two chambers — one with developer and the other with color. To use, simply press down on the pump and fill the cap with the contents from both chambers, which squeeze out simultaneously. Use the included applicator brush to stir the mixture, then apply directly to your roots. It's designed to work in just five minutes, but you can leave it on for an extra few minutes for more stubborn roots.
4. J. Crew Canvas Baseball Cap
It's not every day that you have the opportunity to wear a baseball cap to work. In fact, odds are that you've never done that unless you happen to work at a stadium or an ice cream shop. Now that you're living that WFH life with pride, however, you can feel free to experiment with your professional style just a touch.
If it's "casual Friday" or you don't have any video meetings lined up, throw on this J. Crew Canvas Baseball Cap and enjoy its cool, laid-back vibe. The colorblocked effect alone makes it a timeless wardrobe mainstay, but you'll love how this keeper also brightens up your spirits and injects your day with a pop of spring-fresh color — even when you can't actually go outside and enjoy the weather.
5. Clairol Root Touch-up Powder
A low commitment option is a root touch-up powder. You brush it on in the morning, it stays all day, and then rinses away in the shower.
Several beauty brands have a similar product, but we like Clairol's version. The powder goes on easily and really does cover up those gray hairs. It also gives your hair a denser feel in thinner areas, like your temples. And, bonus, you can also use it to fill in your eyebrows.
6. The fan favorite root spray
If you have a lot of gray, applying a powder to cover it up will be painfully tedious. A faster option is a spray, and gray-haired ladies everywhere love Everpro's Gray Away.
You don't have to mix or shake. Just spray for quick root touch-up coverage that dries fast. It's sweat resistant, but washes out with shampoo. Gray Away is available in three colors, ranging from blonde to dark brown/black.