This post may contain affiliate links. See our privacy policy.
Comparing prices is the hallmark of a smart bargain shopper. Sadly, the act of price shopping is about as pleasant as losing an entire toenail. You usually end up down a rabbit hole of random websites that all look like they're in need of a facelift. And then, wait, did we find the lowest price? Yeah, that's what happens.
Bad user experience and outdated websites makes us wonder if the days of the price comparison website are over. So many of them have come and gone, including NexTag and Beatmyprice. Are they even worth a budget fashionista's time? That's the question we intend to answer.
Putting Price Comparison Sites to the Test
The search for UGGs
To keep things comparable, we're using a specific term everyone knows, "UGG Classic Short Boots." Read on to see which site found us the lowest price. Let the search for cheap UGGs begin.
Amazon
Amazon is the most versatile of the shopping sites we put to the test, but it's not a true price-shopping experience. Sure, you can search for anything on Amazon and get tons of results. And, you can sort those results by price, from lowest to highest.
The challenge arises when you start digging into your options. Take the UGG boot search, for example. The cheapest listing says $104-160 for the Classic Cuff Mini Winter Boot. Big range, right? As it turns out, you can get the boot for $104 if you have very small or very large feet. But there's no size 8 available at that price. Sadly, I can't filter out that result because Amazon doesn't have a size filter for this search.
I did find an 8 available in the next listing, for a Turnlock boot for $107. Yes! Oh wait a minute…Amazon sends me to Zappos for this price. And — you can almost guess this would happen — Zappos says the boot is out of stock.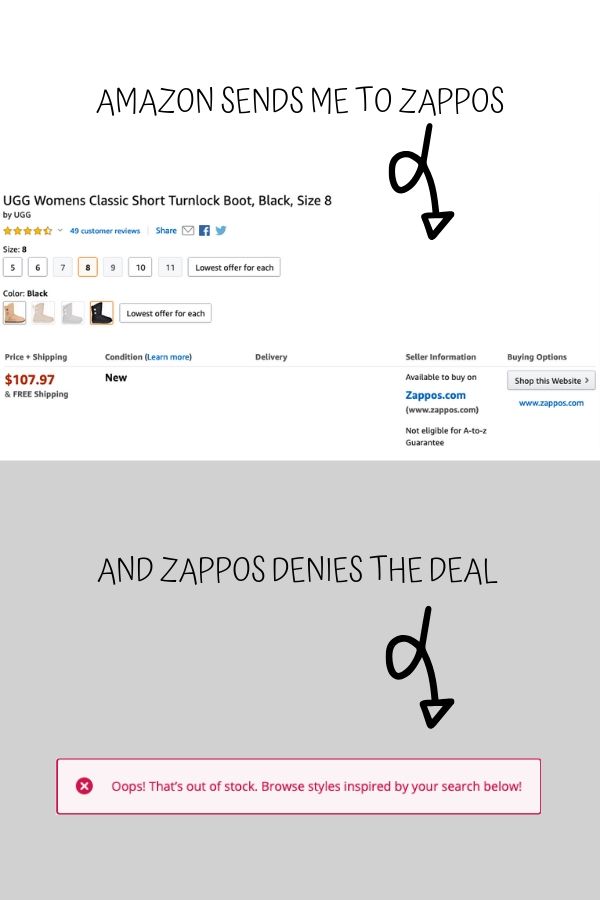 Price Grabber
Price Grabber uses a fairly loose interpretation of your search phrase to show results. Specifically, if you search our defined UGG boots phrase, you'll get listings for various other boots that aren't UGGs. Some aren't even UGG-like.
In my mind, that defeats the purpose of a price comparison tool. If you know you want UGGs and you're trying to find the lowest price, you don't want to see lower-priced Chatz boots sold at Zulily.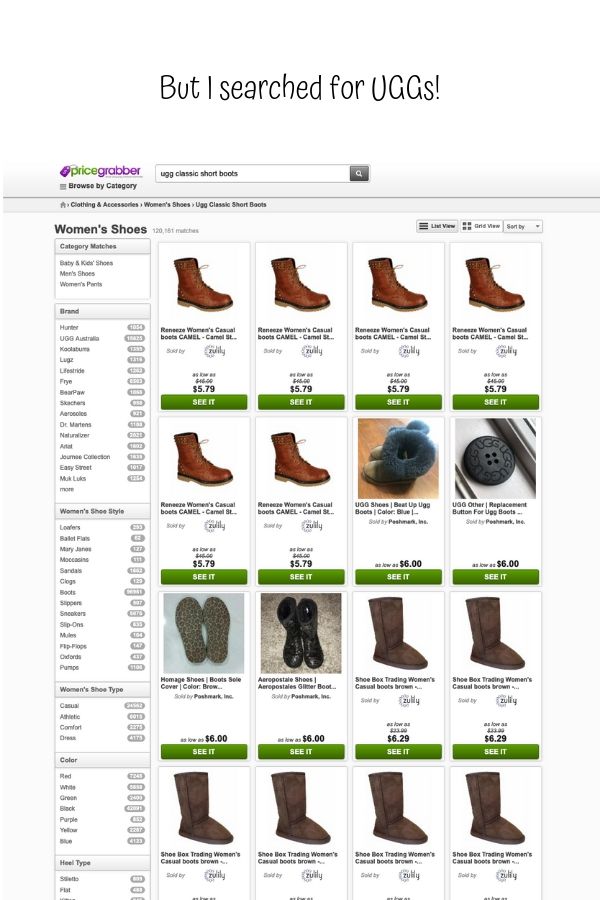 Also, if you sort the listings by price, you'll have to scroll through pages of non-relevant options before you even find the UGGs.
There is one interesting point about Price Grabber, though. The listings do include used options from Poshmark and eBay.
Bizrate
Bizrate works like Price Grabber, in that you'll see used options and listings that are only loosely related to your search term. But, for whatever reason, it was easier for me to find an authentic UGG boot at a great price on Bizrate.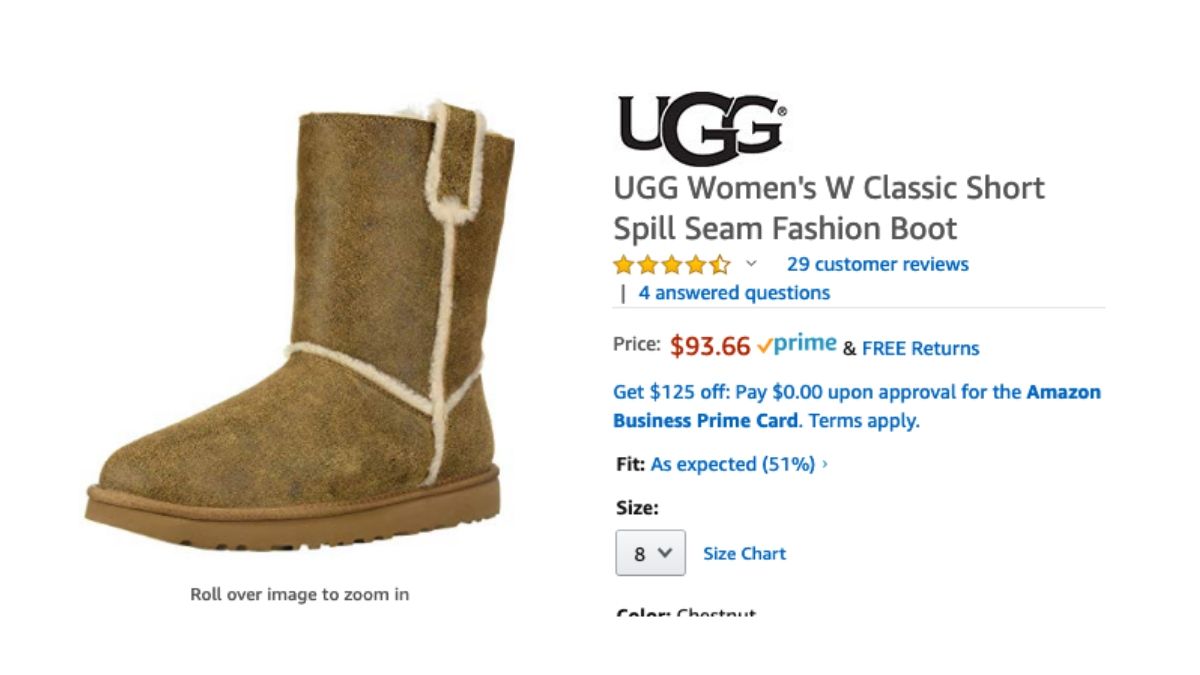 And would you believe it? I found a size 8 boot for $93.66 on Amazon, by way of Bizrate.
Pricewatch
The design? Completely no frills — but while it lacks all the design bells and whistles, it's straightforward and easy to use. The results are specific, too. For my search, the site returned 13 results and all were actual, new UGG boots. That's the good news.
The bad news is that the prices really weren't that great. The best one, $95.95, landed on Overstock's homepage. I take that to mean the price is no longer available. Hmmph.
ShopStyle
I use ShopStyle a lot, but mostly when I don't know what I want. Turns out you can use ShopStyle to compare prices too. The big plus here is that ShopStyle has extensive filtering options. Notably, you can filter by size and color, both of which come in handy when you need boots.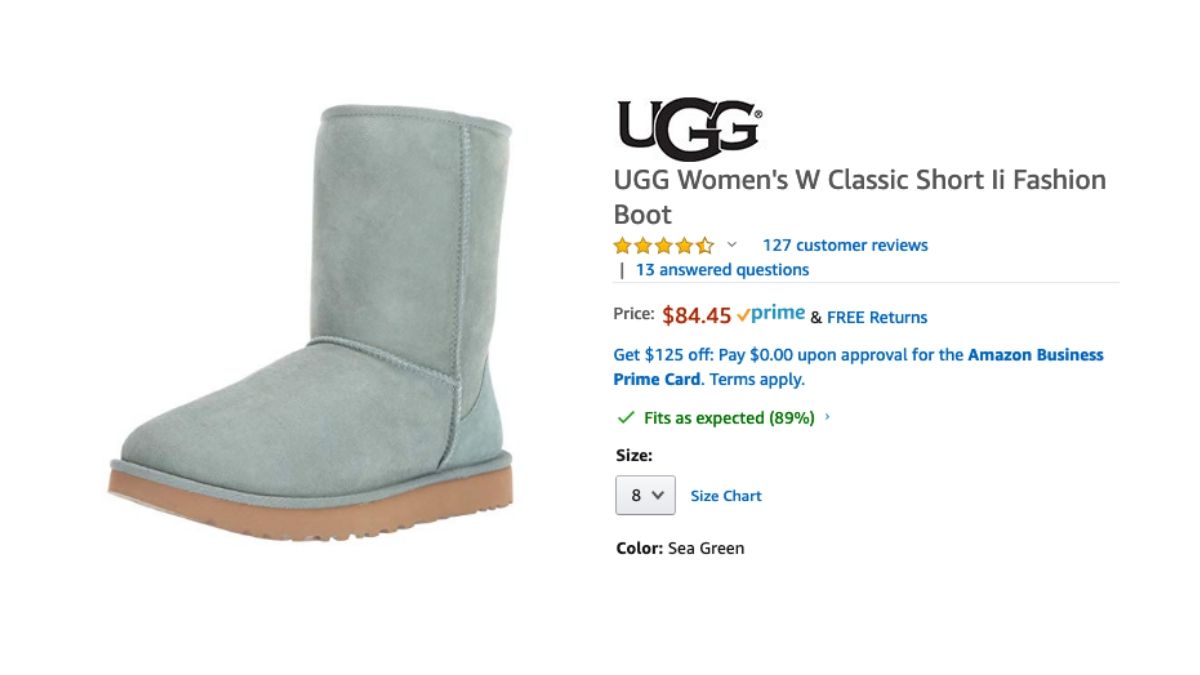 The best price on ShopStyle is another Amazon listing. Yeah, they're a funny color, but the price sure is nice!
Google Shopping
Google Shopping, like ShopStyle, has a robust set of filters that make it easy to find what you want. You can include or exclude resale items from Poshmark and you can specify your shoe size.
The best price for my search came from Massgenie, but this result was somewhat misleading. Massgenie shows two prices, a "buy now" price and a "power deal" price. To get the power deal, you need to recruit four friends to buy the product too. Of course, Google Shopping displays the "power deal" price and not the higher "buy now" price.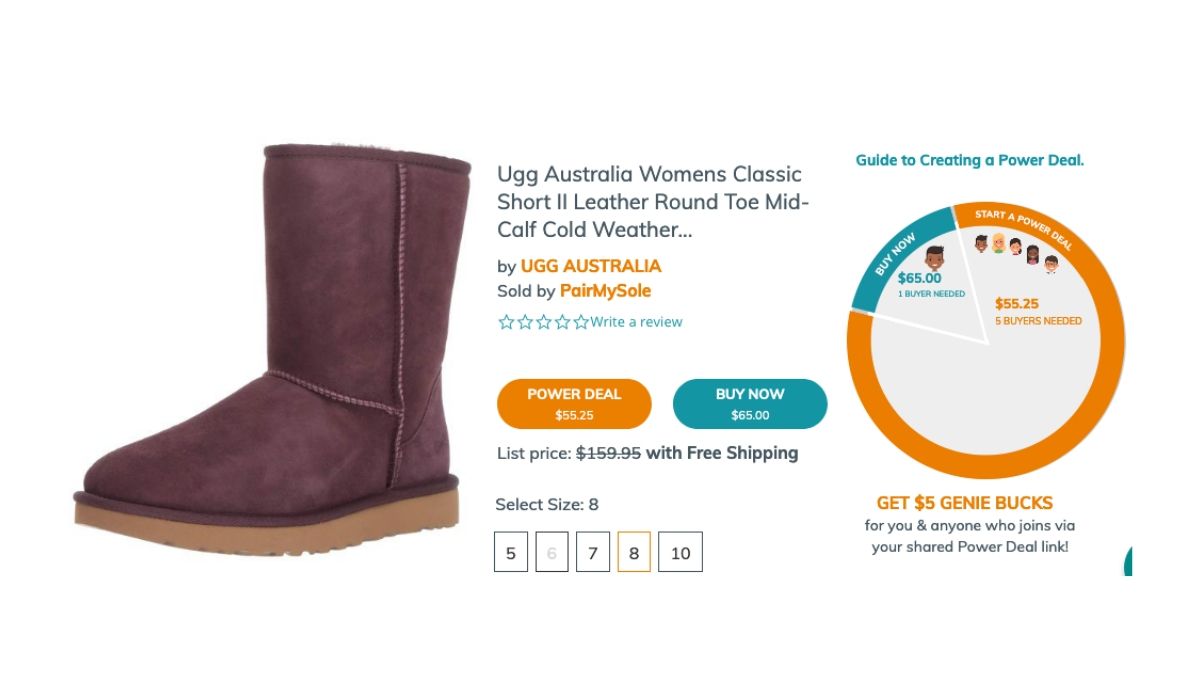 But there is good news. The higher "buy now" price was only $65 — still a great deal for UGGs.
The Others
I tried two other price comparison sites, PriceCheckHQ and Become.com. PriceCheckHQ had more relevant results and higher prices, while Become had less relevant results and lower prices.
My Take on Price Comparison Sites
Going forward, I'm sticking with ShopStyle and Google Shopping — simply because it's easier to find exactly what I want. And if I end up on Amazon, great. That free Prime shipping makes the deal that much sweeter.