This post may contain affiliate links. See our privacy policy.
Need a new perspective on your wardrobe? You'll get it with a look at these four fabulous outfits by House of Anita Dongre, one of India's most celebrated designers. All five looks were recently debuted atLakme Fashion Week, the king of Indian fashion shows. Twice a year, in February and August, the globe's most popular designers and India's it-crowd descend on Mumbai to celebrate the country's vibrant style scene.
Dongre has more than 20 years of designing experience, and she's known for her elegant use of color and shape. Another fun fact: she was named one of the "Most Powerful Women in Business" by Forbes India. And, she's been recognized by PETA for her vegan fashions.
Now, let's get into five of her looks we totally fell in love with!
Top Picks from Lakme Fashion Week
Two-Piece Stunner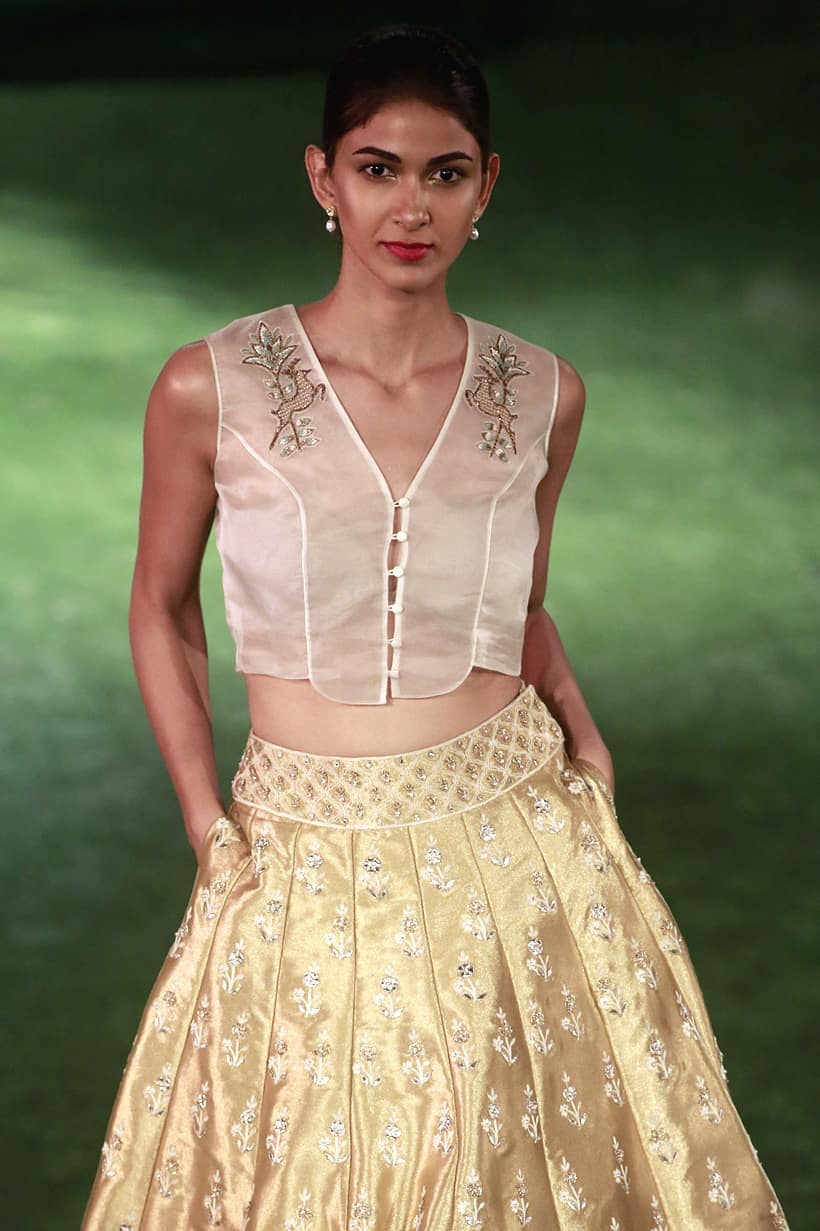 This beautiful two-piece outfit has tons of detail. The gold is majestic, and the prints of the fabric are prominent against the gold fabric's texture. It pairs beautifully with the sheer top against the model's skin. The delicate buttons and the v-neck pull this look together. It's sexy, yet sophisticated all at once.
Style Takeaway
Mimic this look with a full skirt and fitted, lightweight top. Gold and metallic details are on-trend right, too.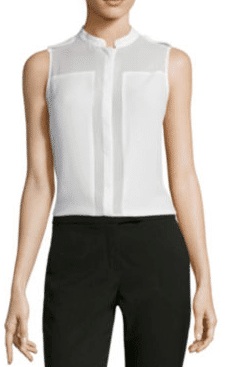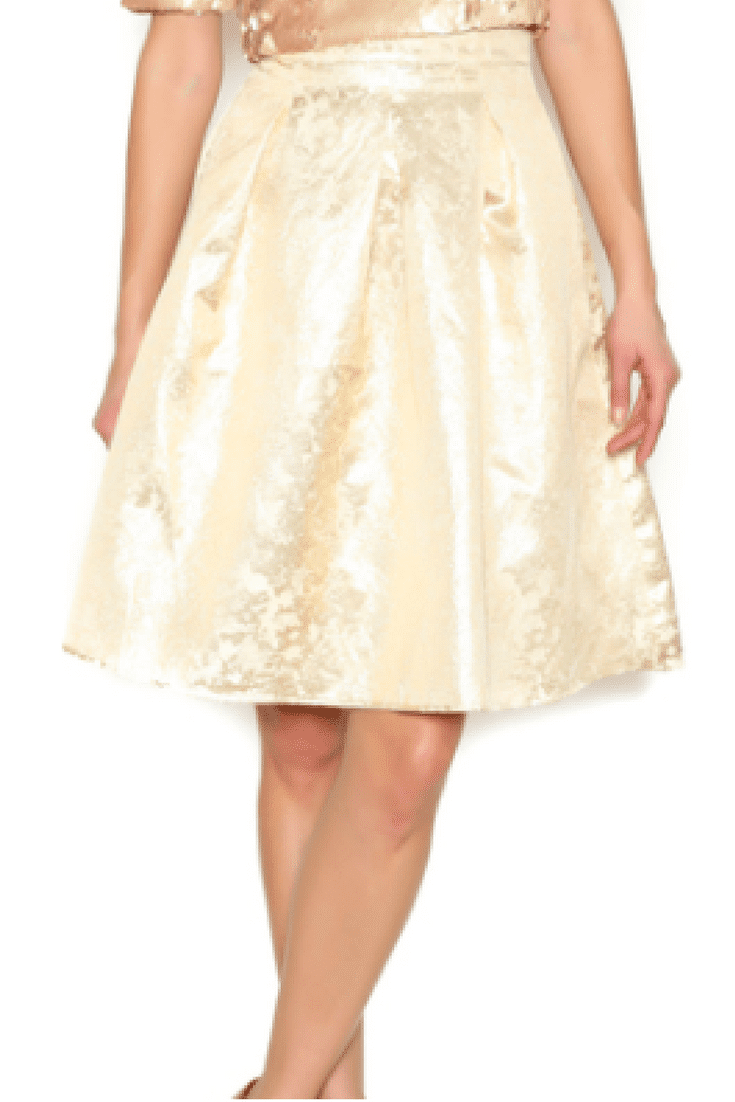 Gown for an Angel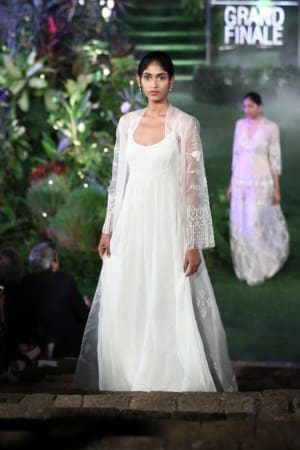 This dress is breathtaking, with its gorgeous sheer cover and wide sleeves. The simple, feminine drape and open necklace look angelic. You could wear this piece as a wedding dress or to a formal event by the shore.
Style Takeaway
You don't need lots of color or accessories to make a statement! Long, flowing layers of light fabric, especially in white, create a glow effect. Keep the sweet, wholesome appeal of this look in intact by pulling your hair into a loose bun and go minimalist on the makeup.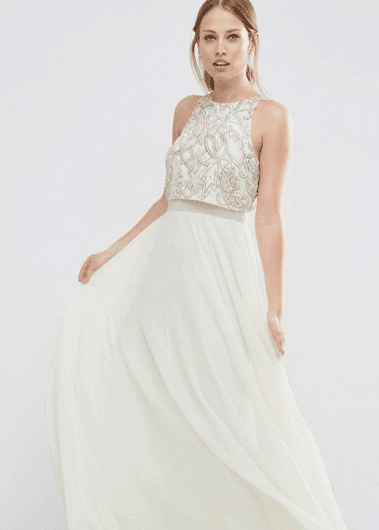 Formal Done Right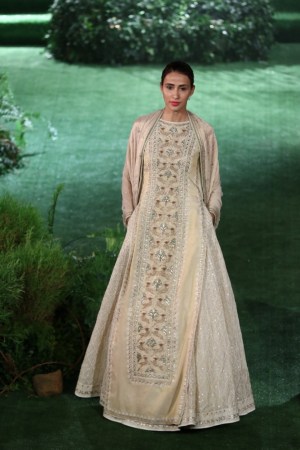 The gorgeous center front pattern from the top of the neck the bottom of the dress really draws the eye and elongates the body. What stands out about this gown is the formality of it on the surface, paired with the more relaxed details of pockets and a shawl. Who couldn't use pockets in their formal gown?
Style Takeaway
It will be tough to find another dress that has all the elements we love on this one. But if you like this look, go searching for a formal garment that blends a full skirt with gold details, plus some casual elements.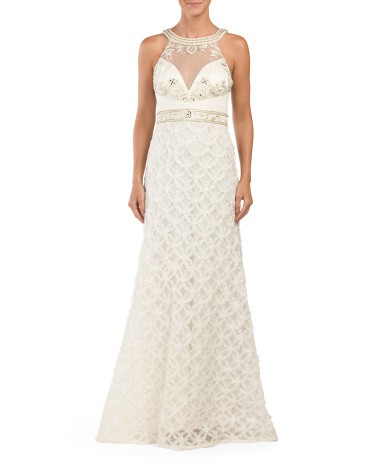 Short and Sheer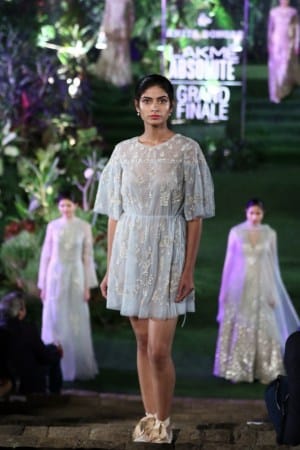 This dress is one of our favorites of the collection because of the robin egg blue, coupled with the gold ballet-inspired slippers on the model's feet. While this dress is sheer, it still has a wistful modesty about it — thanks to that wavy hem and the mid-length sleeves. The cinch at the waist adds definition and keeps this piece from being too floaty.
Style Takeaway
Your choice of shoes with a dress like this is important to the overall look. Take a look at the lace piece below from Indiefit — now picture it ballet flats versus tall, strappy sandals. The flats will give you that modest, wholesome look, and the heels — well that'd be a different entirely.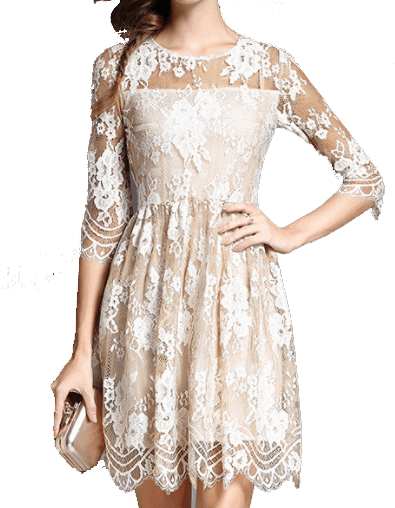 What do you think about the designs Anita Dongre showed off at Lakme Fashion Week? Let us know in the comments!