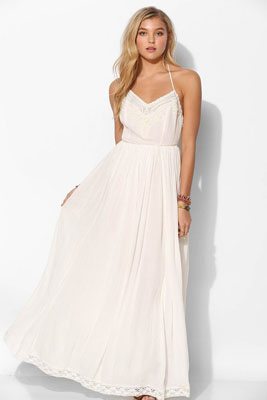 Quick, you just got engaged—what's your first thought? The wedding dress, of course! (well, after that whole love-of-my-life, happily-ever-after thing …) In today's economy, however, the second thought might be, how will I afford it??? Forget those "oh, my budget is $10,000" brides on Say Yes To The Dress—we know most brides today are on a real life budget, meaning the ginormous fairy tale 300-guest-and-a-dancing-pony wedding is probably out of the question, and there's nothing wrong with an intimate little budget-friendly wedding. But a budget-friendly wedding dress—does such a beast really exist?
No worries – cheap wedding dresses are out there, and in this particular case cheap doesn't mean, well, cheap. Think less traditional, super modern (sometimes in the most fabulously vintage way possible), and absolutely head-turning. You'll save a ton, and he'll think you're lovely—and that's all that really matters, isn't it? (Psst, here's the bridal secret of the century—your future hubby soooo doesn't get the whole $3,000 Cinderella ball gown thing—and honestly, after the day-of and a wedding album later, you won't really care either). Our picks for cheap wedding dresses (under $150, natch) that will make you feel perfectly bridal:
Wedding Dresses for $150 and Less
Sweet & Romantic Wedding Dresses
Free Spirit Hipster Wedding Dresses
Simply Sophisticated Wedding Dresses
Short & Chic Wedding Dresses
Traditional Wedding Dresses
Love this post? Subscribe for Updates.