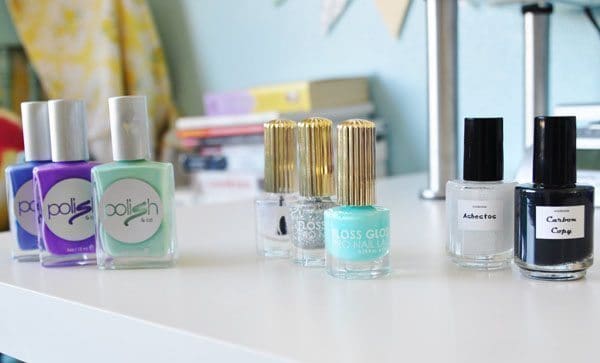 I'm into nail polish the way Juliet was into Romeo. Give me polish or let me die. Okay, so maybe I wouldn't kill myself if someone suddenly took away my right to paint nails, but I would be extremely irritable.
I'm somewhat exhausted by the mass-produced nail polishes. Don't get me wrong — I do have quite a few favorites. However, there's something about the quirkiness of an independent, non-mainstream nail polish (insert hipster nail painter joke here) that really gets my creative juices flowing. For example, the Cover Band Sticks and Stones polish I reviewed a while back is one of my favorite favorites.
Today I'm reviewing three newish, up-and-coming nail polish brands that have earned my seal of approval. To accompany the reviews, I've also included nail designs created with the polishes along with brief how-to guides.
Indie Nail Polishes Review
Floss Gloss, $8 each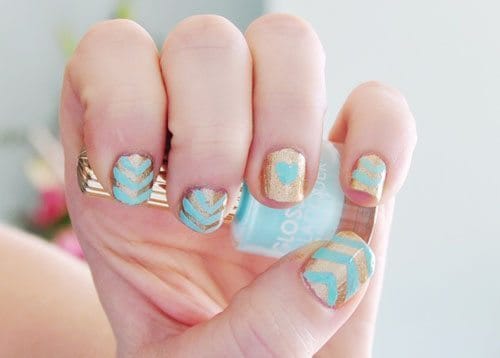 If you're looking for funky and fresh then Floss Gloss is your go-to polish resource. They're based in San Fran and the colors are simply to die for, darling. I'm talking hip, bold, not-your-chain-store-colors. For example, neon nacho is the exact same color as cheese whiz (a matte, super-glowy orange), Stun is an ultra flashy chunky holographic gold polish that would make Beyonce jealous, and Wavepool (pictured here) is a retro-cool more-blue-than-mint hue that I can't get enough of.
Get the look: Apply Sally Hansen's Golden-1 polish to all your nails. Using a thin paintbrush, create three v's with the Wavepool on four nails and a heart on the accent finger.
Polish & Co., $12 each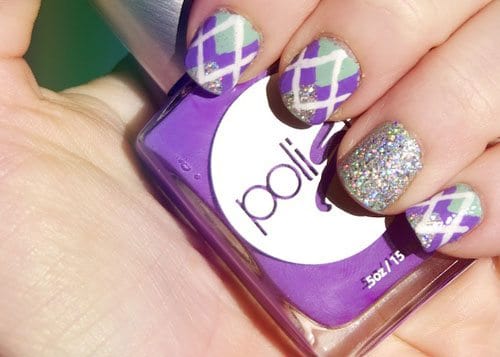 Every one of Polish & Co.'s nail polishes is good enough to eat. Think Marie Antoinette meets old school bubblegum Britney. The $12 per bottle price tag may throw you for a budgetnista loop, but you get a decent .5 oz supply that'll last for a while. And finding colors similar (for less dinero) is a mission not even Christopher Columbus would take. The three colors I tried (Any Place Any Time, Mint to Tell You and Get Over it) are all dried medium-matte and super pigmented. One coat is definitely enough and pooling or streaking is not an issue.
Get the look: Apply Any Place Any Time to full nail and let dry. Using a steady hand and paint brush (or striping tape), create a triangle on the bottom with Mint to Tell You. I was craving glitter, so I used Floss Gloss's Dimepiece (a holographic silver glitter) for the accent nail and the top triangle. Using a striping tool, paint white lines to create an argyle design.
Windestine, $7 Each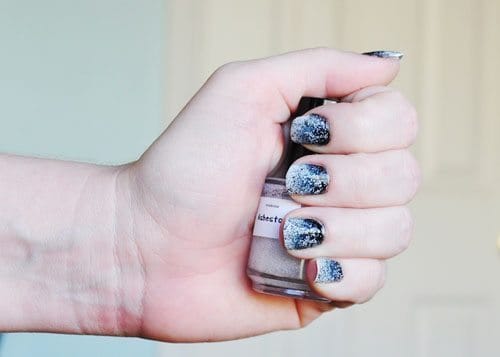 Windestine began selling nail polish on Etsy in May of 2011. Since then, the store's amassed nearly 1000 sales and moved on over to Big Cartel. Windestine's specialty? Glitter. Amazing, glorious, make-your-jaw-drop glitter that'll have everyone you know swooning. I predict a happy glitter explosion with this nail polish brand, so hop on the bandwagon before the polishes start selling out of stock.
Get the look: Create a black to white gradient (easy tutorial here). Paint the black part with Windestine's Asbestos glitter nail polish and the black part with their Carbon Copy polish. Voila: static-y nails.