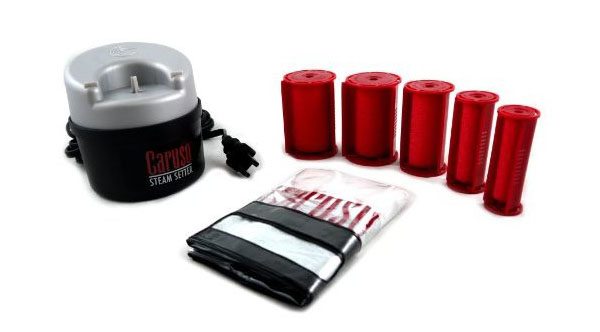 We blame Princess Kate for bringing hot rollers back into style. They are great for creating beautiful curls without getting expensive perms or using time consuming curling irons. In fact, you can just put them in your hair, go about your morning routine, and take them out just before you head to the office.
Of course, there are numerous hot roller sets out there to choose from, so below we've listed our favorites all under $50.00.
Best Hot Roller Sets Under $55
This high quality set is the most expensive on our list. The titanium rollers have a velvet finish to help the rollers grip to your hair easier. The reviews for this product rave about the fact that this set comes with both clips and pins, which makes it great for long hair. Use this set if you are particularly looking for big waves.
This Caruso set comes in two varieties: 14 rollers or 30 rollers. It's great because they are steam rollers,which help protect your hair, and they come in varying sizes so you can create everything from tight ringlets to big, sexy waves. The soft rollers won't damage your hair and quickly heat up one at a time so each one is hot and ready when you need it. It's a great buy at $35.44.
Conair makes so many hot roller sets that it can be confusing to decide which one to go with. This set has high ratings and costs just $32.99. The sticks are a bit unconventional, but users find them easy to use, and they heat up quickly. Unlike many rollers, the sticks don't need pins to secure them to your head. The ends of the sticks stay cool so you won't burn your fingers, and they come in two different sizes to alter the style of your curl.
If you're looking for a set that is travel friendly, this may be a great option for you. This Remington set comes with ten rollers of two different sizes. The rollers are soft, which means they are less likely to damage hair, and they stay cool on the ends. Clips are included to help keep the rollers in your hair. This set is best for long and thick and hair and costs just $14.78.
Next: Learn How to Use Hot Rollers