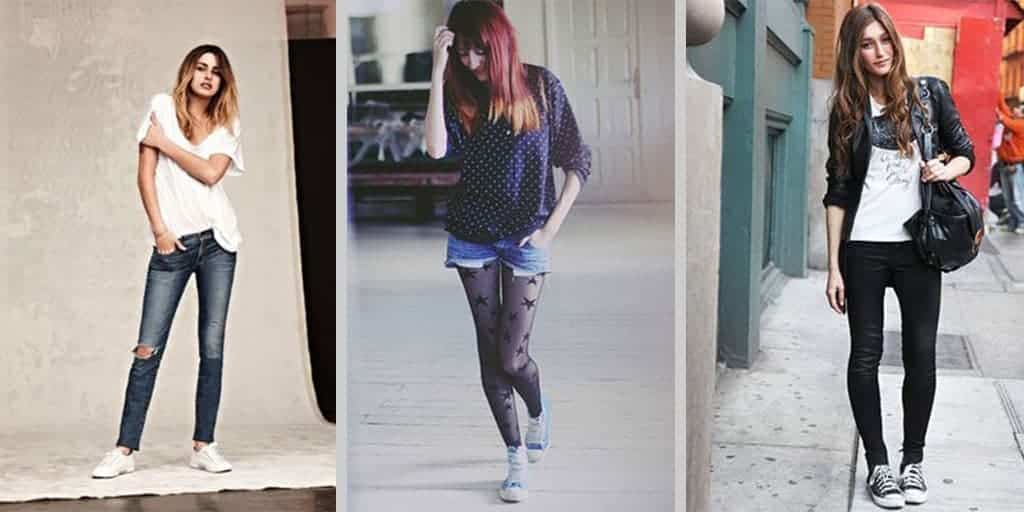 This post about how to style Converse was originally written in 2013, and updated in January, 2019.
Converse are ubiquitous, adorable, and can be found on ladies from birth to 99! They come in all kinds of colors, but the most beloved are white and black, and the high top Converse has its place in our hearts forever as well.
Dressed up, they are a statement of irony or independence or comfort before fashion. Dressed down, they are the perfect touch to almost anything — skirts, dresses, skinny jeans, or shorts.
So if you're wondering how to wear your Converse, the answer is: any way you like.
Without socks or with tights, at night or during the day, on the beach or at a club, Converse are a unifying shoe: everyone loves them. Worn on fashionistas like Rihanna, Gwyneth Paltrow, Chloe Sevigny and Kate Moss, they show up in magazines from Elle to US Weekly.
Converse has a beautiful American story, and I can't say it better than they do themselves on their website:
Converse sneakers showed up in rock clubs, on the streets, on rappers, on icons, on rebels and originals. It became the sneaker of choice for individuals. From All Star to Jack Purcell to CONS, Converse doesn't confine itself to one style or definition. Be who you want to be in Converse sneakers or clothes. An artist, rebel, rapper, thinker, gamer, skater, smoke jumper, freelance dentist, whatever. If you're wearing Converse, you know who you are.
Without further ado, check out the cutest, most chic ways to put an outfit together around the famous and affordable Converse shoe:
11 Ways to Wear Converse
1. With a Maxi Skirt
2. With a Girly Dress
3. With a Summer Dress
This gorgeously simple look is essentially summer: easy, sexy, confident. Converse, no-show socks and a straight-lined dress. Add a big, fun tote bag for extra awesome.
4. With Shorts and Tights
Another twist for Converse and shorts — add tights, these with a cute print.
5. With Jeans and a Tee
Sexy casual: white tee, tight jeans and Converse.
6. With Boyfriend Jeans
Sarah Jessica Parker looks effortlessly chic in rolled up boyfriend jeans and Converse.
7. With a Slouchy Bag
Skinny jeans, a cute top and bag and Converse from Elle Magazine, straight to our fashion hearts. Casual Perfection.
8. With Tulle
A flouncy layered skirt in a delicate color and Converse…love.
8. With Rough Denim Shorts
Rihanna is the essence of sexy casual in scruffed-up jean shorts and Converse.
9. With Dressed Up Shorts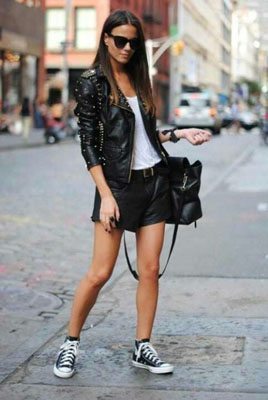 Here's the perfect example of taking the Converse+Shorts combo and making it a little dressier and more feminine.
10. With a Beret
If you thought Converse were only for casual days, think again. They'll easily anchor a collared shirt, structured blazer and statement beret.
11. With Pleats and a Bomber
Another girly match for Converse — a soft pink, pleated midi skirt. The bomber tops this ensemble off perfectly.