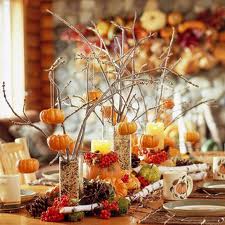 Turkey, stuffing, mashed potatoes, and pumpkin pie…Who doesn't love Thanksgiving? If you're like me, for the past week you've had visions of gravy flowing through your head, but as we all very well know, a table is not complete without a festive setting. Since most of my money and time is spent on food and preparation, this weekend I made sure to look in to ways to decorate the house for Thanksgiving that are affordable with a DIY flair.

Add a Touch of Class in your Homes with DIY Thanksgiving Decor!
Nature's Bounty. This is my favorite, because it's a "size-it-yourself" centerpiece that you can make out of whatever suits your fancy. Start with a branch from outside (or a fake log if you prefer) and surround with pine cones, mini pumpkins, vibrant-colored gourds, and maybe a few real (or cloth) leaves.
Tree of Thanks. Take a glass vase or some other kind of flute. Fill with tall thin branches, twigs, etc. Next, cut out circles of paper and spread out around the base of the vase with pens. To get the tree started, write a sentence or word of "thanks" and hang from the "tree" using a hole punch and ribbon. Invite your guests to do the same!
Fruit Place Cards. Use any kind of fruit that has a stem: Apply, Pear, Cherry… and is of the typical "fall" colors. Using string, tie a name note around the stem and place on the respective guests' plate. Viola!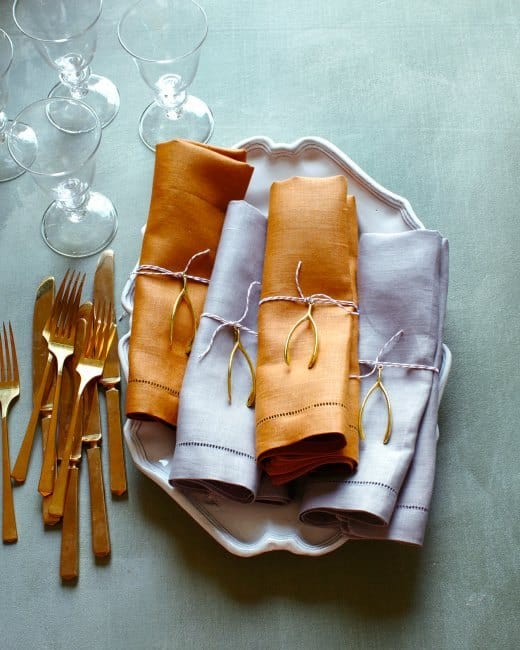 Wishbone Napkin Charms. Martha Stewart knows where it's at – I love these wishbone napkin charms. Grab some cheap wishbone charms or beads and tie them to twine or ribbon, then wrap around each napkin.
Corn Cob Candles. Take large table candles and several mini corns. Glue to the outside of the candle, and tie with twine to keep it all together.