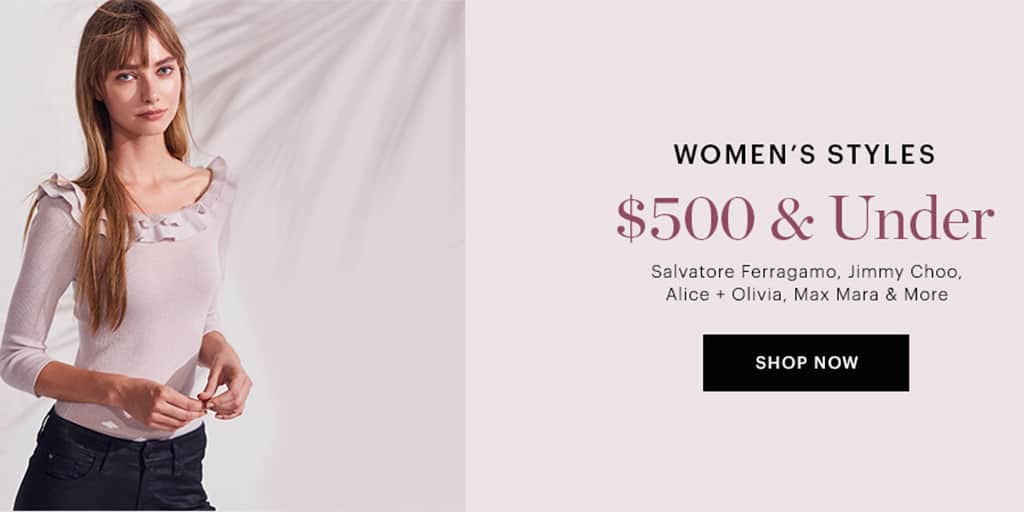 This post may contain affiliate links, which means I earn a small commission if you click and buy something (at no cost to you). See our privacy policy.
Knowing how to shop a brick-and-mortar store is different than knowing how to shop online: we tend to take the quick click route — which is the shortest amount of time between the loading of the front page and checkin' out.
In other words, while in an actual store we would peruse the clearance rack, check the sales flier, rifle through the racks to see if someone stashed that last half-off, size medium blue cashmere cardigan in the wrong section, online we tend to search for our item, pop it in the shopping cart, and go. Which saves time, but might cost us money. And that's the opposite of budget shopping.
So, we're going to throw some tips your way for shopping one of our favorite online stops —Bluefly.com. Right up front, however, we'll tell you that Bluefly is no Forever21. You're not going to find six tops and a winter coat for under 50 bucks. Bluefly specializes in designer goods at a discount, which means a potentially great cost per wear ratio. So, now that we're in the right mindset, here are our tips on how to shop Bluefly.
Bluefly Shopping Secrets
Start in the sale section
We know, we know. It's your lunch hour and you'd really like to focus on that styrofoam cup of French onion soup that you've been so looking forward to. But trust us, the extra time is worth it. Bluefly doesn't really have a clearance section, but sale here actually does mean huge discounts (at this writing, for example, up to 75% off. Nice).
Superior sorting capabilities will allow you to weed out items by category, size, designer, color, and price. So, for example, if you're looking for a black Diane Von Furstenberg dress, you'll see if there's one on sale in about 3.2 seconds.
SuperFly access email alerts
Enter your email in the handy little box at the bottom right hand corner of the home page, and you'll get sale alerts in your inbox. At Bluefly, this actually means something — the sales translate to pretty meaningful discounts, and frequently run only a day or two (as opposed to those department store "sales" that seem to run longer than a presidential election campaign). If you blink you've missed them.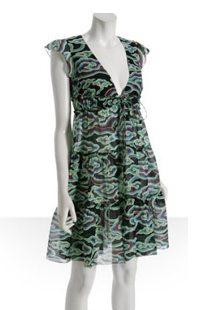 Search for online coupon codes before you check out.
This advice goes for shopping any online retailer. Go to a reputable site like RetailMeNot.com and search "Bluefly.com" for discount links and codes. While the codes we found at this writing were already expired or otherwise not working, this strategy does work on occasion. And if it does, you'll be happy you spent three minutes searching.
You can also check out our sale calendar, where we list the best sales happening right now.
The Bridal Boutique
Bluefly has a Bridal Boutique that carries dresses, jewelry and shoes at a range of price points. If you're a designer-loving bride to be, you will be in bridezilla heaven when you take a peek at the selection of designer bridesmaid dresses at huge discounts. You'll also find glam mother of the bride dresses, and suits, ties, and shirts for groomsmen, along with shoes and accessories for all.
If you're the wedding guest and not in the bridal party, hop on over to the women's dresses section and search by formal evening or evening wear. We like this section so much we're thinking of buying something and crashing a wedding. But that's just between you and us.
Take advantage of Bluefly's shopping app
If you're really serious about shopping Bluefly, download the app. You can quickly navigate to the brands and boutiques you love most. Set up the alerts and get notified about big sales. (Just don't drop the taco when it's halfway to your mouth just because you got a Bluefly sale alert.
You'll find the app is a quicker shopping experience on your phone than the mobile website, too.
A Bluefly Top Picks Retrospective
Still not sold on Bluefly? Well, we've had a lot to say about Bluefly since The Budget Fashionista first set up shop way back in the 2000s. Just for fun — since these pieces aren't available anymore — here's a look back at some of our top Bluefly picks over the years.
The Bluefly hipster trend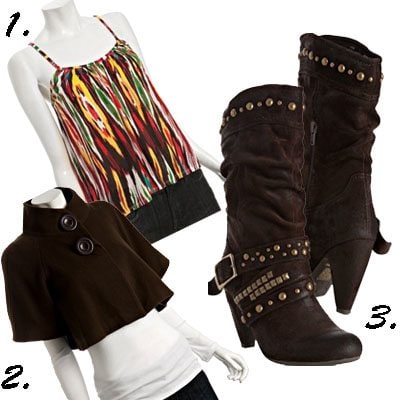 1. Torn Tribal Rainbow Top, $49.99
2. Shyla Cafe Wool Button Front Capelet, $59.99
3. Miz Mooz Brown Oiled Suede Studd Studded Boots, $59.99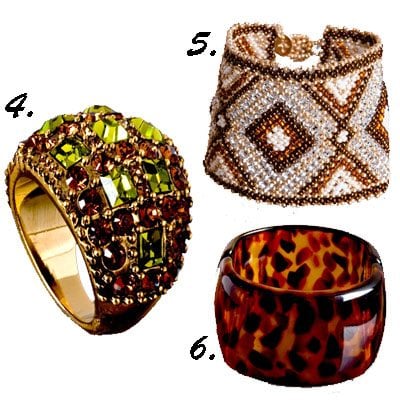 4. AV Max Gold Jeweled Dome Cocktail Ring, $45.99
5. Josefina De Alba Brown Beaded Mystique Bracelet, $49.99
6. AV Max Brown Tortoise Print Lucite Large Bangle, $29.99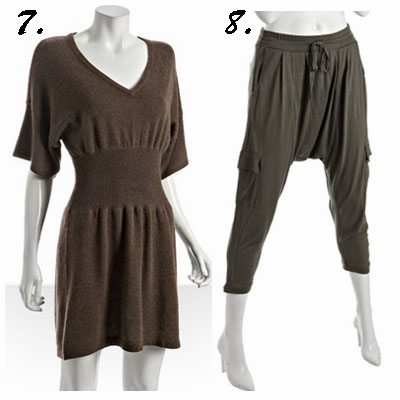 7. Qi Oak Cashmere Taylor V-Neck Dress, $134.99

8. Joie Army Jersey Cropped Harem Pants, $71.00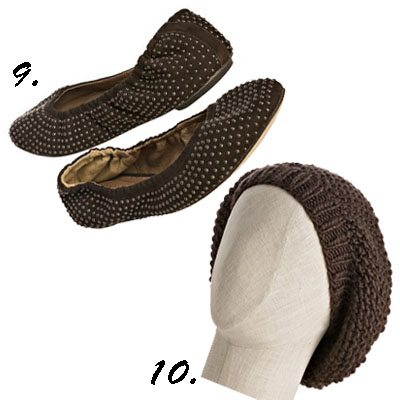 9. Corso Como Dark Chocolate Studded Suede Farran Flats, $65.99
10. Grace Hats Brown Knit Moss Watch Beret, $35.99
Five hot jackets under $100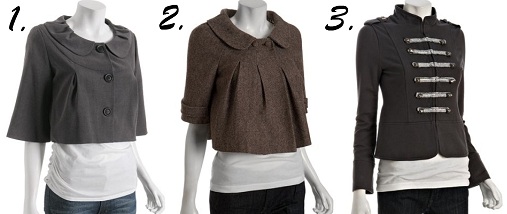 1. Wendy Katlen Cropped Swing Jacket, $57.59

2. Priorities Brown Wool Blend "Maggie" Cropped Jacket, $79.19

3. Romeo & Juliet Couture Military Jacket, $93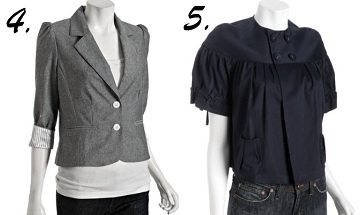 4. Necessary Objects New Boyfriend Jacket, $49.59

5. Alvin Valley Navy Pinstripe Swing Jacket, $64.79
For the holidays, luxe Bluefly gifts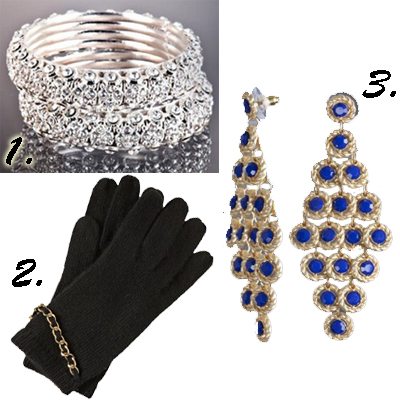 1. Chamak by Priya Kakkar Silver and Crystal Bangles, $43 for a set of 2

2. Portolano Black Cashmere Chain Detail Gloves, on sale $21.60

3. Kenneth Jay Lane Lapis Resin Stone Chandelier Earrings, $41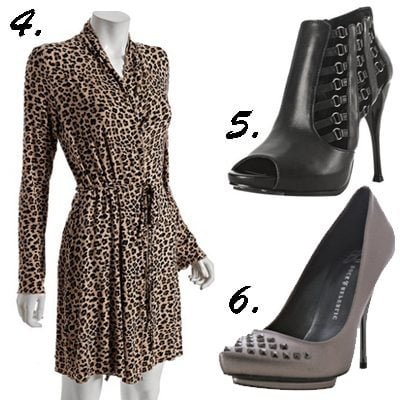 4. Tart Intimates Jersey Catherine Robe, $33

5. BCBGeneration Black Leather Malina Peep Toe Booties, $71

6. Rock & Republic Pewter Metallic Leather Nika Studded Pumps, $93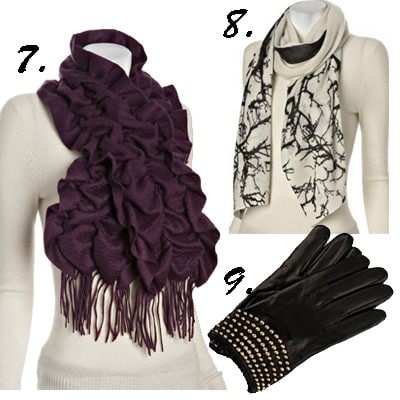 7. Sayami Plum Cashmere Fringe Squiggle Scarf, $66.24

8. Sayami Ivory Cashmere Tree Branch Shawl, $60

9. Portolano Black Leather Studded Driving Gloves, $75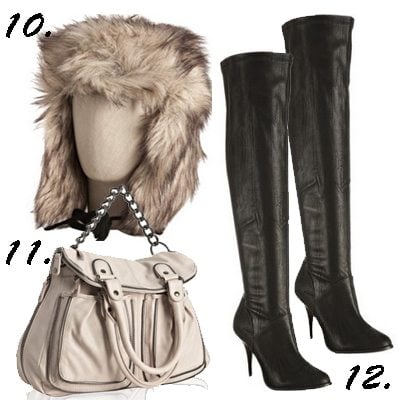 10. MICHAEL Michael Kors Beige Tipped Faux Fur Trapper Hat, $66

11. BCBGeneration Rose Powder Faux Leather Large Foldover Tote, $83

12. STEVEN by Steve Madden Black Stretch Suppel Tall Boots, $89
Day to night dresses from Bluefly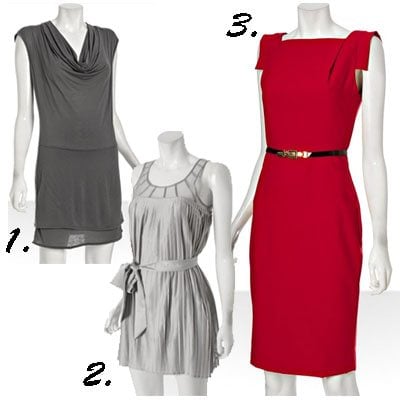 1. Wyatt Stealth Grey Jersey Cowl Neck Dress, $57.80

2. Romeo & Juliet Couture Light Grey Box Pleated Sateen Belted Dress, $62.89

3. Single Red Jersey Victoria Belted Sheath Dress, $109.65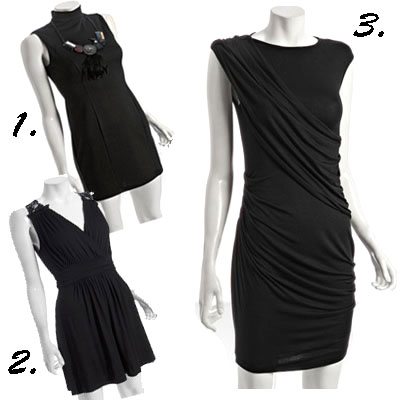 1. Casual Couture By Green Envelope Black Jersey Mockneck Statement Necklace Shift Dress, $64.59

2. Wyatt Black Lace Jersey V-Neck Dress, $67.996.

3. Wyatt Black Draped Crewneck Dress, $74.80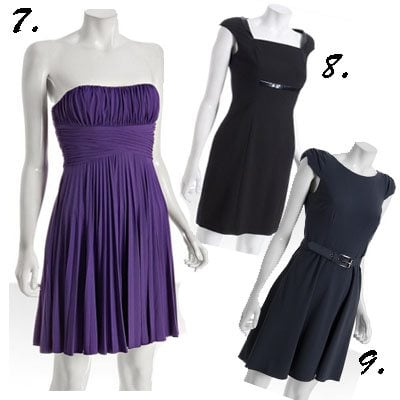 7. Max & Cleo Purple Jersey Pleated Sweetheart Strapless Dress, $75.65

8. Marc New York Black Woven Patent Leather Trim Dress, $80.75

9. Marc New York Granite Woven Shirred Sleeve Belted Dress $80.75
2010 Bluefly New Arrivals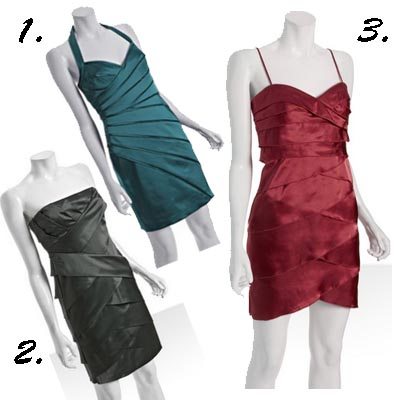 1. Laundry by Shelli Segal Sateen Seamed Halter Dress, $119.24

2. Calvin Klein Hunter Green Strapless Pleated Dress, $118

3. Laundry by Shelli Segal Shutter Pleated Satin Dress, $97.49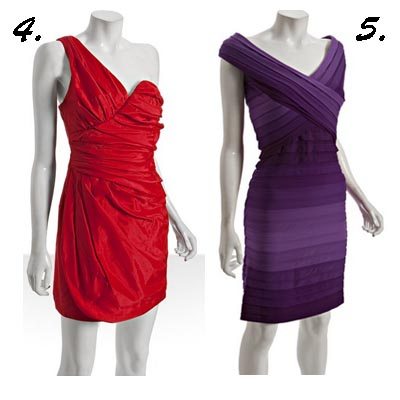 4. Alexia Admore Scarlet Taffeta Pleated One-Shoulder Dress, $149

5. Tadashi Shoji Grape Ombre Stretch Jersey Shutter Pleat Dress, $197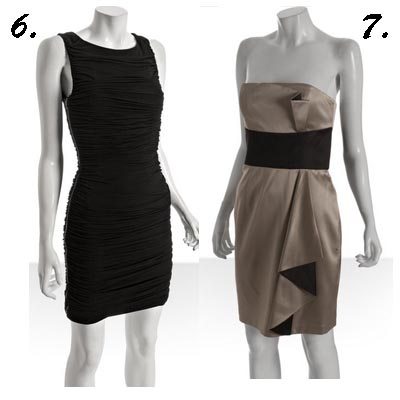 6. Calvin Klein Black Stretch Jersey Ruched Sleeveless Dress, $89

7. Xeniya Champagne Satin Strapless Ruffle Dress, $174