This post may contain affiliate links. See our privacy policy.
When it comes to holiday dressing, we're always focused on the clothes. But you don't have to be laced-up in a gown to make a show-stopping statement at each and every event. The truth is, the right bag can up the ante on anything in your closet.
One of my favorite moves is to recycle a trusty little black dress and shift the focus with a blingy bag. Everyone's attention is automatically drawn to the purse that pops against your basic black, and no one even recognizes that they've seen the dress before.
Much like everything surrounding the holidays, you want a bag that's decadent and fanciful. Think bold color, fun textiles and decorative embellishments that trim the bag like a tree. You'll want something festive — an ornament to adorn your outfit, if you will. I've done a little shopping of my own to find you five bags that totally bring it. Tote this spirited crew from the season's kickoff through the end of January to get your fashionable fill of the holidays and all their glory. Oh, and skip the dress shopping (it'll be our little secret).
1. The Metallic Holiday Handbag
Zara is one of our favorite budget-friendly purse brands. On this inspired piece, glittering insects embellish a bright and cheery, red, flap-front crossbody bag that takes you well into the New Year. Carry this multi-tasking style by the top handle for a chic accessory during the office holiday party.
2. Faux Fur Fun
Forget blue velvet. This time around, it's about blue faux fur and vegan leather. Perfect for those celebrating the Festival of Lights or anyone who's over the standard red and green, this fuzzy convertible number is a gorgeous twist on festive accessorizing.
3. A Sequined Statement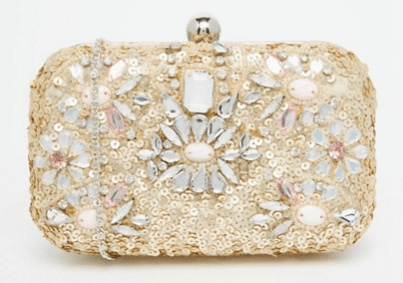 Shimmer like the falling snow with this uniquely ornate box clutch that works for semi and formal events from Thanksgiving through NYE.
4. The Big Bow Wristlet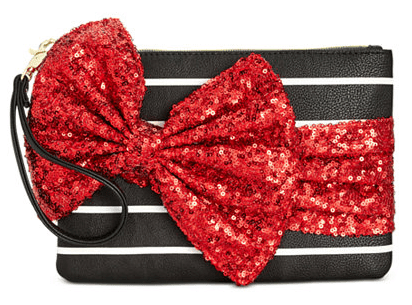 Made for tree-lighting parties, Christmas Eve and the great gift exchange, this sequinned, hands-free wristlet resembles a present itself. Pair it with casual looks that can use a little sparkle!
5. Marbled Clutch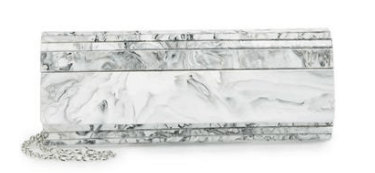 Marble's one of the top trends of the season, and our favorite way to send the year out with a bang. Printed over the always-glamorous lucite, this folding chain strap clutch is ultra snowstorm-inspired.
Will you be wearing one of these holiday handbags this season? Let us know in the comments.
And for your next read: How to care for your handbags. You might as well see these fun little numbers last!