There was a moment in fashion where faux fur wasn't just the friendly alternative, it was the affordable one. Girls pining over standout designer coats could get their own iterations with the same pop, if not the same name, at breeze-easy price points. Thank you textured polyester and acrylic silhouettes! In those times, fake paralleled the warm and eccentric outerwear barreling down runways. And style-hungry shoppers had a chance at luxe-like looks without emptying out their savings accounts.

Faux Fur in High Demand
If you've been on the hunt for outerwear lately, you've probably noticed that the demand for these cruelty-free creations has driven the prices up. You'll now find lavish lookalikes costing almost as much as the real deals. Just like the rise and popularity of vegan leather, faux fur coats have seen the same spike. But there are still steals available–if you know where to look and what to keep in mind.
Our Fake Favs
We've done the hard work for you this cold weather season, rounding up the best in fake fur that'll keep you under budget. After all, it's the most wonderful expensive time of the year.
Dreamy Long Cardigans

Fever Faux Fur Jacket, $49.97, Nordstrom Rack
Textured Faux Fur Coat, $26.45, Forever21
To keep costs down, aim for cardigan styles in longer car coat lengths. Eyelash and thinner faux fur fabrics can be much more affordable than their thick, full-length counterparts.
Sassy Cropped Jacket
BELLE + SKY Faux-Fur Jacket, $59.99, JCPenney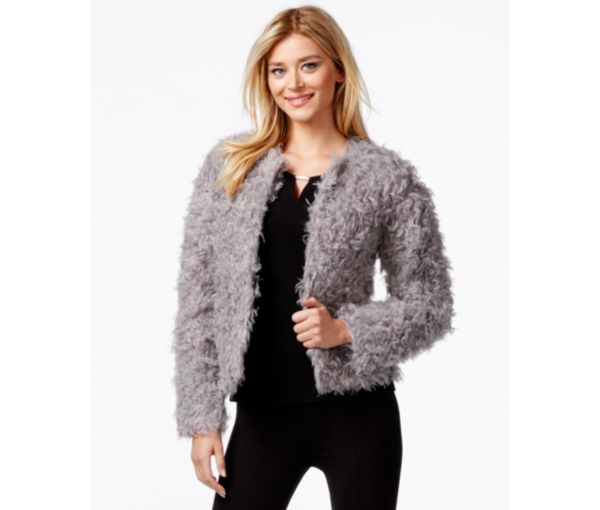 Calvin Klein Faux-Fur Jacket, $67.99, Macy's
Do a heavy fabric in a cropped or shorter style. A puffed-up box jacket provides the perfect weight to keep you cozy. Plus, it calls for less exterior and interior lining fabric, which means it'll save you some dollars.
Faux Fur Accessories
Faux Fur Infinity Scarf, $24, West Elm
Green Faux Fur Ear Muffs, $20.94, Express
San Diego Hat Company Faux Fur Fingerless Gloves, $14.97, Nordstrom Rack
Our best secret yet isn't a coat at all– faux fur accessories can be a killer way to work in the seasonal textures without draining funds. A chic stole, toasty gloves and even a furry hat can add an elevated edge to your winter styling in an economical, unexpected fashion. It's maximum impact at minimum expense!

Check out our article Winter is Coming: Furs inspired by Game of Thrones for more great looks!
 
Melissa is creative communications professional with 9+ years of experience writing for the beauty and fashion industries.