It's a fashion truth: the perfect bag can make an outfit out of any old basics you have in your closet. Clutches, satchels, cross-bodies, hobos, and totes always fit, too. When it comes to handbags, you can never have too many — that is, if money were no object. But of course, money is an object and that's why you're looking for the best affordable purse brands. Having a new bag on hand is fabulous unless you have to empty your wallet to get it.
How to Spot a Good, Quality Bag for Less
When looking for less expensive bags, there are a few things to keep in mind:
Stay away from logos, which draw more attention to the brand name than to the style and color.
Decide if you can live without leather. The real stuff will probably last longer, but it will also cost you more.
If you're looking for versatility, then stick with a basic color like black or brown.
Examine the stitching. You shouldn't see loose threads or inconsistencies.
Tug at the seams. Make sure the seams are strong.
Evaluate the weight of the bag when it's empty. An empty bag that's too heavy will be miserable to carry around once you put your stuff in it.
Inspect the straps. Check that they're wide enough to distribute the bag's weight. You don't want to feel like the strap is slicing into your shoulder. Also assess the strength of the stitching that holds the straps to the bag. A common "purse fail" is when that stitching breaks and the strap is no longer attached.
Avoid flat metal plates and embellishments. These are easily scratched and end up looking tacky.
Review the pocket situation. Decide how many pockets you need based on your level of organization. (Personally, I only want a bag with one zipper pocket. More than that just ends up being wasted space.)
Know how to care for your handbags. Even if you're buying a lower-cost item, you might as well make it last as long as possible.
Best Budget-Friendly Purse Brands
1. Big bags: Try Big Buddha
Big Buddha bags used to be the go-to for soft totes, weekender bags, and slouchy hobo bags. Sadly, the brand is no longer in operation — at least judging by their dormant Facebook page and website. Still, you can't beat Big Buddha styles if you want an affordable carryall. Thankfully, you can still find them if you know where to look. For a limited selection of new styles, like this classically styled tote, try Walmart.com.
Another option is to buy Big Buddhas used on Tradesy, Poshmark, and Thredup. You'll find a more versatile selection and the prices are right, too!
2. Old-school: Try Olivia + Joy
Look up Olivia + Joy on Amazon and you'll find a range of quirky bag styles for around $30. This is another brand that was huge 10 years ago and has since gone by the wayside. So the styles you'll find on Amazon have a retro feel to them — likely, they were designed back in the 00s.
3. Trendy bag: Try ZARA
If you're after a purse that feels high-design without the fat price tag, Zara can scratch that itch. The current season's collection — that's summer 2020 — has an organic feel, with woven details and natural materials. Price points range from $30 to $60.
3. Party bag: Try ASOS
If you're going to a cocktail party or to a girls' night out, you can dress up any little black dress, jeans or a tee with a fun metallic crossbody, sleek clutch, or holiday handbag from ASOS Design. The British-based online store's fashion-forward selections are playful and statement pieces. They might be so trendy, you'll only want to use them for a season or two, but that's plenty considering the price tag of $50 or under.
4. For work: A New Day at Target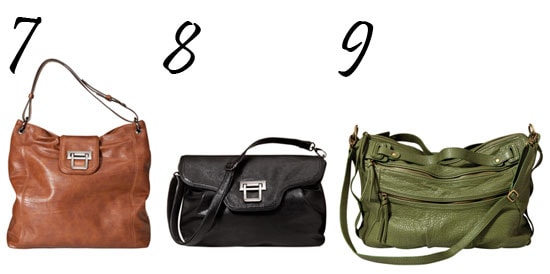 Merona bags from Target used to be our top pick in this category, but alas, the world has changed. In 2017, Target dumped Merona (and Mossimo) to get more relevant in the digital age.
Today, the go-to Target brand for a bag to stash your laptop is A New Day. Target hasn't looked back and, honestly, we're not either. A trendy work bag for around $40? Heck, we'll buy a new one every year.
5. For weekend trips: Vera Bradley
When you need a big, stylish bag for your next weekend getaway, look to quilted Vera Bradley styles on Zappos. You can score one with hand straps and an optional crossbody strap for around $130.