This post may contain affiliate links. See our privacy policy.
Trends come and go, but your body shape is always going to stay the same. True, you may gain or lose weight, but in general your proportions aren't going to change much. That doesn't have to be a bad thing, though! If you can learn to love what your momma gave you, you'll avoid embarrassing "wardrobe malfunctions" and be more confident and happy in your own skin. Dressing for your body type involves understanding your shape and what looks good on it. Here are three strategies to get you started.
3 Strategies for Dressing for Your Body Type
1. Know Your Shape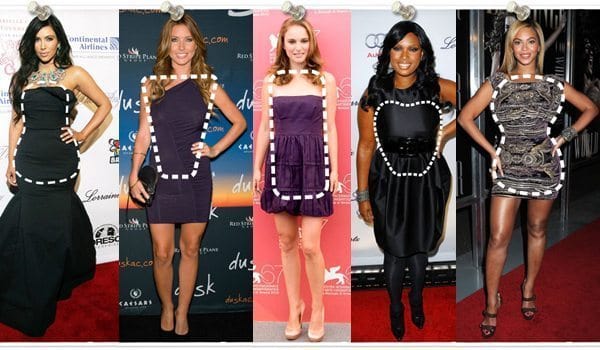 Can you flip through a magazine or walk through a store and automatically know what styles are going to look good on you? If you know your body shape well enough, you won't waste time and money on unflattering trends (remember those harem pants you bought? Yeah, we thought so). First, stand in front of a full length mirror for a few minutes. Don't suck it in or wear your Spanx, just be honest with yourself. Take a look at where you carry weight and then consider the following:
If you carry most of your weight in your hips and thighs, you're a pear shape.
If your chest and shoulders are wider than your hips, you're an inverted triangle.
If your hips, shoulders, and waist are pretty much the same size, you're a rectangle shape.
If you are fuller up top and slimmer in your lower body, you're an apple.
Tiny waist and kickin' curves? That's an hourglass.
Can't figure it out? Ask a close and trustworthy friend for her opinion.
2. Proportion is Key
Now that you know your shape, the main rule is to dress proportionally to your body. Choose garments that balance your problem areas and highlight your best features.
For example, if you're heavier on top, stay away from any bulky tops — they'll only make your upper body look bigger. Skip the square-cut, boxy blazers and choose a longer, slimmer cardigan instead.
If you're a rectangle with a little more to love around the middle, a super-tight dress won't be your best option. If you're pear-shaped, balance wider-leg pants or A-line skirts with a fitted top.
More generally, keep these goals in mind when choosing clothes:
Pear: go for garments that draw the eye to your upper body
Inverted Triangle: balance your shoulders with clothes that accentuate your hips
Rectangle: aim to highlight the thinness of your waist, or to add volume to your bust and hips
Apple: pick clothes that emphasize your shoulders and legs
Hourglass: the most flattering garments will highlight your waist
And remember this: Proportionality applies to your clothing, too. Rocking the skinny jeans? Then go for a longer, more flowing top. If you're wearing a full, retro circle skirt, make sure your shirt fits your frame well and is tucked-in.
3. Tailor, Tailor, Tailor!
Tailoring can be an important factor in an item's cost per wear. The more often you wear an item of clothing, the lower its cost-per-wear. Put another way: you'd rather have three pairs of pants that fit every curve perfectly than a whole closet of ill-fitting trousers!
Off-the-rack clothing was never meant to fit each body perfectly. If you need a large pants size through the hips, but have a small waist, make sure to get the waistband taken in so it doesn't gap. If you're short-waisted, have the hemlines of shirts shorted so they hit you at the right place. And, ratty pants hemlines never look good on anyone! Have those pants hemmed and ready for heels and flats.
When your clothes fit you just right, it is much easier to throw on an outfit and head out the door in the morning. Knowing your shape and adjusting your wardrobe accordingly can save you time and money — and make you look darn good, or course.