When you buy via links on this page, I may earn an affiliate commission. Learn more.
Tell us if this scenario sounds familiar – summer comes, and whether you like it or not, you head to your favorite department store to pick out a new swimsuit. You find a few you like and head to the fitting room.
Fast forward 30 minutes.
You've returned each and every one back to the rack, thinking that maybe you could pull a Jennifer Hudson. You feel discouraged. Maybe you just weren't meant to swim, get a tan, or have any sort of life during the summer months. Maybe you should move to Alaska.
Well, what if we told you that you're not alone, that even swimwear supermodels go through a ton of suits before finding one good enough for a photo shoot? Better yet, what if we told you that there are countless suits out there that will not only fit you well, but fit your budget?
You've just gotta know what to look for, and of course, being your cyber fairy godmothers, we've put together some excellent swimwear options.
Check Your Body Shape
It's tough to be objective about your own reflection. Although you have a sense of your own shape, it never hurts to pull out a cloth tape measure to verify. Grab a pen and paper and jot down three measurements:
Your bust at its fullest point
Your waist at its smallest point
Your hips at the widest point
How these measurements compare to each other will tell you whether you're an apple, a pear, an hourglass or a banana.
Banana babes: You are thin all over and your bust, waist and hips are all about the same.
Pear cuties: Your bust and waist are significantly smaller than your hips.
Apple lovelies: Your waist and bust are about the same, and slightly wider than your hips.
Hourglass hotties: Your bust and hips are roughly the same, and your waist is significantly smaller.
Choosing the Best Swimsuit for Your Body Type — Tips for Success
Color, fabric and cut can all be used to enhance your best features and/or disguise your lesser features. Here's a rundown of strategies you can try:
To highlight your chest or your backside, look for a brightly colored or patterned top or bottom. Alternatively, a solid color will bring less attention to that body part.
If your skin is pale, look for colors like black, maroon, navy, or dark purple.
If you are dark-skinned, brightly colored suits look lovely on you.
To add some volume to your top, for example, look for pieces with ruffles.
To hide volume, choose a piece with ruched or shirred fabric.
To hide your waist, go for a one-piece in a dark, solid color, or with shirred panels at the stomach. You can even go for a high-waisted bathing-beauty bottom of the 1940s style.
A tankini, on the other hand, will highlight your waist.
Boyshorts will make your hips look wider.
To make your legs look longer, try high-cut bikini bottoms
If you want to draw the eye to your bust, you can buy a halter top or a triangle top. A tie-front bikini top can pull your breasts together, making them look larger, while a Bandeau top can make your bust seem wider.
For those with larger busts, swimsuits with straight across cuts at the top and wide set straps may be the best.
Those are the rules of play. Now, read on for our picks for swimsuits by body type.
Banana Babes
So what if you weren't graced with JLo's behind, Scarlett Johansson's boobs, or Beyonce's hips? If you've got an athletic body type, you've got lots of choices and many swimsuits can give you the curves you crave.
When you need add shape and curves, embellishments will do the trick. Simple embellishments, like beads, sarongs, ruffles, and belts will turn your curveless figure into a shapely one. You'll be strutting down the boardwalk (summertime's makeshift runway) in no time.
Here are our swimwear picks for beach babes with an athletic body type.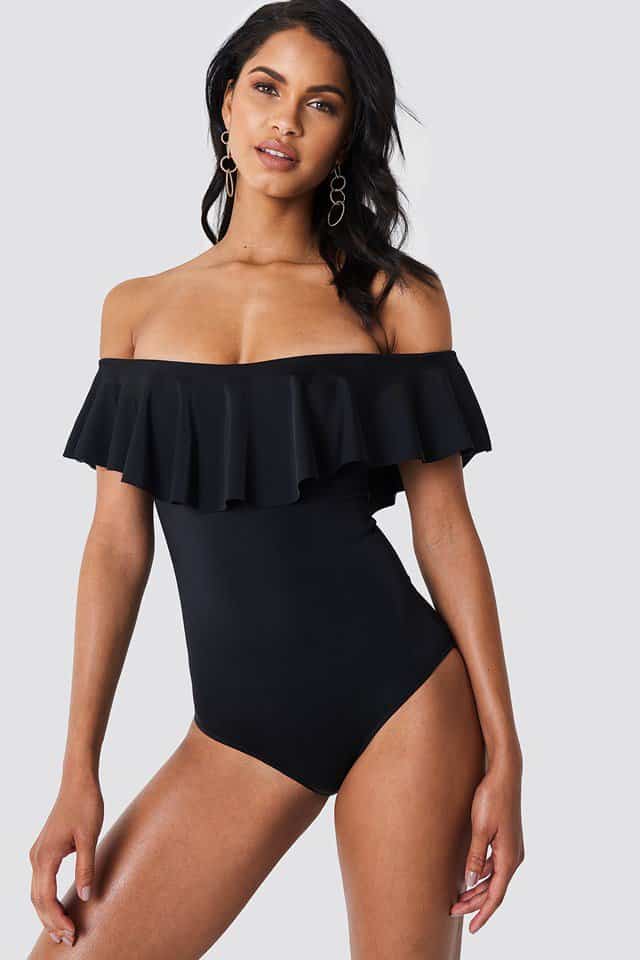 Pear Cuties
If you're heavier on the bottom, meaning your butt is wider than your shoulders, aim to accentuate your torso and your neckline to draw the eye upwards. Choose a top that's a lighter color than the bottom, or has some noticeable, standout feature. Halter tops and scoop bottoms are a great option.
If you've got a sizable booty or thick thighs, don't be afraid to show them off! They're not anything to be ashamed of! Higher-cut bottoms will flatter, too. Only resort to skirts and shorts if you're feeling ultra modest.
Check out these budget and figure-friendly swimsuits.
Top Heavy
Maybe you're a little busty — in a Barbie kind of way — or maybe you have really wide shoulders and small hips. You're what they call an apple or an "inverted triangle."
Since everyone will naturally look up (at your chest, perhaps), remind them that you've got a sexy waistline, too! To do so, go with a high-cut leg, boy shorts, and/or a bottom that has a more vibrant color or busier pattern than the top.
All the while, make sure you're well supported with a swimtop with cups, a halter top or heavy-duty underwire.
These suits are great for top-heavy women.
Plus Size
There are TONS of awesome plus-size swimwear available these days, and they are affordable and stylish (no more hideous floral printed muumuus). Most plus-size sistas think they look "slimmer" by covering themselves up. Not true! High-cut bottoms really are much more flattering.
As far as colors and patterns go, look for the "crossover" style (you'll know it when you see it) and avoid horizontal stripes along the waistline. Also, the more skin you show, the thinner you look, so don't be afraid to show what your mama gave you (within reason). If you don't have a standard black one-piece suit yet, that's a must buy (for any body type).
When picking out suits, think voluptuous, not matronly.
Hourglass
If you've got an hourglass figure, first thank your mom. Second, have fun trying on swimsuits. You're one of the few women out there who can get away with virtually any style.
Here are some options for curvy girl.
Tummy Issues
If you've got a pouch (and most of us do), there's no reason to hide underneath a cover-up. Just look for swimsuits with tummy control panels or ruching (gathered fabric). Also, bikinis with high waisted bottoms are also a good bet as showing more skin actually makes you look thinner.
Petite
As a Petite fashionista, your biggest concern is how to find a small swimsuit that doesn't make you look like an elderly member of the Mickey Mouse Club or a 36-year-old Lolita. Don't fret. You actually have many options, including checking out the juniors department, and, in a pinch, the children's department. Your best bet, though, will be a suit that's designed for the shorter lady — in other words, shop suits specifically for petites.
Check out these picks for petite fashionistas.
Older Fashionista
Look, just because you've reached a "certain age" that doesn't mean you have to head directly to the muumuu section when looking for swimwear. As an older fashionista, it's your duty to bring as much style to the beach as you do on shore.
Play up your assets (great bustline (Helen Mirren) or curvy hips (Susan Sarandon). Try patterns (not the standard muumuu floral print) and try a bit of color. See our post on swimsuit options for ladies over 40 for top picks.
You may also like these: