When you buy via links on this page, I may earn an affiliate commission. Learn more.
Welcome to the second in our Dress Like the Best (Over 40 Edition) series! Today we're celebrating Cate Blanchett style — Cate is 47 years young, a Taurus, acclaimed Australian actress and Number 2 on InStyle's list of the most stylish women of 2016. She's also a bit of a mystery relative to many of her leading-lady peers; Blanchett isn't a fan of social media, so you can't stalk her every move (and outfit) on Instagram.
When Cate does pop up in photos, outside of red carpet appearances, she favors clean lines and unexpected monochrome ensembles. I'd describe her style as intellectual chic, if that's a thing. Even when she's wearing overalls, she just looks incredibly smart and classy. Try working these two Blanchett looks into your wardrobe and see for yourself!
How to Channel Cate Blanchett Style
Look 1: Casual but Intentional
Cate was spotted in the Tokyo airport wearing this ensemble that includes a $1,325 pair of sneakers. And her overalls cost about the same, which means you and me will never wear these exact pieces. What we can do is look at what really makes this outfit work.
Cate's basically wearing one color — navy. And although she's worked in different shades of navy and some texture, the bling sneakers and standout sunnies frame what would otherwise be a kinda blah outfit.
I shopped a less expensive version of Cate's airport ensemble using gray as the main color. A soft grey tee under a charcoal overall creates the right backdrop for blue lens, cat-eye glasses and silver slip-on sneaks. Don't be scared of those silver sneakers, either. You can wear them with confidence as long as the rest of your outfit is subdued. If you're a crafty DIY type, you could even embellish those sneakers with a shiny buckle for a bigger statement.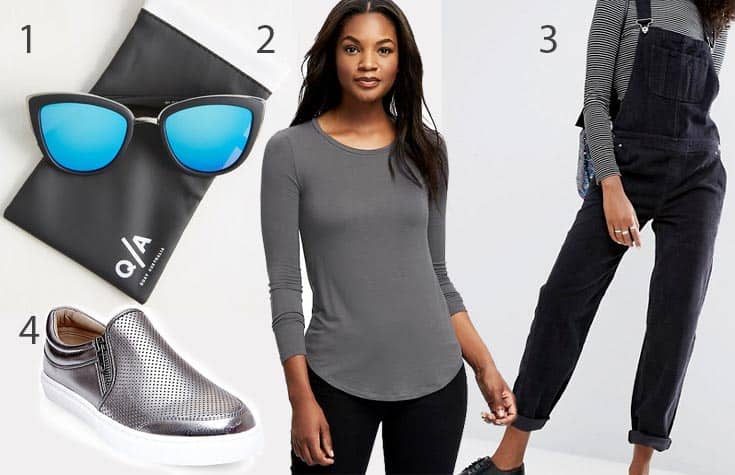 Crew Neck Layering Tee for Women, $17, Old Navy
Cord Patch Pocket Overall in Washed Black, $73, ASOS
Steve Madden Ellias Slip-on, $69.95, Shoebuy
Look 2: Super Sophisticated
Here Cate shows off a textured gray Giorgio Armani suit with a masculine cut. She has a serious tote bag on her arm and looks all business.
In truth, it's challenging to find an Armani suit at a budget price. The Tahari ASL Charles suit shown below mimics some of the same elements: a single-button blazer with a straight cut, minimalist collar and no pocket flaps. You can find this suit at steep discounts right now at Sears and Overstock. Pair it with a big tote bag and pointed toe, block-heeled shoes for your own power look.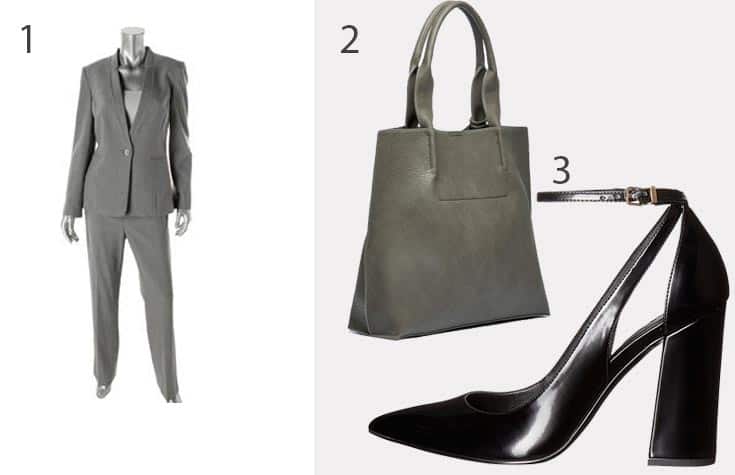 Tahari ASL Charls Heathered Suit, $50.99 (on sale), Sears
GUESS Braya, $89, Zappos
Do you feel ready to step out in Cate Blanchett style?