Essential Pleated Polka Dot Skirt, $12.80 from Forever 21
Cute skirts are always in, no matter what trends are showing up or what season is around the corner. Who can resist an adorable A-line patterned skirt or one with a pretty knee-grazing ruffled hem? (I certainly can't, that's for sure). But sometimes, the quest to find a cute skirt on a budget can be time- consuming and frustrating.
Enter Kathryn, who asked me to head out into the world of skirts and get my hands on super-cute, super-affordable ones (talk about fun . . . I mean, can her requests get any better?)
Here's the lowdown.

Easy Tips on How to Find Cute Skirts
Ask & Receive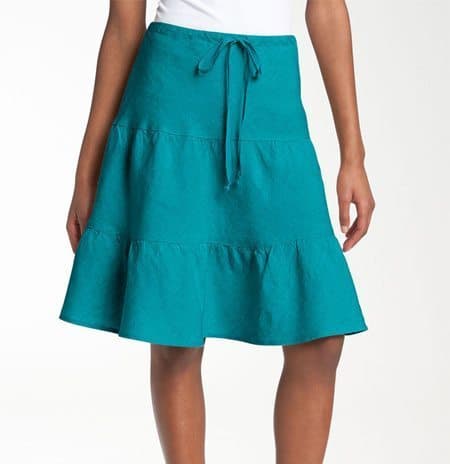 Allen Allen Tiered Linen Skirt, $48 from Nordstrom
I admit it, I love to people-watch. With so many folks flitting about during my morning coffee-shop routine, I figured there was bound to be someone wearing a gotta-have-it skirt. Yup, there was, and rather than sit in silent skirt envy, I got up and asked her where she got it. It's that simple. You ask. She'll tell you. You'll own one.