When you buy via links on this page, I may earn an affiliate commission. Learn more.
Hair loss in women. It's one of those nasties of life we don't like to talk about. For whatever reason, there's a lingering, dated and inaccurate sense that only men go bald. And maybe that's why women who experience thinning hair feel embarrassed and even ashamed about it. Studies prove this. According to Dr. Alan Bauman, a board-certified hair restoration physician, studies have linked hair loss in women to depression, anxiety and social withdrawal.
But why can't we talk about? It's certainly a common enough problem. Dr. Bauman says that more than half of all women over 40 experience hair loss. And Dr. Ken Williams, founder of Orange County Hair Restoration in Irvine, Calif., tells me that hair loss affects 30 million women in the U.S. We gals should be able to step up, ask questions and find solutions — without feeling like freak shows.
So, I did just that. I recently reached out to several reputable physicians to get real-live answers (rather than the anonymous, vague explanations that are so rampant online). I'll cover lots of territory here, so feel free to use the links below to jump to the info you need:
The Causes of Hair Loss in Women
Genetic Causes
Some 25% of women are genetically predisposed to hair loss. The official name for this condition is Androgenetic Alopecia, but it's also called Female Pattern Hair Loss or FPHL. An FPHL diagnosis means the hair loss is caused by a certain group of hormones that are messing with the growth cycle of your hair.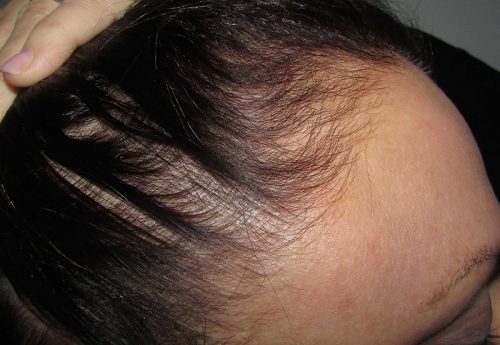 This is where things get complicated. Many factors, from illness to menopause, can affect your hormones. And, worse yet, "the science of female balding remains misunderstood," says Dr. Williams of Orange County Hair Restoration. "We don't understand all the genetic codes at work. There are most likely other types of enzymes as well as hormone receptors and blockers that have yet to be discovered."
Here are a few things we do know about FPHL:
Dr. Williams estimates that FPHL accounts for 95% of female hair loss.
Dr. Tsippora Shainhouse says FPHL typically causes a widened center part and thinning at the crown. This is quite different from male pattern baldness, which shows up as a receding hair line.
According to Dr. Nettles, founder of Stop and reGrow Hair, once FPHL starts, a woman will lose about 4% of her hair each year if she doesn't seek treatment.
FPHL is the most common culprit for female hair loss and also the most difficult to treat.
Emotional Causes
Severe stress has a role in two types of hair loss: Telogen Effluvium and Alopecia Areata. Telogen Effluvium is characterized by large clumps of hair loss over a short period of time. Alopecia Areata will present as circles of hair loss. When stress is the culprit, removing that stressor is the first course of action. If you do nothing, the hair loss will continue.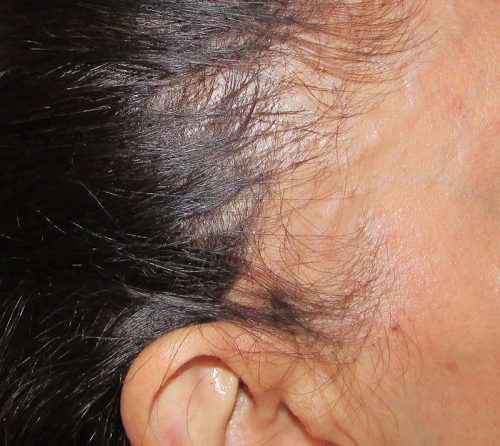 Dr. Nettles recommends yoga, meditation, exercise and even stress counseling as longer-term fixes. These coping strategies have many benefits — the most important one being a healthier, happier you — but they'll also equip you to manage through any future stressors that come up.
Hair Loss Related to Nutrition
A diet deficient in biotin, L-Lysine, zinc and/or protein can lead to brittle hair that's prone to breakage. While supplements may help, Dr. Nettles says that protein deficiency is often the problem. "Hair is 93% keratinized protein," he explains, "and if you aren't consuming enough protein, the hair is the last place the body puts it. Your body will actually shut down and stop producing hair until about 3 months after protein intake reaches sufficient levels again."
Dr. Nettles recommends 100 grams of protein daily, spread out throughout your day — because your kidneys can only process up to 10 grams of protein per hour. Snacking on protein bars and shakes between meals can help you reach that 100-gram milestone.
Hair Loss Related to Hair Care
Heavy hair extensions will cause hair loss over time, due to the weight and strain they put on your follicles and scalp. Hair loss caused by any type of pulling strain is known as Traction Alopecia. While hair extensions are the most common issue, Traction Alopecia can also occur from pulling your hair back in tight ponytails and buns repeatedly over time.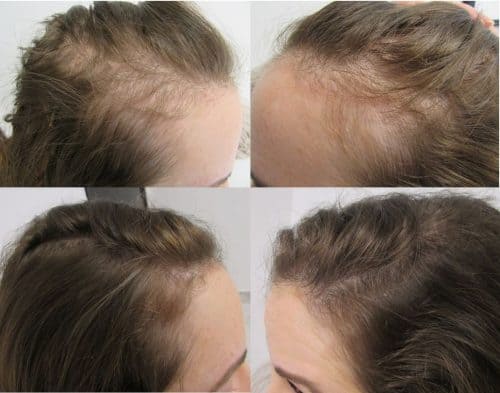 Hair color and heat styling are also problematic, particularly when your hair is thin and fragile already. Color processing, hair drying and flat ironing don't damage your hair follicles, but they will accelerate breakage — which exaggerates the appearance of hair loss.
Find a go-to style that doesn't involve tight updos or heat styling, and spare your hair some stress at least a few days a week.
Over-the-Counter Hair Loss Products
Supplements
Take a stroll through the vitamins and supplements aisle in Target and you'll see a handful of supplement formulations that promise thicker, healthier hair. And if you want to be completely overwhelmed, search Amazon for 'hair loss supplements.' There are many, many options promising a thicker head of hair, but do they actually work?
Yes and no. Yes, some supplements will help the appearance of your hair — if you aren't already getting those same nutrients from your diet. But sadly, no, supplements aren't going to regrow lost hair.
If you do suspect your eating habits are to blame, here are the supplements support healthy hair growth:
Biotin
L-Lysine
Vitamins A, C, and E
Zinc
Ferritin
Silica
Horsetail
You could go and buy all of these, or choose a multivitamin or special formulation that contains most of them. (I prefer the latter, because I hate swallowing pills.) Dr. Williams recommends a combination of prenatal vitamins and Viviscal to address any nutritional causes for the hair loss. Prenatal vitamins obviously include lots of good stuff for skin and hair, and Viviscal contains iron, zinc, biotin, niacin, Vitamin C plus an exclusive marine complex derived from fish proteins.
Topicals
Minoxidil 2%
Here's a fun fact about minoxidil, which first appeared on the over-the-counter market as Rogaine. According to Dr. Williams, clinical studies indicate that Minoxidil can be more effective for women than it is for men. Women and men who used minoxidil in clinical trials showed an increase in hair growth within 8 weeks of starting treatment.
Nizoral or Ketoconazole Shampoo
"Studies suggest that Ketoconazole may inhibit the production of DHT thus reducing the pathway that leads to the characteristic miniaturization of hair follicles in Androgenetic Alopecia," says Dr. Williams. Translation for lay-women: an over-the-counter ketoconazole shampoo may help.
FDA-Approved Lasers
Capillus
The Capillus is a low-level laser therapy (LLLT) helmet that's designed to stimulate the hair follicle and promote healthier, thicker hair. There are three options in the Capillus family, and they're not cheap. The lowest priced model is $799, and they go up from there.
Theradome
Theradome is a helmet that delivers Laser Photo Therapy or LPT to stimulate the hair follicles. Theradome retails for $895.
Hair Loss Surgery
Hair loss surgery has advanced well beyond hair plugs! While other treatments attempt to slow or reverse shrinking follicles, hair replacement surgery physically places healthy follicles into the balding areas of the scalp. As explained by Dr. Williams, there are two main hair replacement surgery techniques, FUT and FUE.
FUT
This involves the removal of a strip of scalp, which may leave a small scar at the back of the head. The surgeon then takes the hair follicles from that strip and inserts them in the balding areas. A natural hairline is created by placing follicles with only a single hair. Fascinating, right?
FUE
FUE is the "next big thing" in hair replacement surgery. Instead of removing the strip of scalp, the surgeon loosens the follicles individually and relocates them into the balding area. The world's most famous FUE patient is probably professional English footballer Wayne Rooney, who began his hair restoration in 2011.
For information on costs of this procedure, see this article from the Hair Transplant Hub.
When to Seek Help
All of the hair loss specialists I spoke to recommended seeking professional help as soon as possible. The longer you wait silently and hope things change, the more difficult it will be to strengthen and thicken your hair. Dr. Williams puts it this way, "The best results occur when patients begin treatment immediately after the hair loss is observed."
Dr. Nettles also stresses that regular dermatologists often don't know how to treat hair loss in women effectively. When you do reach out for professional help, look specifically for an expert who specializes in hair loss. He or she will have more direct experience with other women facing the same issues. An inexperienced doctor may inadvertently make you feel like you're making a big deal over nothing. If the hair loss is stressing you out, it's not nothing — you deserve help from someone who understands that.

DIY Hair Loss Advice from the Experts
While our hair loss doctors do want you to see an expert, many of you simply aren't ready for that. If you're committed to the DIY route for now, a good first step is to identify ways you can live happier and healthier. Find new ways to cope with stress and make time to prepare healthy meals and snacks. As for over-the-counters products that will help, see the doctors' orders below.
Dr. Williams Says
Modify your diet to include 100 grams of protein daily. Start a regimen of Viviscal and prenatal vitamins, plus low-level laser therapy using the Capillus 272Pro.
Dr. Nettles Says
Certain supplements, including biotin, L-Lysine, Vitamins A, C, and E, zinc and ferritin may address weak hair — but only if the underlying cause is poor nutrition. FDA-approved, at-home lasers can improve scalp health and show a slight, if temporary, benefit.
Dr. Shainhouse Says
Topical agents like Minoxidil, as well as red light therapy, can help by increasing scalp circulation. Try using a dandruff shampoo with Ketoconazole as well. Lastly, supplements like biotin, silica and horsetail may help thicken existing hairs.
Dr. Bauman Says
Caffeine and niacinamide (a form of niacin) are two over-the-counter substances that can help counteract the signs of aging hair.
Meet the Experts Who Contributed
Ken L. Williams Jr., D.O., FISHRS is a surgeon, founder of Orange County Hair Restoration in Irvine, Calif., and author of Hair Transplant 360 – Follicular Unit Extraction.
Robert Nettles is a renowned hair restoration expert who contributed to the development of the Advanced High Density MICROscopic single hair transplant procedure. Dr. Nettles, who is based in Beverly Hills, Calif., pioneered the proprietary Stop & reGrow hair loss solution and has been treating his patients with Stop & reGrow since 2009.
Tsippora Shainhouse MD, FAAD is a board-certified dermatologist in Beverly Hills, Calif., and a clinical instructor at the University of Southern California. Dr. Shainhouse sees women and men with hair loss issues on a daily basis.
Dr. Alan Bauman is a board-certified hair loss physician and surgeon based in Boca Raton, Fla. Bauman has pioneered many new treatments for hair loss, and also consulted on Pantene's AgeDefy product line.