H&M is known for its trendy and affordable styles. But the fast-fashion chain isn't solely for the young crowd. This season's new collection in particular is as mature as it is chic. And please don't take that my use of the word "mature" to mean frumpy. No, H&M new arrivals aren't frumpy at all. On the whole, they have a sophisticated, elevated feel. And that, I must say, is awesome for a retailer that prices most of its garments at less than $50.
This post may contain affiliate links. See our privacy policy.
It helps that the trends this season lean towards over-sized. Statement shoulders are in, as are roomy button-downs, and cozy knits. The H&M collection has all of these, and then some. Here are 10 H&M picks that are perfect for the style-minded lady over 40.
1. H&M New Arrivals : Top Picks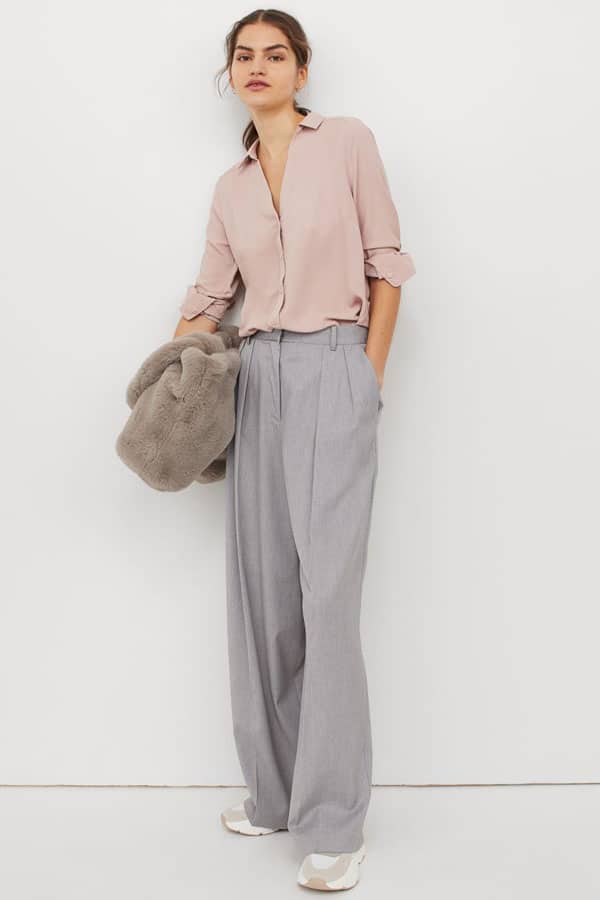 A soft rose, V-neck blouse made of easy-care, woven polyester is right up my alley. Thanks to a rounded hem, you can wear it tucked in or out. I like it tucked in, since it will hang nicely without bulk. If the neckline feels too deep, add a cami underneath.
You can pair this blouse with so many pieces you already own, too. Try it with jeans, trousers, or pencil skirts, or layer it under a blazer or cardigan. The price is $18.
2. Double-breasted jacket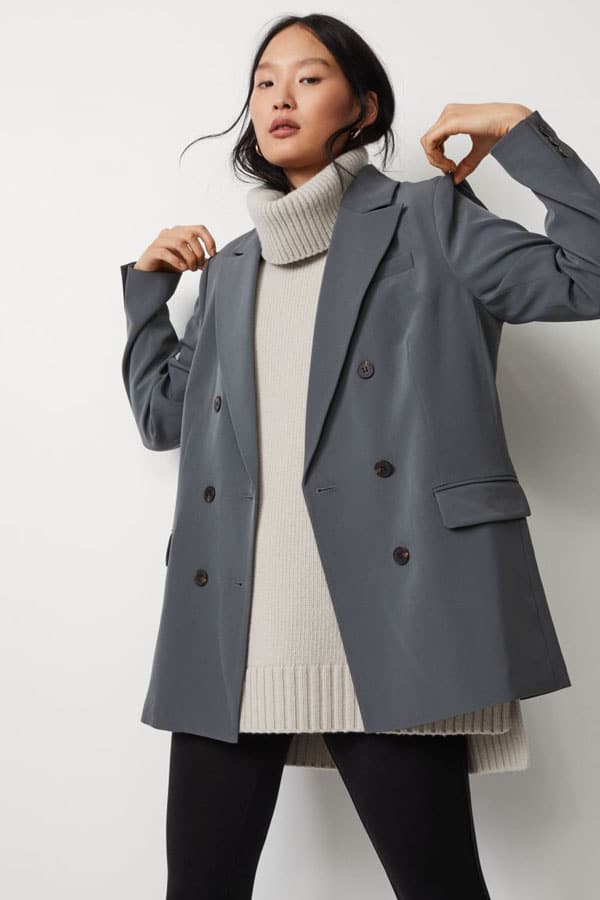 The double-breasted jacket for $50 has a masculine feel to it, with the pointed lapels and structured shoulders. But the sheen adds just enough softness. And how about that color? A rich green-gray is neutral enough to be versatile, but distinct enough to be interesting. The jacket is lined with satin made from partly recycled polyester.
3. Shirt jacket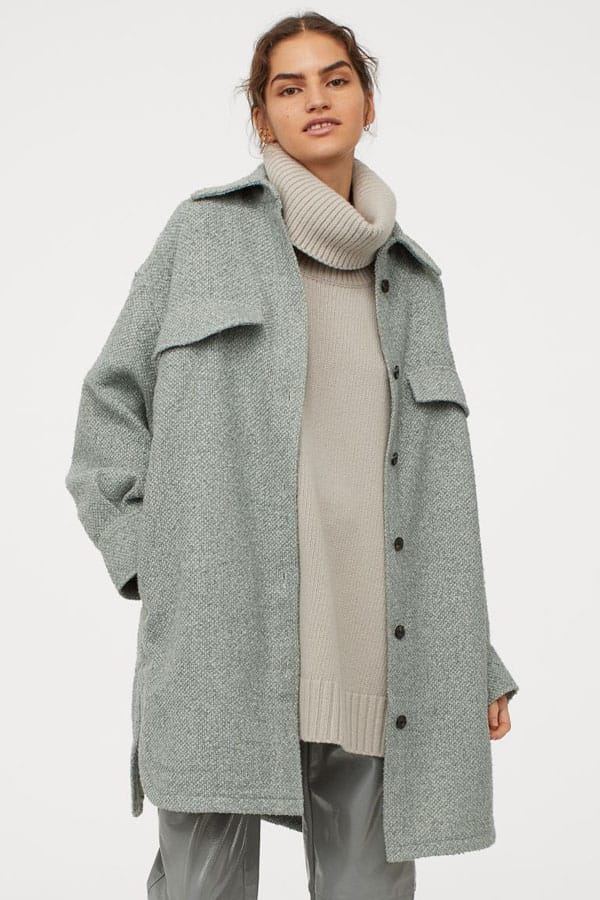 At $60, this shirt jacket is on the rich side for H&M, but so worth it. The oversized silhouette with drop shoulders is on point. The piece also gets bonus points for being made from recycled polyester.
Because it's so voluminous, it probably works best unbuttoned as a layering piece — say, in lieu of your favorite longline cardigan. Keep the other parts of your outfit slim and sleek so you don't look like you're going to a '90s-themed party. A pretty feminine pendant would offer some nice contrast, too.
4. Calf length dress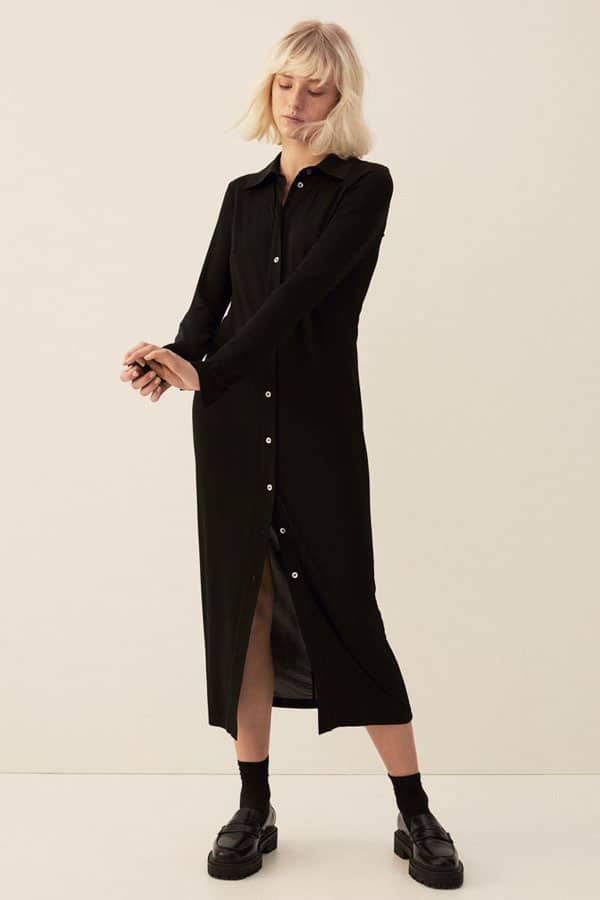 You can wear this button-front, calf-length dress with sneakers, heeled or flat sandals, or mules. It's available in black or a soft brown for $50. Add a floral scarf or colorful handbag to brighten things up. Or, if you're really feeling trendy, tie a scarf over your shoulders.
5. High hem jeans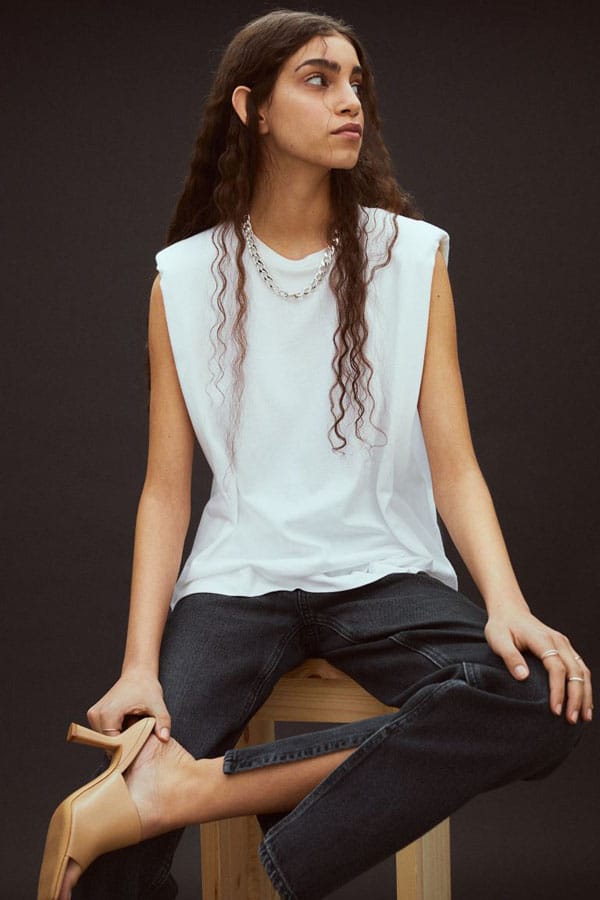 It's always nice to see the old cropped jean get an update. This pair has a slit of sorts at the ankle. The cut is fairly straight and a little roomy, close to a mom jean silhouette — though with a shorter hemline.
If you're not sure about the side slits, take an old pair of jeans you don't want and cut out the seam at the ankle to test drive the fit. Add these to your wardrobe for $50.
6. Pleated blouse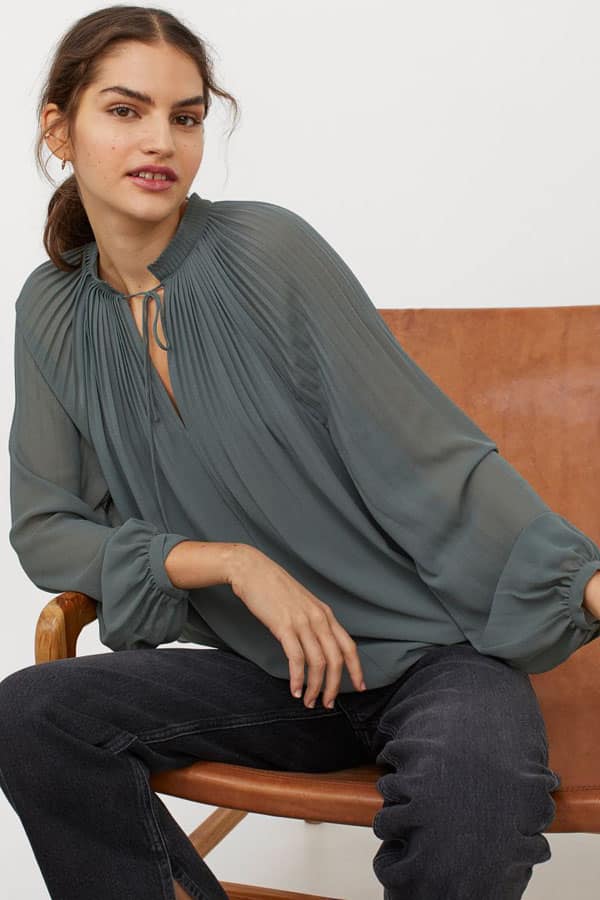 If you're craving a retro vibe, take a look at this pleated chiffon blouse with raglan sleeves and a stand-up collar. The tie at the neck adds interest, while keeping the neckline from exposing the girls. Also, thanks to those long strings and narrow cuffs, you don't need a necklace or bracelet here. A simple hoop or stud earring will do for accessories.
While the very thin model wears this blouse untucked with wide-legged pants, I'd try it tucked over a pencil skirt or slimmer fit trousers. Add a belt and the blouse's airy volume will show off your small waist.
The top is available in four colors — dark green, light blue, black, and white — for $35.
7. Slim mom jeans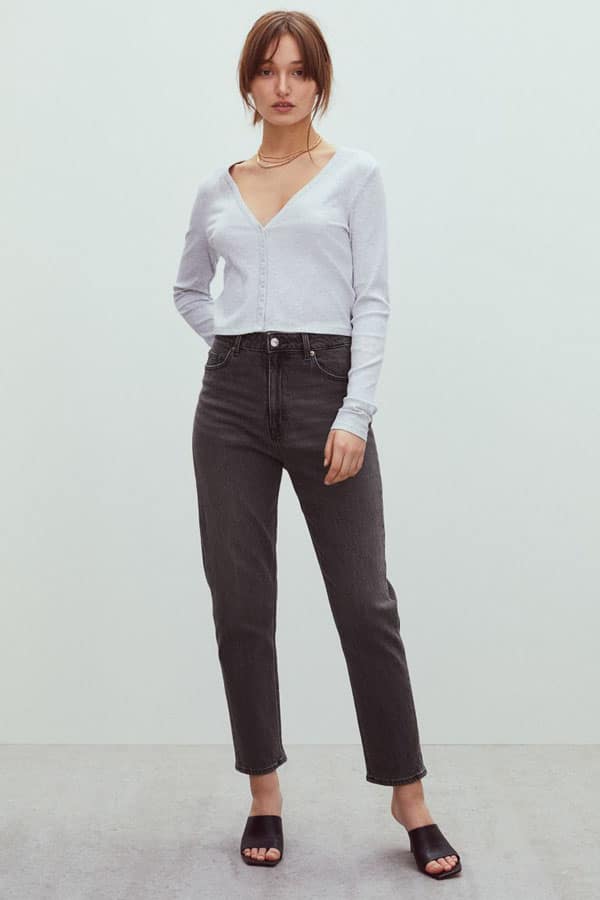 How great is it that "slim mom jeans" are a thing? These jeans have a fit that's likely to flatter most body types — not too tight or too lose. They're also high-waisted, which should show off your curves in just the right way.
H&M offers this $35 jean in seven different washes, including this dark denim gray and a dressier solid black.
8. Faux leather trenchcoat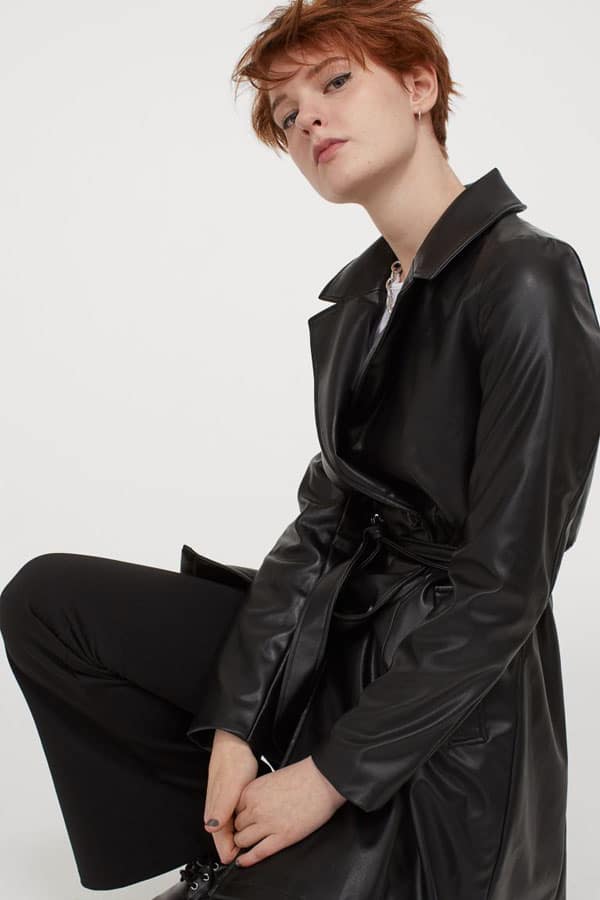 Trenchcoats are especially popular this season, and this one does not disappoint. To start, it's faux leather, which is cost-effective and also cruelty-free. And it has that classic, double-breated trench styling, with a belted waist and mid-thigh length.
Pick it up for $60.
9. Shirt dress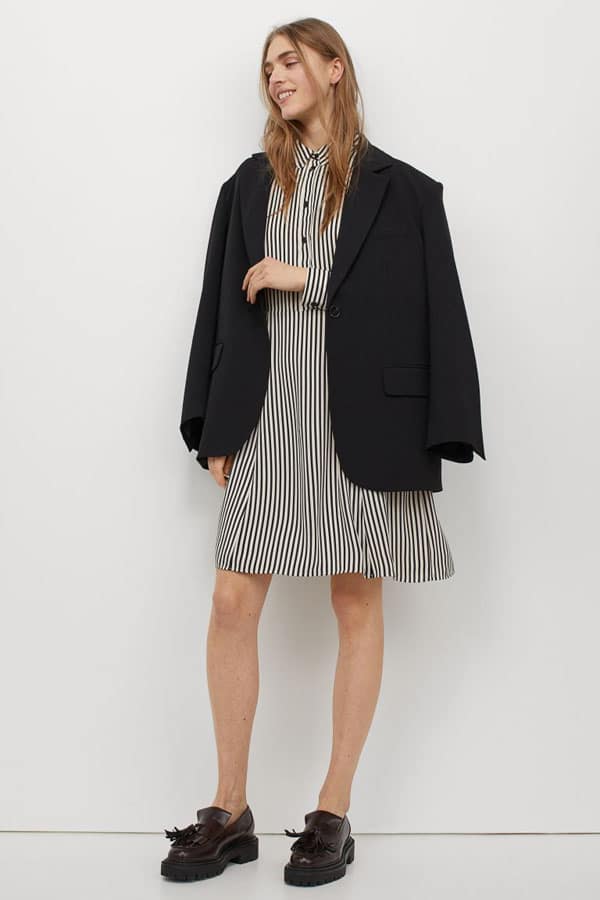 So many things to love about this $35 striped shirt dress! The wide, buttoned cuffs are a chic touch, and the seam at the waist combined with a flared skirt adds just enough shape. (Though if you need more definition, you could also add a belt.)
It's also lined, which is always a plus.
10. Long jacket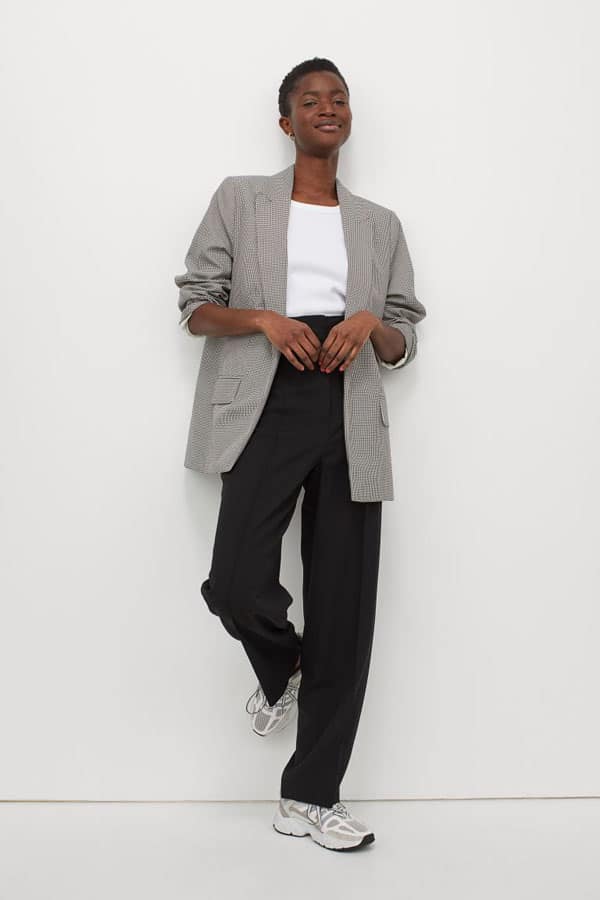 The checked jacket was an all-out trend a few years ago and now it's a wardrobe staple. This one will elevate any simple outfit. And, as the official photo demonstrates, you can even wear it dad sneakers.
The jacket does not fasten closed in the front, so plan on wearing it like a structured cardigan. If you don't like the checked pattern, the long jacket is also available in solid black. Both are priced at $35.