Tina Fey style amazes us on so many levels. She's been extremely successful in the male-driven comedy industry, has won tons of awards, and makes millions of people laugh every week. Oh, and have we mentioned that, on top of all of it, she's a mom?
Her wardrobe choices haven't always impressed fashion critics, but they've always been pure Tina, so we've got to give her marks for staying true to herself. And what's more, though she may not always hit a style home run, she's mastered a few techniques that make her a fashion icon to us.
Tina Fey Style Deconstructed
Pick a Signature Accessory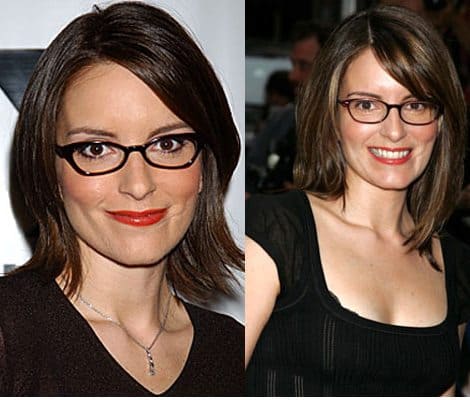 A great way to set yourself apart from the pack is to develop a signature accessory. In Tina's case, her signature accessory are dark framed glasses (pair smartly with a red lip). She still looks smart and sexy (note to other who wear glasses- don't forget to wear make up). These glasses are perfect to wear to work. Check out these picks:

Via Condotti and Lombard Street Frames, $99 at Eyefly.com
Do embellishment right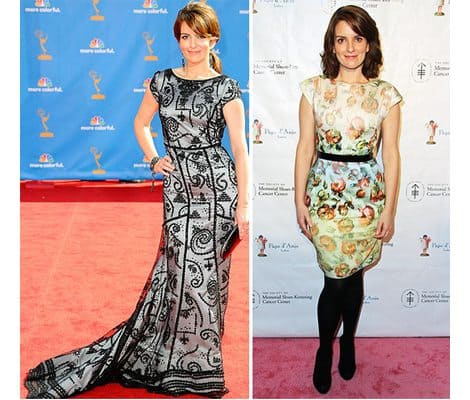 Credit: Frazer Harrison/Getty | Erik Pendzich/REX
Tina got to the top based on talent and hard work, not looks. But although she'll be the first to criticize her figure, the truth is, she has an awesome shape, and she flatters it by wearing the right clothes. When you don't have a super model's body, it's still okay to wear prints, embellishments and other details. The key to mastering them is symmetry. Tina keeps it balanced and sleek, so whatever details she steps out in, she still looks fantastic.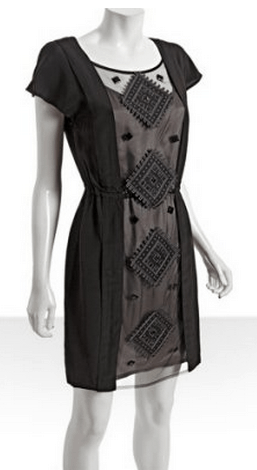 Work the working girl uniform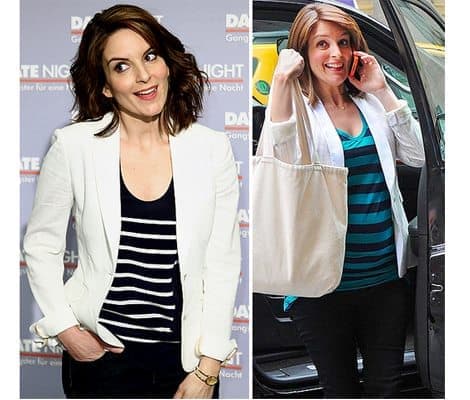 Credit: Andreas Rentz/Getty | Doug Meszler/Splash News Online
A striped shirt and a blazer. That's pretty much all it takes to look like Tina Fey six days out of the week. This woman works hard, and she wears clothes that are comfortable and functional, but also that make others take her seriously. A striped tee is easy to wear, and a blazer adds a professional touch to just about any top.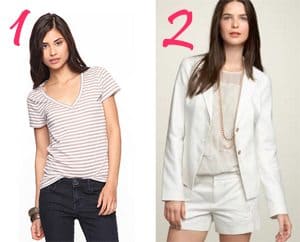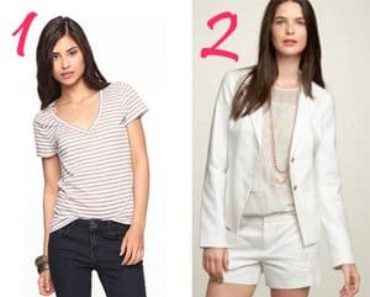 1. Striped V-Neck Tee, $5.50, Forever 21
2. Two-Button Blazer, $98, Gap
Go bold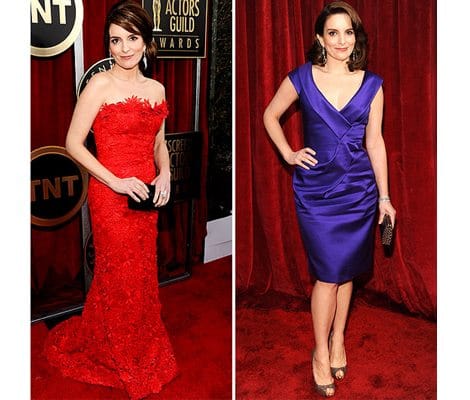 Credit: Dimitrios Kambouris/WireImage and Kevin Mazur/WireImage
Tina Fey is obviously not afraid of the spotlight, and while it's usually her hilarious personality that's capturing attention, the bold hues she chooses turn plenty of heads as well. Show the world you're as confident, powerful and bold as Tina by choosing eye-catching hues.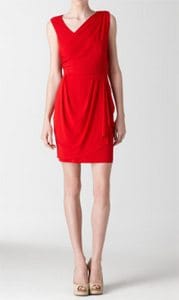 Jersey Drape Dress, $80, Calvin Klein
Wear everyday fabrics even to special events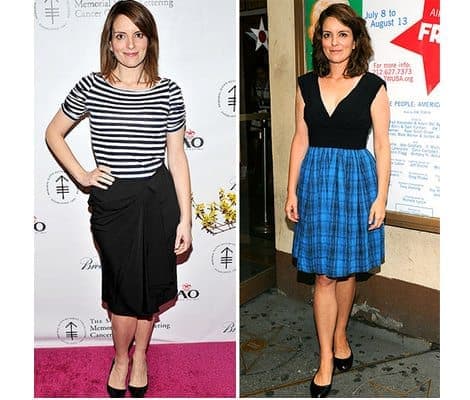 Credit: Stephen Lovekin/Getty | Bryan Bedder/Getty
No bandage dresses and silks for Tina. This working mom is not about to make her life any more complicated with clothes she can't breathe or move in, so even when she steps into the spotlight, she's all about cotton. And look, another striped shirt!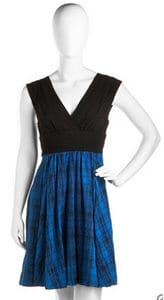 Tracy Reese Frock Dress, $75, Last Call by Neiman Marcus
Don't take it too seriously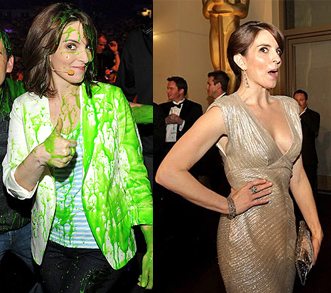 Credit: Amy Sancetta/AP | Kevin Mazur/KCA2010/WireImage
She may have the ability to look gorgeous on the red carpet, but that doesn't mean she takes it seriously. Whereas many Hollywood divas would faint if the slightest stain got on their dress, Tina isn't afraid to get dirty. And she's not going to spend the whole night making fierce faces at the camera either. She may be in a nice dress, but she's still just Tina. So relax and remember, when it comes down to it, it's just a piece of cloth. What really matters is the person in it.