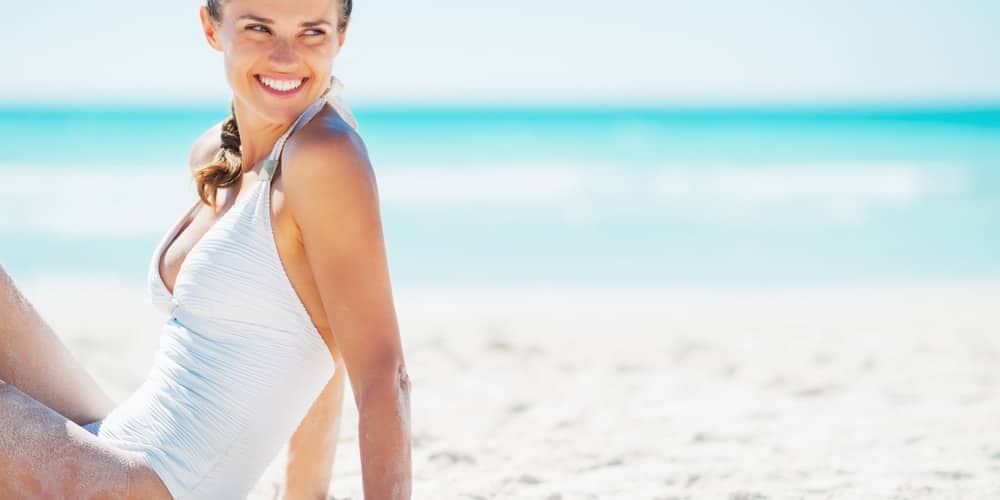 This post may contain affiliate links, which means I earn a small commission if you click and buy something (at no cost to you). See our privacy policy.
For such a tiny garment, it's amazing how complicated the swimsuit can be. I mean, we get swimsuit questions on everything from swimsuit fabrics to swimsuit shopping to swimsuit care. Read on for answers to the most pressing swimwear questions.
Swimsuit Questions
1. What's better: Spandex or Cotton?
If all you plan to do is bake in the sun, then a cotton blend is not a bad bet. You'll often see cotton blended with polyester, which makes for a pretty comfortable suit. They also fit nicely, as a cotton-blend tends to pinch less than spandex. Many high-fashion suits — especially those designed for uber-petite types — have a high-cotton count.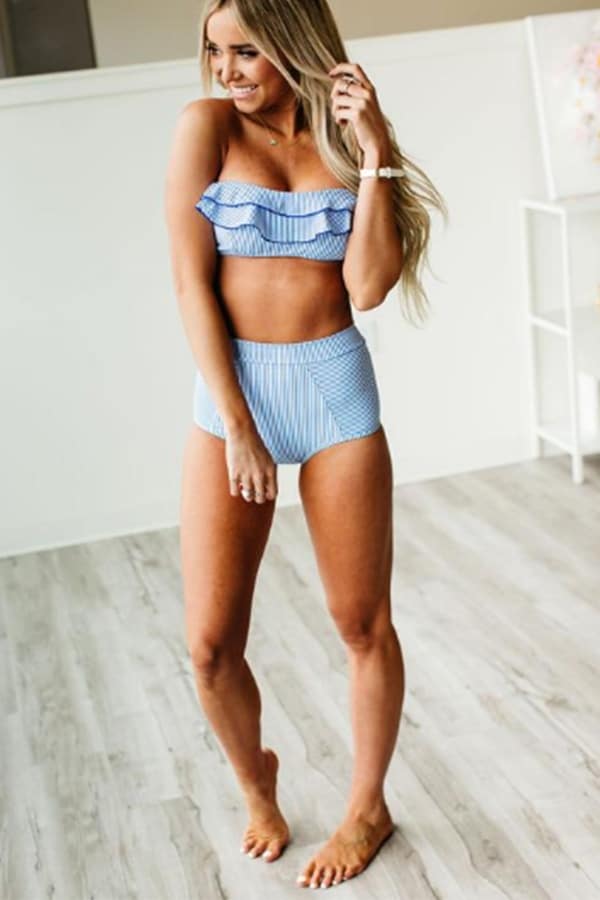 Spandex is more durable, so it's the better choice when you want a long-lasting suit that will survive the elements. Spandex also has body control properties — meaning it holds you in — because it's thicker and stronger than cotton blends.
Here's one way to solve the cotton/spandex debate. Reserve your cotton suit for catching a tan and your spandex one for catching a wave.
2. Should I buy swimwear online?
Online shopping has its merits. But when it comes to swimwear, it's risky to buy anything you haven't tried on first. There are just too many variables involved in swimsuit shopping — it's not just the fit, but also the weight and thickness of the fabric.
Having said that, you may have a suit style you return to again and again. Perhaps that two-piece with the halter top and retro, high-waisted bottoms always fits you like a charm. Or you lean towards a cheeky bikini that shows off your curves. If you know your size and your preferred style, your chances of success are much greater. Just make sure you shop a retailer that offers free returns.
3. How should I care for my swimsuit?
Swimsuits should always be hand-washed and dried indoors. If you hang it outside, it will dry fast, but your colors will fade.
Avoid wearing your favorite swimsuit in a whirlpool hot tub. The water pressure will stretch it out and expedite the inevitable wear and tear.
Chemicals are your swimsuit's worst enemy. Even the chemicals found in swimming pools and sunblock are detrimental. You can't stay away from these entirely of course, but take care not to apply spray sunblock or bug spray while you're wearing your best suit.
Swimwear is easily damaged from rough surfaces. When lounging outside the pool, sit on a cover up or towel to keep the suit from getting scuffed.
4: Where can I find quality swimwear on a budget?
Old Navy and Target have fairly strong collections of budget swimwear. Forever 21 and JCPenney are also great options. If you are a bargain hunter, you can also find great deals on the clearance racks of higher-end retailers.
Generally speaking, one-pieces tend to be more affordable than bikinis. If you love the two-piece look, try to mix and match cheaper separates to save some dough. Pricier retailers will gouge you with a $75 bikini top that matches perfectly with a $75 bikini bottom. And that'll really put a dent in the bank account.
5. Does a darker swimsuit help me tan better?
No. Unless you're buying a tan-through suit that's designed to let those rays through, the color of the suit doesn't impact your ability to tan. Rely on tanning lotions to help you get that golden color. Or, even better, wear SPF 50 all over and walk proudly in your pale body.
6. How do I keep my padded inserts from losing their shape in the water?
The struggle is real. Try a gel insert instead. The style shown above is perforated so the inserts won't hold water and won't get bloated when you go for a swim. They also deliver a pretty convincing breast-lift.
You could also forgo the inserts entirely, in favor of other bust-enhancing tricks like front-tie halters and ruffle tops. And of course, there's always regular underwire for lifting and sculpting any chest size.
7. How can I possibly buy a swimsuit online when I can't find one that fits right in the store?
If the thought of waiting in line to try on a handful of suits in a teeny-tiny fitting room with unflattering florescent lighting doesn't appeal to you, then pour yourself a glass of wine and shop online instead.
Yes, finding the right fit can be a challenge. But there are a few things working in your favor. Almost every online retailer worth their salt has a sizing chart. And a good many also offer free returns.
The real downside is the timeline. If you need a suit for this weekend, you'll have to shop in store. But if you've got some time to find the perfect one-piece (and possibly make an extra trip to the post office), shopping online can work for you.
8. Are there any suits that will minimize my cellulite?
Yes and no. The only way a swimsuit minimizes cellulite is by covering it up. You could try boy short bottoms. Or, wrap a sarong around your waist when you're walking in the sand.
You may also try a cellulite cream or lotion. These provide a temporary tightening that lessens the appearance of cellulite. A nice tan can also camouflage cellulite a bit.