This post may contain affiliate links. See our privacy policy.
Your hair is one of your best accessories. But in hot, humid weather, your hair is also your worst enemy. For babes with length, the summer heat makes your locks feel heavy and sweaty. And if you have cropped locks and light, thin strands, sticky weather leaves you with a stringy, lifeless do.
You can't carry a personal fan around forever, so catch what little breeze you can, and cool things down with a few fresh hairstyles to shake up your standard routine. Grab the bungees, bobbies and hairspray — it's time to pull your hair back and beat the heat fashionably with these six trending summer hair styles.
Summer Styles for Long Hair
The Slick Ponytail
The slick ponytail is a certified classic, reinvented for the Jenner-Hadid generation. Most often rocked by Bella, this slicked style works with a hard center part and wet locks to get hair taut and up off the neck.
The Side Fishtail
For special occasions in the summer months, sweep medium and longer length locks to the side and weave a piece-y fishtail braid. For an extra romantic vibe, start with waves or curls and the end result will have a softer, looser look.
Pinned Dutch Braids
Take a cue from your school years with two braided pig tails. Then, reinvent the essential style by pinning up the tails. For those of us past the young lassie look of braid crowns, keeping the braids in back should feel more sophisticated and age-appropriate.
For Medium Hair: Top Knots
Take the top knot trend and split it up for twice the fun. Messy dual top knots offer a youthful respite on warm weather days. Feeling bold? Jazz it up with a diagonal or zig-zag part.
For Short Hair
The Scarf Up-Do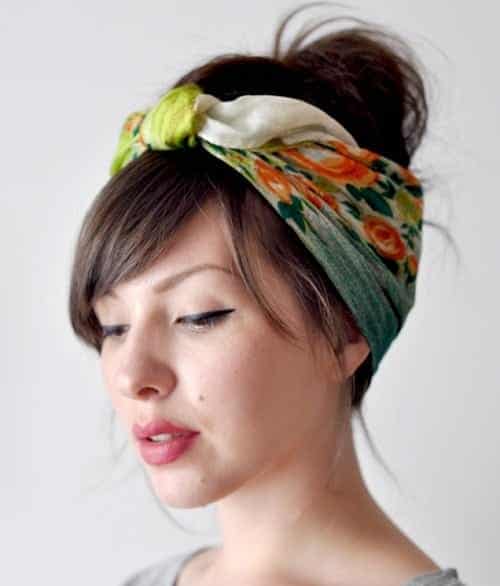 Retro-inspired and accessorized, a scarf up-do takes a simple French twist or high chignon to the next level. Wrap up a little teased and pinned twist with your best silk print handkerchief to gift yourself a great 'do on the hottest tee and jean days.
Macaron Buns
These baby buns call for a center part and a couple of elastics to mimic the messy top knot look, but low at the sides of the neck. A favorite amongst fashion's French girls, this style is perfect for your European-inspired looks.
Which hot-weather-hairstyle will be you testing out this summer?