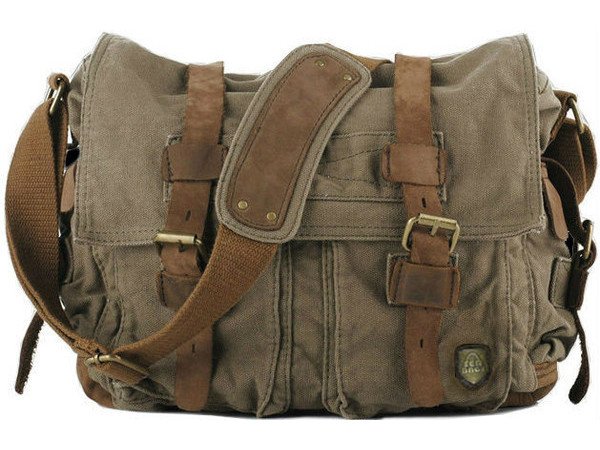 This post may contain affiliate links, which means I earn a small commission if you click and buy something (at no cost to you). See our privacy policy.
Editor's note: This post was originally about the Belstaff Colonial Messenger Bag, which became the it-bag when Nicole Kidman donned it in The Interpreter. Sadly, the famous Belstaff bag is no longer widely available—but you can still find similar options at a bargain! We've added to the list of lookalikes that you can find in the here-and-now in 2017.
Back in 2005, Fashion Week Daily proclaimed the bag from the British Leisure company Belstaff was the new It bag. Seen on the silver screen in the movie The Interpreter with the dean of Fashionistas, Nicole Kidman, this overpriced canvas and leather bag was originally available for around $600 bucks at Barneys and Berdorf. Today, you might find one at Saks 5th Avenue, priced at $595.
What's so special about this bag? It rates ultra high on the functionality scale. Made of durable canvas, it'll handle all sorts of abuse. Pockets galore give you space for all your essentials. You could use this bag as your purse, your work bag or your weekender. And, this rugged bag has an anti-style feel to it — perfect for the fashionista who wants to buck the trends and go her own way.
Messenger Bag: Where to Get It
Back in the day, we could find a similar canvas bag at Old Navy for about $25 — a budget fashion find, for sure. Today, if you want a Belstaff lookalike, you have to be a little more flexible on two fronts. First, is the color. Black messenger bags and green ones seem to be more prevalent than khaki. Second, you may have to take a chance on the retailer. For example, you probably have to be OK with buying from random sellers on Bonanza, eBay or Sears.
How to Style It
When you're carrying a grungy man-bag around, there's a very fine line between ultra cool and, well, sloppy. We want you on the ultra-cool side of that line! Try these tips to refine your messenger bag style:
Don't pair your man-bag with flannel, bulky t-shirts and sweaters, or dirty sneakers.
Don't grab this bag when you don't need to carry around a lot of stuff. In other words, don't carry this thing around just to make a statement. Go for a clutch instead.
Do pair your bag with tailored, fitted and sleek outfits.
Do reach for the messenger bag on workdays. Picture this: you in a loose-fitting blouse, pencil skirt and pumps. Your hair is up in a loose bun. You walk into an a.m. meeting and pull your laptop out of your messenger bag. You own the room.
Do use the messenger bag in warmer months, when you aren't bundled up in thick layers.
Lastly, if you need more style inspiration, fire up Netflix and watch the movie that made this bag famous!