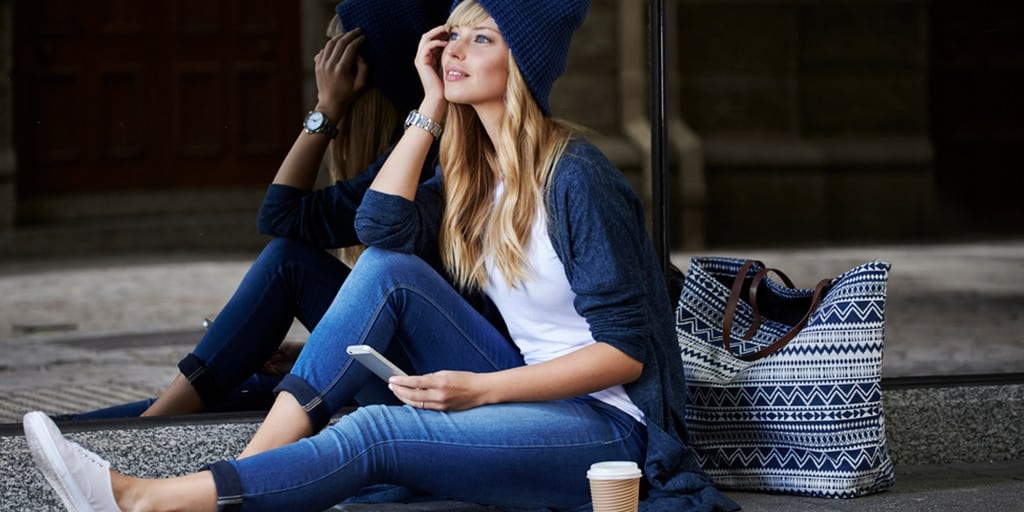 This post about fall transition outfits was last updated in January, 2019.
We're soooo ready for the richness and texture of fall, but the weather still has a bad case of the mood swings. That swing from, say, 45 degrees in the early morning to 75 degrees in the early afternoon challenges even the most, ahem, seasoned fashionista. And let's face it, sweating or shivering through the afternoon meeting just ain't cute.
So what can a girl do to make that transition from summer to fall just a little more comfortable (and stylish)? Try these tips to keep you fall fabulous and weather appropriate, on a budget of course.
Fall Transition Pieces
Shorts (Not Just For Summer Anymore)
Depending on the day's forecast, shorts can be perfectly appropriate for fall. For your downtime, go updated 90s and consider a pair of high-waisted denim shorts with a graphic T-shirt under a cute plaid shirt (which can be shed if the temps rise). Add tights and ankle boots for warmth.
For a more sophisticated look, don a pair of tailored shorts with a silky tank and a structured blazer. Add in fabulous flats or Oxford shoes (see below) and a bold clutch, and hit the street girl!
Tights & Leggings
Tights or leggings can go virtually unnoticed under a peasant skirt or maxi skirt. And of course you can warm up a summer dress or shorts with a light layer over your legs. You can also wear tights or leggings underneath distressed denim and just about any type of skirt.
A standard black pair of tights is a must-have. But you can also get creative with tights in patterns or bold colors. Have fun with it!
Shopping Tips
Try Target or Walmart for inexpensive leggings and tights. If you are the plan-ahead type, start shopping for these leg coverings in spring and early-summer. You'll likely find some good deals because every else is thinking about their next bikini purchase.
The Knit Scarf
We're not quite ready to be done with those summer dresses just yet. But how can you do light and flirty when the leaves are starting to change? Easy — it's all in what you pair with it.
The recipe? Take one summer dress (try to pick one that has a more tailored cut and deeper hues) and add a cute cardie, a light scarf in a contrasting pattern, and on-trend fall boots.
Boom. Now you've got a style recipe that will stand up to whatever Mother Nature chooses to throw your way.
Scarf Shopping Tips
In my experience, Walmart, H&M and Old Navy reign supreme on cheap scarves.
Cargo Jacket, Cardi & Blazer
Whatever your style game is, there's a light layering piece to go with it. Think cargo or utility jackets, kimonos, drapey vests, bombers, sweatshirts, cardigans of all weights and the classic blazer. Any one of those layers can take your summer basics — t-shirts, flirty skirts, tailored shorts — straight into fall fashion fabulousness.
Outerwear Shopping Tips
When shopping for new outerwear, look for neutral tones to maximize your mix-n-match opportunities. Either solid colors or patterns will work, as long as the color scheme is versatile.
Animal prints are especially fabulous as outerwear layers, FYI. Because they catch the eye to the point that no one will notice the Old Navy jeans and Target tee shirt underneath. This is a universal truth of fashion — try it for yourself.
You should also shop for outerwear pieces that go with each other. That's right — when fall turns to winter, you can still wear those light cardigans you just purchased. You'll just throw your utility jacket right over the top for warmth.
Oxford Shoes
Swapping out the old flip-flops or canvas sneakers for Oxford shoes instantly changes the tone of your outfit. See the possibilities in our post about how to style Oxford shoes.
Long-Sleeved Shirt
Well, OK, this seems obvious, right? Of course cooler temps will demand longer sleeves. But when you're shopping for said long-sleeve shirts, keep versatility in mind. In early fall, a long-sleeve chambray shirt can top your summer dresses or t-shirts. As winter sets in, that same shirt can be your base layer, to which you'd add a bomber jacket and scarf.
The Shirtdress
The shirt dress is a perfect fall transition piece. You can wear it on its own with flats, with a scarf and boots, with leggings and a statement necklace. You get the idea.
Shirt Dress Shopping
Like the long-sleeved shirt, this piece can be an outer-layer or an under-layer. Shop accordingly.
You can find cute shirt dresses at TJMaxx and Old Navy, but the real deals are at Nordstrom Rack and Saks Off Fifth. Be patient, dig around and you can uncover some fabulous options at deep discounts.
For more cross-seasonal style ideas, see: Winterize Your Wardrobe: Creative Ways to Style Summer Clothes for Fall & Winter.