This post may contain affiliate links. See our privacy policy.
Peasant skirts were trending high in 2005 — so much so that our readers stocked up on them. But one year later we received this question:
Last summer I stocked up on cute peasant skirts. They're cute and flattering, but not as in style this season. Are there any ways I can accessorize or change my skirts to make them more on trend for this year?
Back then, we suggested pairing her skirt with solid-colored tops, wide belts and espadrilles. That's still a solid plan. But today, some 11 years later, we'd like to add to that advice by answering the over-arching question: how the heck do I style a peasant skirt?
What to Wear with Your Peasant Skirt
Whether they're trending or not, peasant skirts are difficult to style. They're loose-fitting, unstructured and colorful — a trifecta that can squash all imagination and leave you boxed into pairing your skirt with a white t-shirt and flat-heeled sandals. That combination is a reliable choice, for sure – but *yawns* it can get a tad boring. To keep your peasant skirt outfits fresh and fun, we put together a big list of coordinating garments and accessories.
Tops
The length and shape of this skirt create a balance problem with many types of tops. As a general rule, pairing long, flowy bottoms with long, flowy tops will be unflattering. And tucking in your looser top won't work either — you'll end up with a nice, sexy bulge of fabric below your waist.
Instead, stick with casual, tops that follow the shape of your body. I say 'casual' because something like a button-down usually looks odd with this skirt style. Try these options:
Peplum top
Wide-strapped tank top
Embellished tank
Halter top
Layered tanks in different colors
For the bold: crop top
For the boho: off-shoulder, ruffled top with an elastic bottom hem. Add a wide belt if the ensemble looks too puffy.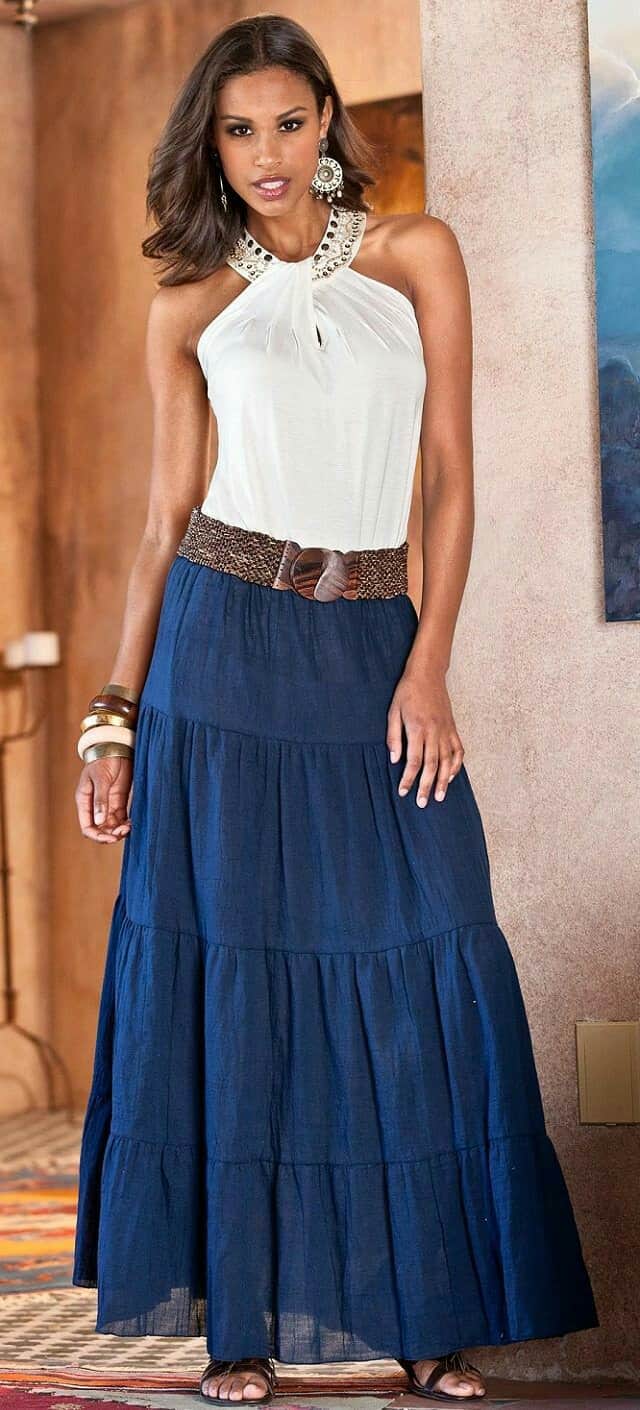 Accessories
Peasant skirts work fabulously with natural jewelry. We're talking woods, leather, stones, crystals, geodes—the stuff in that vein. Go with a chunky, beaded necklace if you're wearing a simple tank top. But reach for a daintier jewelry style if you've paired the skirt with a ruffly top.
You can also try non-jewelry accessories:
Thick leather belt
Thin rope-style belt
Scarf
Straw hat
Outerwear, such as a denim jacket or cardigan
Shoes
The go-to shoe for a peasant skirt ensemble is the thong-style, flat-heeled sandal. But these skirts work equally well with gladiator sandals, slides and block heels. Just avoid a shoe that's too formal, like an ankle-strap heel or a pump.
Putting it Together: 7 Peasant Skirt Outfits
Embellished tank top + wide leather belt + block heel sandals
Simple tank + denim jacket + gladiator sandals
Off-shoulder top + dainty necklace + thin belt + slides
Peplum top + stone bracelets + slides
Two tanks layered + chunky necklace + flat sandals
Straw hat + t-shirt + aviator sunnies + flat sandals
Crop top + denim jacket + slides
Fun Facts About Peasant Skirts
Lastly, I'll leave you with a few fun facts about this boho skirt style. According to VintageDancer.com, peasant skirts first became popular in the U.S. in the 1940s. These colorful, A-line designs were initially imported from Mexico. U.S. designers eventually borrowed from the Mexican designs and similar garment trends in South America, Hawaii and Australia to produce U.S.-made peasant skirts.