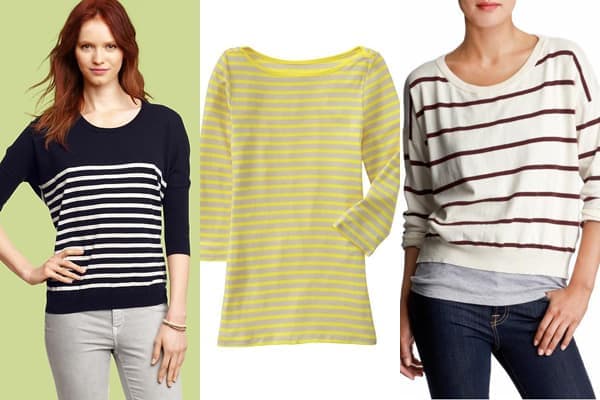 Ever since she strut the hallways of Harvard Law School decked out in top to bottom pink, Reese Witherspoon pretty much secured her place among Hollywood's pantheon of American sweethearts. (Hi Julia and Jen Aniston!) Reese has come a long way from her days of racy teen dramas (Admit it. You loved Cruel Intentions.), and her theatrical resume includes classic roles like Becky Sharp in Vanity Fair and, oh, you know, winning an Oscar. Her dating CV? Even more impressive with the likes of Ryan, Jake, and current hubby Jim Toth, a non-Hollywood dude with Hollywood good looks. Yet, all this is no big deal if your name is Reese Witherspoon, and the mama of two, soon-to-be-three, does it all… and well, in incredible style. Here's how to mimic Reese's effortless, yet approachably chic style.
Reese Witherspoon's Style, Deconstructed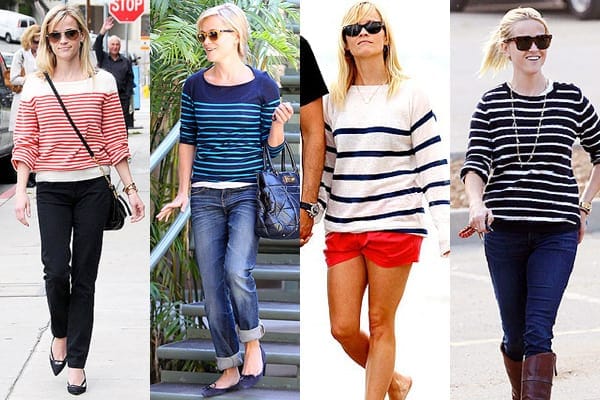 Striped Shirts

Credit: Ramey; GSI Media; National Photo Group, Splash News Online, GSI Media and Fletcher Jones/Broadimage
Sure, she may be one of Hollywood's most in-demand leading ladies, but that doesn't mean she's perpetually in red carpet gowns. Reese rocks the casual look to a tee, and more precisely, a striped one. She loves stripes, and well, stripes love her. (Although we're not sure if there's an item of clothing that doesn't love her?) She loves pairing her stripes with comfy jeans and sunnies for a quick, casual look that's classically Reese.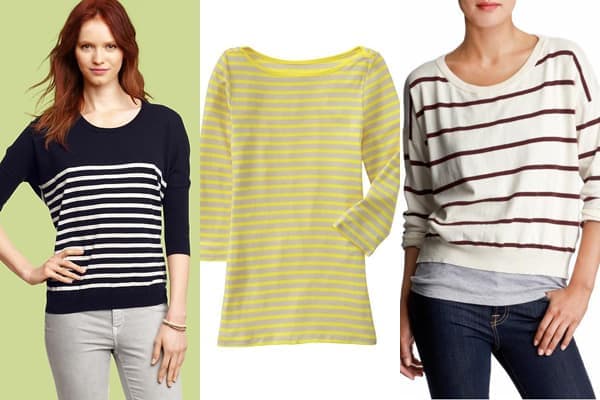 Striped Circle Sweater $39.95 from Gap
Women's Striped Boat-Neck Top $9.99 from Old Navy
Victoria Striped Sweater $34.99 from Piperlime
Sweetheart Dresses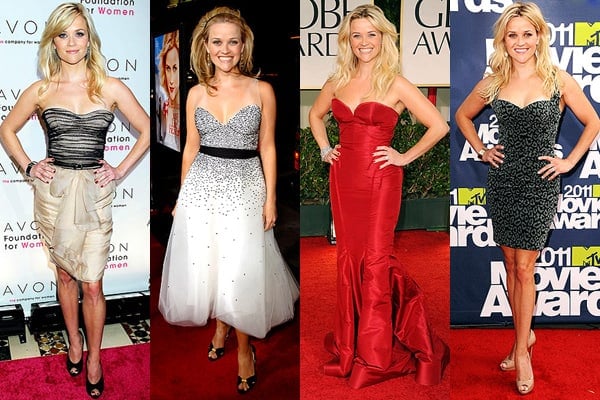 Credit: Dave Allocca/Startraks; Michael Caulfield/Wireimage; Jason Merritt/Getty; Steve Granitz/Wireimage
While the casual look suits Reese, our gal cleans up very nicely. When she's at an event, the sweetheart neckline is Reese's silhouette of choice, whether it's plunging or an ever-so-subtle sweetheart cut. While the sweetheart neckline seems to be a reoccurring motif, Reese switches things up by going strapless or wearing bold prints or adding straps.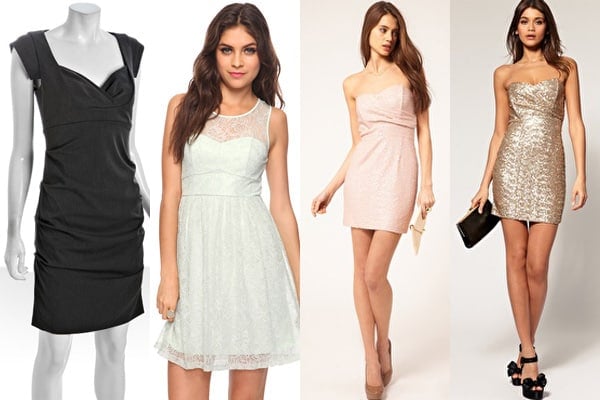 Nicole Miller $58.09 from Bluefly
Sweetheart lace dress $24.80 from Forever 21
TFNC Bandeau Sweetheart Sequin Dress $89.53 from ASOS
TFNC Bandeau Sweetheart Sequin Dress $62.67 from ASOS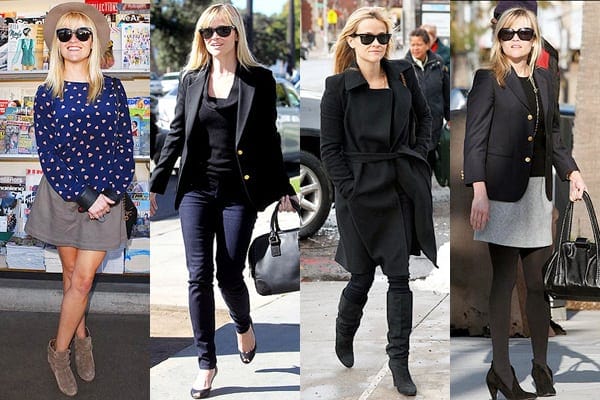 Black Sunglasses

Credit: X17online; Splash News Online; Christopher Peterson/BuzzFoto and Bauer-Griffin
Reese loves her sunglasses, which are a must-have if you live in sunny California and you're constantly followed by a deluge of paparazzi camera flashes. While she's been known to rock aviators, Reese's fidelity (when it comes to shades) belongs to the classic black sunnies. Wayfarers, Raybans, rounded, etc. The lady doesn't discriminate and rocks them all.

Risky Business Sunglasses $14 from Fred Flare

Bridget Sunglasses $14 from Fred Flare

Out of Sight Sunglasses $9 from Lulus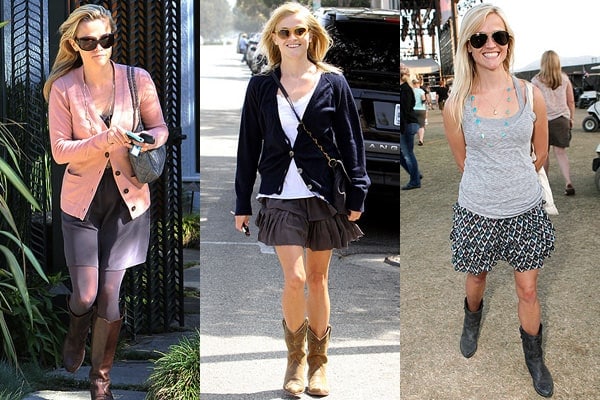 Cowboy Boots

Credit: GSI Media; Fame and Todd Williamson/WireImage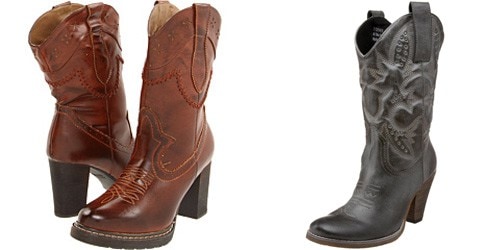 When it comes down to it, Reese is a bona fide Southern belle at heart, and true to her Nashville upbringing, Reese loves her cowboy boots. In fact, when she married her current beau Jim Toth, she famously proclaimed that she swapped her Jimmy Choo ceremony shoes for cowboy boots for the real fun and dancing afterwards. Now, THAT's a true southern fashionista.

Roper, $85 from Zappos

Volatile boots, $74.99 from Endless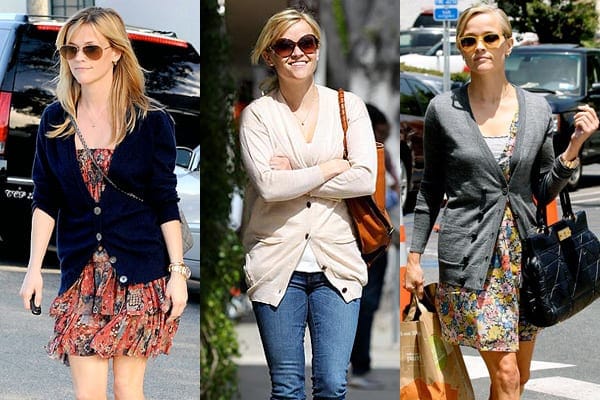 Long Cardigans

Credit: Homero Tercero/WENN; Ramey and Flynet
Ms. Reese loves her cardigans long and in solid colors, which means her cardigans are extremely versatile. Reese loves pairing her cardigans with jeans for a casual look, or she pairs them with cute, flirty dresses. Either way, she stays warm in style!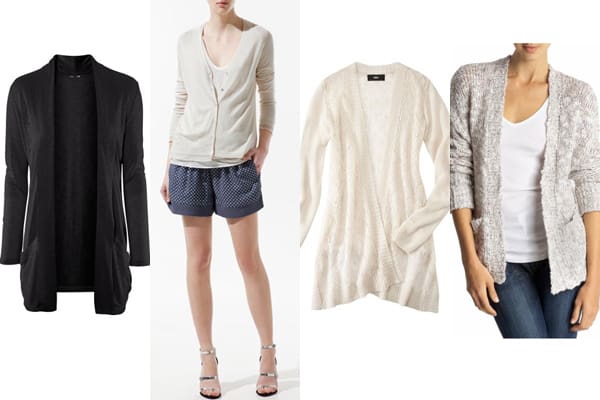 Cardigan $19.95 from HM

Combined Jacket with Chiffon at the Hem $59.90 from Zara

Mossimo Womens Pointelle Cardigan Sweater $12.48 from Target

Tanya cardigan $69.99 from Piperlime