When you buy via links on this page, I may earn an affiliate commission. Learn more.
There's no better time to bring back the hair scarf than right now. I mean, we're all stuck at home, not showering, wearing PJs all day, and watching our roots grow. But when jeans and a sweater seem like too much work, a few go-to hair scarf styles can add a touch of normalcy to a totally abnormal time.
Here are seven perfect hair scarf styles that'll add some color to your day — and also conceal the fact that you haven't washed your hair in ages. You know, just in case you run out of shampoo.
7 Hair Scarf Styles
1. The turban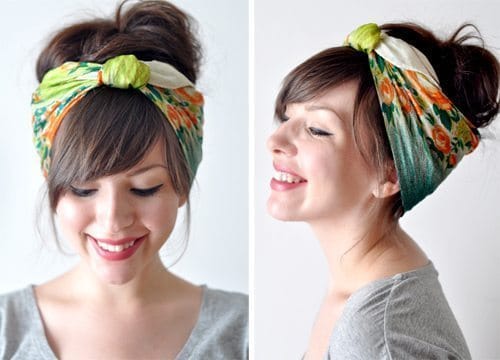 Take an everyday hanky or bandana. Twist it until it's narrow, wrap it around your head, back to front. Tie a knot on the top of your head, and tuck the ends underneath the scarf. You can then fan out the scarf from the bottom. Go for bright colors here and no one in your Zoom meeting will notice that you're wearing a dingy t-shirt.
2. The side bow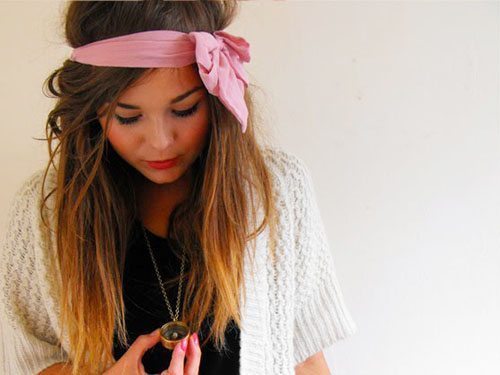 Find yourself a more structured cloth scarf and roll it up so it's about 2 or 3 inches wide. Wrap it from the back over your hair however it's styled — up or down — and tie it in a bow at the side of your head. It's a touch bohemian, but also perfect when you don't feel like using a hairbrush.
3. The long scarf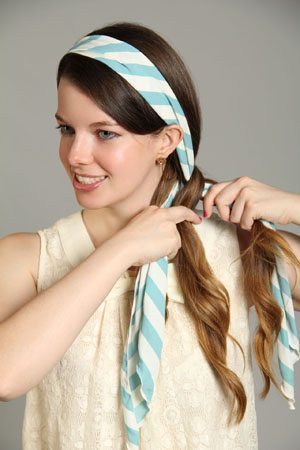 If you get the length right, this hair scarf style can serve as a neck wrap as well! This will add fun and volume to your hair. Wrap it over the top of your head and braid it into your ends. You can run the braid straight or off to the side if you have the length.
4. The pony scarf
You can't get easier than this! Pull your hair back in a low pony tail and fasten with a hair tie. Then tie your favorite scarf over the hair tie and that's it! The only drawback — and it's a big one — is that if you're only interacting with others via videoconferencing, no one will see your beautiful scarf. See what this style looks like on Instagram here.
5. The crown
If you have thick hair, this hair scarf style will dazzle. Part your hair down the middle. Section off a piece at your crown and separate it into three pieces for a braid. Put the middle of your rolled scarf on your forehead and braid one side into the section at your crown. Pull in more pieces of your hair as you go for a French effect. Clip that braid down temporarily and repeat the process on the other side of your crown. Pull both braids back to meet at the back side of your head and tie up with the ends of the scarf.
6. The housewife
Fold your square scarf in half so it's a triangle. Pull your hair back and pop that scarf over the top of your head. Tie under your chin and you're done. This style is fabulous for covering up outgrown roots! Don't forget a bold, matte lip color.
7. The pirate
You can also tie your scarf at the back of your neck for a cleaner, less fussy look. Keep your hair up or down — however you like it. The scarf can hide flyaways, excess greasiness at your scalp, or a plain, old bad hair day.