Yeah, yeah, I know what you're thinking. Tying your tresses up into a scarf isn't new, I get it. But when was the last time you rocked one? Yes, this is less an emerging new favorite and more of a vintage-inspired return of the tried and true.
For those of you who've worn out the neck bandanna trend, you're ready to put all those handkerchiefs to a different use anyway. It's time to swirl, fold, and knot them into something new for a few months — and this movement shifts you perfectly into summer's vacationing spirit. Read on for the scoop on how to wear a headscarf now.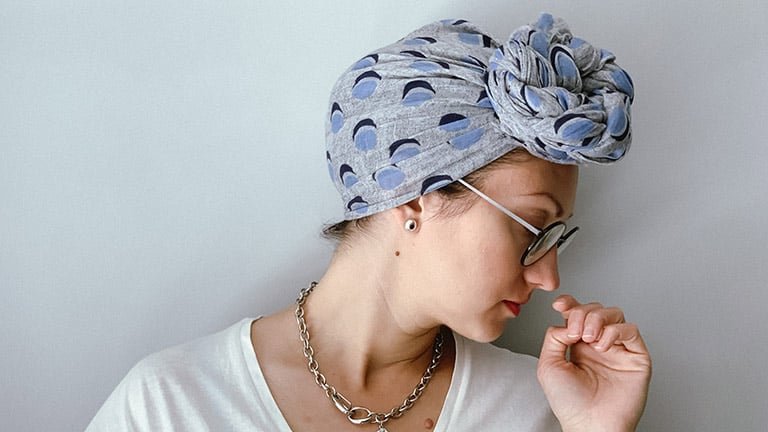 This guide shows you how to use all those spare scarves to play up your inner Grace Kelly and Jackie O as you head into the heat. Even better, you can use this trend to coordinate color, festive prints, and unmanageable hair into one cohesive style. Read this to mean: The headscarf is a saving grace whether you're cruising into the city or already there. I know I'm keeping a few options on hand to give boring and bad hair days a boost.
How to wear a headscarf
1. The basic wrap
Once you know the basics of headscarf wrapping, you can put your own spin on it. Here are the steps:
Pull your hair back in a ponytail.
Grab your scarf and fold it in half.
Place the center of it just above your forehead with the fold of the fabric nearest to your nose.
Pull the fabric down tight on either side of your head behind your ears.
Tie a knot at the back of your end. You can tuck in the loose ends or let them hang free.
2. The headband
Fold your scarf in half, into a giant diamond. Roll it from the pointy side, pressing flat as you go so it looks like a tie. Then wrap it around your head, over your ears, creating a headband effect. This style offers a few different looks depending on whether you want to show off or hide the ends of your scarf.
3. The bonnet
Pull your hair back in a ponytail. Wrap your scarf over the back of your head and gather the lose ends under your chin. Wrap it up and tuck in the loose ends. Add sunnies for an old Hollywood-inspired look. This one's ideal for glamorous vacation accessorizing.
4. The cap
Fitted like a little cap to the head, the cap-style headscarf is arguably a more bohemian spin on bonnet looks. Tie it the side at the nape of the neck and let the tails flow free or use it to secure the hair in one big bun.
Save 15% at HeyHair
Coupon
5. The crown
Worn around the head and knotted at the front or to the side, this halo-like option merges flower crown and neckerchief trends in one. You can buy twisted headbands that you slide one, but it's more fun to tie it yourself. Simply wrap it around once, twist the ends at the top of your end, then tie it at the base of your neck.
6. The up-do
For ladies who like their hair up — or just like a lazy day quick-fix — tying a scarf around the head after a pony or messy bun is the mode du jour. Tuck the tails in for a more pulled-together approach or let them flop freely around for laid-back looks.
7. The turban
Get hair up and off the neck when it's tucked into this tight, turban style that's fitted to the head and tied up front.
Which headscarf styles are you wearing this summer?