Back in the day (like 10 years ago), the only places you could get your shopping on were a) the mall or b) a local boutique/stand-alone store. However, around 2004, a fairly new retail concept started to arrive, mostly in large cities like New York, London and Los Angeles, called pop-up shops. These shops, which often appear during key shopping seasons (think Halloween and Christmas), are temporary retail spaces that sell merchandise (usually special lines or branded products) for a limited time.
This post may contain affiliate links. See our privacy policy.
Why Should You Care?
As a shopper, pop-up shops are an easy way to access unique brands that you may (or may not) normally have the ability to shop. Now, we would be remiss if we didn't note that while pop-up shops can be great for finding amazing, one-of-a-kind or hard-to-access items, the prices aren't always, well, the cheapest. For the most part, you're going to pay full price for these items. However, since most pop-ups are temporary, you can often negotiate an additional discount at the end of their run, as most merchants would rather sell it to you at a lower price than have to schlep inventory back to their warehouse (read: garage).
Why Brands Love Pop-Up Shops
Pop-up shops also offer a brand a way to access shoppers without the commitment of a full brick-and-mortar store, especially in cities like New York, where retail space is both expensive and scarce. Several online brands, like Bluefly, use pop-up shops to build an offline connection with their online customers, while also selling merchandise. Also, stores often use pop-up shops to "test" the waters of a new location, like the British brand Topshop, which had several pop-up shops in New York before committing to retail space in Soho, and J.C. Penney, which had a pop-up shop in Times Square before committing to a full store in the Manhattan Mall.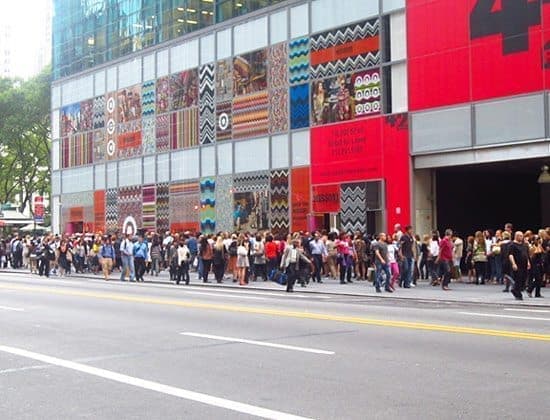 Another great example of a brand using pop-up shops to test the retail waters is the Target pop-up shops in New York, which are often used to debut the latest designer from their GO International Collaborations. When Big Red debuted the Missoni for Target collection at their pop-up shop in Times Square, fashionistas literally camped out to be the first to score items from the line, and the entire pop-up shop was sold out in hours.
Target isn't the only established brand to take advantage of pop-up shops. Last year, Ragstock, the company that sells new and recycled vintage clothing, opened up ugly-Christmas-sweater-themed pop-up shops just in time for holiday parties. And every winter, Wired magazine opens an electronics store in New York. Disney also opened a futuristic store with metallic clothing to promote the premiere of the movie Tron.
Like this article? Learn more about pop-ups in our article News: Missguided Announced 50 Pop-up Shop Locations in U.S.