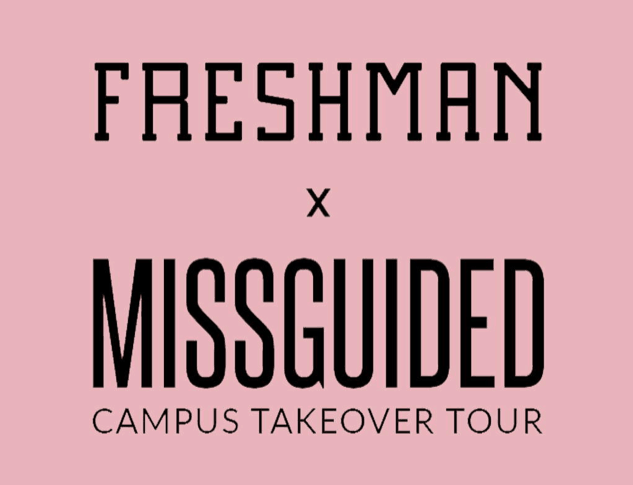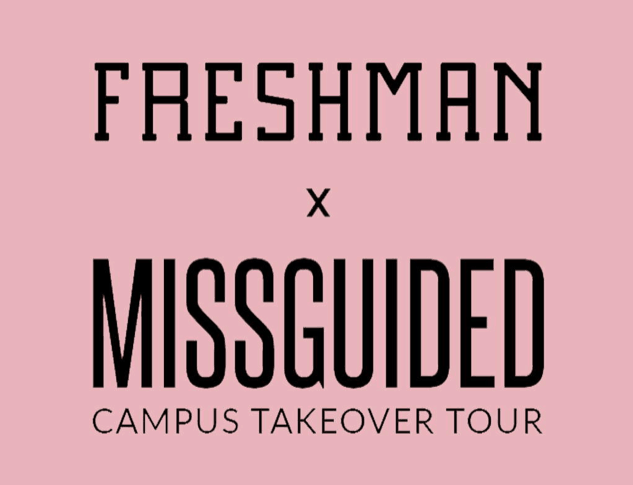 Award winning online women's retailer Missguided, has teamed with the Freshman Campus Takeover Tour to launch 50 physical pop-up shop locations in the U.S. from October 7th through December 10th.
The pop-up shops will be directly located near 50 of the nation's top universities. For approximately eight weeks, the pop-up shops will be the playground for the fashion savvy, industry tastemakers, and high profile musicians.
Each shop will give customers exclusive access to shop limited edition collections while also premiering merchandise from their newly launched men's line, Mennace. The Missguided pop-up shops will feature more than clothing. As an extension of the Freshman Tour, the album preview tour from electronic musicians Zaena & Jason Maek, each pop-up shop will host live DJ's, celebrity appearances, and ton of giveaways.
"Jason and I are so excited to team with Missguided on this, because they truly get our vision," said Zaena. "We have been working on the album for over a year, and are excited to share it with the world and bring the same vision and experience to life in the store."
"Our partnership with Freshman is a great way for Missguided to have a physical presence on campus in the US. It puts us in an environment that reaches our core 18-24 female audience and allows them to shop the product physically before placing their order online."
"The Freshman Tour Pop Up plays host to a selection of our eagerly anticipated Mennace collection featuring the signature styles, jackets, t-shirts, tracks, sweats, and hoodies. Offering you the opportunity to browse our key selects and then go to Mennace.com to see our weekly drops."
Many guests of the pop-up shop will also receive gift bags, signed posters, and have the opportunity to win an assortment of prizes. The pop-up shops start October 7th at Texas State University and ends December 10th at Clemson University.
Hours of operation will be 12:00pm to 7:00pm at each location. More details can be found on the tour's website at www.freshmantour.com.
About Missguided
Missguided is one of the fastest growing women's online retailers in the world. Founded in 2009 by Nitin Passi, it has become a leading rapid fashion retailer, taking an agile approach that sees it deliver commercial and affordable product to its customers before trends hit.
Its signature confident style and broad product range has driven global development in recent years, now selling to over 160 countries and locally active in the US, Australia, France, Spain, Poland, Ireland and Germany, with future plans for further international expansion and a loyal following of 4.1 million social media fans worldwide across multiple platforms.
Missguided have further developed their global profile and growth through wholesale opportunities with established brands such as Selfridges, Nordstrom, Hudson Bay, ASOS, Schuh, Zalando, The Fragrance Shop and two flagship stores at Westfield, Stratford and Bluewater, Kent.
About Mennace
Mennace is a next level menswear brand, born out of an appreciation for desirable fashion at an affordable price. Combining smart and casual quality products, Mennace are confidently creating what the consumer needs with standout styles and trends.
Each piece is based on the Mennace man with the aim of being part of his lifestyle. The diversity of their clothing mean Mennace styles can be interpreted by every individual.
About The Freshman Campus Takeover Tour
The Freshman Campus Takeover Tour is a national college campaign hosted on 50 distinct college campuses in the U.S. In alignment with notable brands Missguided, Pier 1, StudentUniverse, KIND, Lyft, Sole Bicycles, DIFF Eyewear, each day includes a pop-up shop, listening party, and an assortment of contests and giveaways. Electronic artists Zaena and Jason Maek are previewing their upcoming album, 'Freshman' at each event.
Love this post? Subscribe for Updates.